Wanna Be Paparazzi & Make Easy Money?
Email us your Celebrity Digital Photos and Videos... There could be a fortune sitting in your mobile handset. If you snapped it then send it to us at:
Very. Important. Pictures.
11-05-07 news EXCLUSIVE WITH PHOTOS
Happy 47th Birthday Bono...
The Last King of Ireland, Bono, struck another year off the mortal calendar on his meteoric approach to half a century yesterday. With only 3 years left before he hits 50, he sure hasn't slowed down...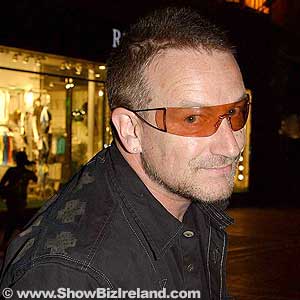 BONO LEAVING LILLIES BORDELLO LAST WEEK
We've been getting away with this whole ShowBiz Ireland thing nigh-on 8 years now, during nearly a decade of sticking cameras in celebrity's faces we've picked up on their habits - such as Bono hitting Lillies Bordello with his mates Guggi, Gavin Friday and Simon Carmody on his Birthday night each year...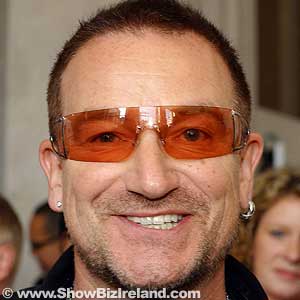 BONO @ FRONTLINE AWARDS IN DUBLIN CASTLE
So par-for-the-course, there we were out in the rain last night with cameras at the ready to wish Bono a Happy 47th Birthday with a succession of flashing light bulbs. But when he hadn't turned up by around 2am our die-hard staffers called-it-a-night. Apparently he went for a romantic meal somewhere else with his wife Ali and never bothered to tell us... The cheek of some people!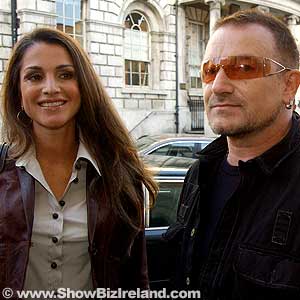 BONO & QUEEN RANIA OF JORDAN @ DUBLIN CASTLE
We're not too out-of-sorts with the U2 singer as we got ample photo opps with him last week as he partied in Lillies with Simon Carmody and also when he turned up at Dublin Castle with the stunning Queen of Jordan, Rania Al-Abdullah, on his arm to present Gege Katana with the Frontline Award for Human Rights work in the Congo.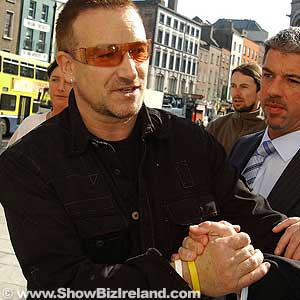 BONO MEETS FANS @ DUBLIN CASTLE
As the Knighted-One breezed through the press gathering he let it slip that The Edge was not too happy about him attending the Awards ceremony as they were right in the middle of the writing process on their next album in their Dublin studio... We all know The Edge wears the trousers in that relationship. Meow.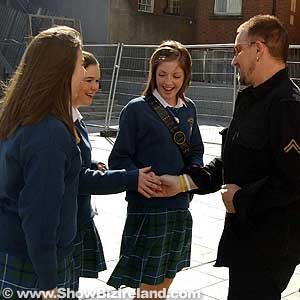 BONO SCARES SCHOOL GIRLS @ DUBLIN CASTLE
After an impromptu press conference and a few snaps with Gege, Bono was whisked out the back door of Dublin Castle where a few school girls let some Beatles-esque high pitched shrieks as he greeted them like Rock's International Ambassador. He's still got you know? Never lost it baby, never...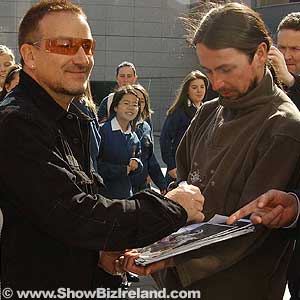 BONO SIGNS OLD PHOTOS @ DUBLIN CASTLE
Some autograph hungry U2 fans were also waiting for Bono at the back door with pages and pages of mulleted 1980's photos for him to sign. Oh we could feel the crrrrrrrringe in the air as he scribbled on those old embarrassing snaps. It could have been worse, at least no one asked him to sign a cowboy hat! Ahem, don't mention the War...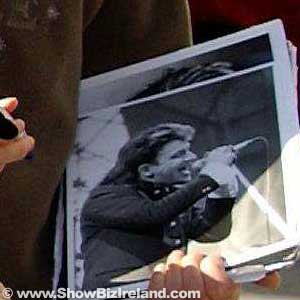 BONO'S OLD MULLET PHOTOS @ DUBLIN CASTLE
So Mr. Bono turned 47 yesterday, we'd like to take this opportunity to wish him well and hopefully he won't forget to send us out an invite for his 50th Birthday bash. Apparently the Phoenix Park is just about big enough to house the party. Well, if it was good enough for The Pope!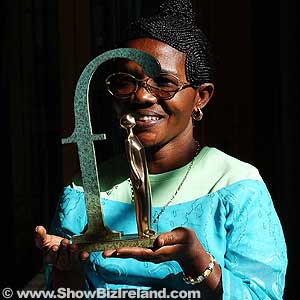 GEGE KATANA GETS FRONTLINE AWARD @ DUBLIN CASTLE
Annnnnd speaking of Dublin Castle (what a link), Sinead O'Connor made her overdue comeback there last weekend at the Heineken Green Energy festival. We'd like to apologise to sexy Sinead as our photos of her holding her belly lead to some spin and rumours in the press that she was preggers once again...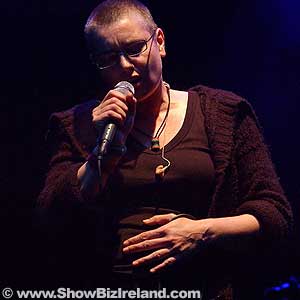 SINEAD O'CONNOR NOT PREGNANT @ DUBLIN CASTLE
Apparently she's not with child, she's just carrying a few extra pounds after giving birth last Christmas. But hey, the press aren't gonna let the truth get in the way of a good story now are they? After seeing these photos in the newspapers Sinead assures us that she's gonna go on a post pregnancy fitness regime... You see? We do good as well as evil. Sometimes... Accidentally.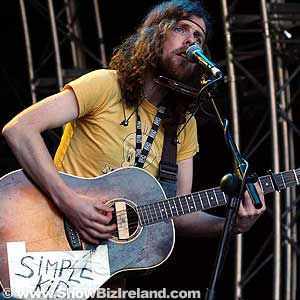 SIMPLE KID @ DUBLIN CASTLE
Irish singer Simple Kid also played The Green Energy festival, if you haven't checked him out yet do so right now. Sure, he's only bleedin' deadly...