Wanna Be Paparazzi & Make Easy Money?
Email us your Celebrity Digital Photos and Videos... There could be a fortune sitting in your mobile handset. If you snapped it then send it to us at:
Very. Important. Pictures.
14-03-01 news EXCLUSIVE
ShowBiz Ireland Banned by U2??
ShowBizIreland.com (which reaches millions people in over 100 countries) has been sensationally banned from attending U2's first concert on their world tour in Miami next week. Last week ShowBizIreland.com was told by U2's Irish PR company that they had a ticket for the concert on Saturday week. Then last night in a confusing phone call from the same company told that we would NOT now be getting any tickets despite the fact that we were funding the trip.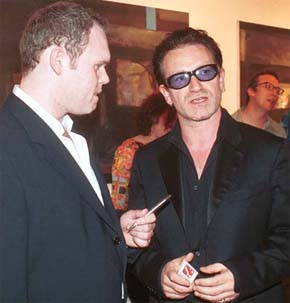 Bono (holding a ShowBizIreland.com card) and our Jason O'Callaghan recently [pic: © Mark Doyle]
This unbelievable incident comes after Bono threw ShowBizIreland.com out of a party at the Brits and another person connected with the band verbally attacked us at another Brit party.
All this for no reason bar giving U2 fans all over the world GOOD articles promoting U2? U2's Astoria gig in London, the performance at the Brits, and at the MTV awards in Stockholm were all covered by ShowBizIreland.com and the site is extremely upset at this incident. More-so since the we pleaded with our users to e-mail the Irish Government so that U2 could play a second concert in Slane...
ShowBizIreland.com fans however need not worry as we will still be covering the event and Bono himself will have to stand at the gates of the venue in Miami to stop us - we will be there in person. Going live on Irish radio, in print, and right here on ShowBizIreland.com you will be able to see pictures of the band in Miami and get a honest view on the biggest band in the world first stadium concert.
IF YOU OBJECT TO SHOWBIZIRELAND.COM BEING BARRED FROM U2'S MIAMI SHOW E-MAIL THE PR COMPANY THAT BARRED US AT: lhp@indigo.ie - THANK YOU :-)
Again despite this ShowBizIreland.com is still U2's biggest fan and prove it here again by giving fans around the world Bono's transcript on Irish television begging the Irish Government for a second concert in Slane:
2TV, Sun 11 March 2001
Presenter (Dave Fanning): We're going to go to a different story here now because we want to talk to somebody on the phone - good morning Bono.
Bono: How're you doing?
Presenter: I'm doing all right - how are you?
Bono: I'm very very well this morning. Well I'd feel a lot better if there wasn't so many angry and upset U2 Fans. They have given the band a very good life and we don't like to see them on the streets and disappointed and we're also very disappointed.
Presenter: Is there a solution Bono at all that you might think of?
Bono: I suppose to let the people know that we are available for another gig in Slane and that we'd very much like to do that and would ask Bertie Ahern or Noel Dempsey or the Pope or God or more importantly the good people of Slane if they could suffer the inconvenience of another day we could really do something really historic here. What is a disaster right now as far as we are concerned could turn into just one of the greatest events ever you know.
Presenter: Okay, well look - if it doesn't happen Bono that's the one thing it isn't a necessary disaster. Loads of gigs get sold out and people can't get tickets and that's the way it is and a second gig can't be...for Gods sake last Thursday night I went to see Badly Drawn Boy at the Olympia not exactly an A division league thing, there was no second gig but there could have been that would have sold out. It's not exactly the end of the world, it's just a lot of people are really disappointed...
Bono: I think the years have changed your hard head - it's the public we're talking about here...
Presenter: No, I understand - I'm just getting to a simple point of sometimes you can't get a ticket for a gig, my hard luck. My simple point is this, it's just as easy to make a law that' s already there to enact that damn law and just do it. Just because a gig in Slane can only be June July and August once, let's just change it for this year and make it twice. Hello - it's not that difficult to do.
Bono: Well this is your idea and a few other people are hoping to - you know I've heard this suggestion over the last few days to try and change the law. I don't know how difficult that is. Surely there's somebody out there who can see the big picture and there's just a lot of people around the country, and I think the tickets were put on sale as fairly as they could be actually in trying to give all parts of the country access there's no point in queuing all night and I understand because I'm like that about music and I'm still like that about - I want to go to a gig and I can't get there, some of it would you know upset me. It's like a cup final as far as - you know - if you are into music this is it and it's hard to be told just go home there son and that's the end of it you know.
Presenter: Listen, just one thing about the gig itself. It is the biggest gig you're playing on this tour isn't it?
Bono: Yes we're trying not to play these big dates. We have productions designed for the smaller intimate venues like Madison Square Gardens you know, little club gigs and we're very excited about playing indoors but we know that the Point was just too small to do that and we have to camp for a few weeks there and now it get's like going to work. You are playing you know 20 nights in one venue, you lose the fire, the spark. So we decided with Slane we'd have to play Slane, we didn't even want to play large out door thing but now we're ready we're prepared to play two and if you guys, whomever, and the deities are here, could change the law for us.
Presenter: Okay well then finally Bono is this - I presume you are not feeling too great about this at all. In other words you have had a great year so far. You've had your Grammies, You've had your Brits, the NME's and the album has sold six or seven million - you are only on the second single in this part of the world. Beautiful Day won't leave the American Charts. The Tour is going to go great - is this the first big black dot and can we just clear it up - is that the point?
Bono: Yes that's it. I'm just looking at the newspapers today and just felt a bit sick, and got a bit kind of annoyed myself and I just thought there was an Ireland where bureaucracy would be the enemy of good sense. I don't believe that's the way it is right now. I think there's smart people in Government, there's smart people in the local communities and I just kind of figure it's worth the shot anyway and thanks for letting me on your programme. It's a good programme by the way, I watch it every time I'm here.
Presenter: Good man yourself Bono. Thank you very much indeed for ringing in this morning. I think a second gig is really all that counts now at this stage of the game. See you Bono good luck, thanks.
Presenter: So what do you think, a second gig?
Bianca: A second gig would be absolutely fantastic. It would be the absolute dream for everybody. It's a really important thing.
Presenter: It's not beyond the bounds of possibility - let's face it. Certainly logistically - U2 are willing. I don't know about Slane and MCD and all the rest, they can all work it out, but I'm sure they can you know....just because it hasn't happened before doesn't mean it can't happen. I have been at every single Slane since day one. I remember U2 supporting Hazel O'Connor - sorry, Hazel O'Connor supporting U2 and it was Thin Lizzy on top. I remember Thin Lizzy giving out because they got a helicopter.....but there's never been two Slanes.
- Ends -
(Segment from 2TV, Sun 11 March 2001)