Wanna Be Paparazzi & Make Easy Money?
Email us your Celebrity Digital Photos and Videos... There could be a fortune sitting in your mobile handset. If you snapped it then send it to us at:
Very. Important. Pictures.
09-03-07 news EXCLUSIVE WITH PHOTOS
Irish Girls Dominate ShowBiz...
For as far back as we can remember ShowBiz Ireland has been harping-on about how our entertainment industry has been dominated by famous male faces, now it seems the ladies are fighting back...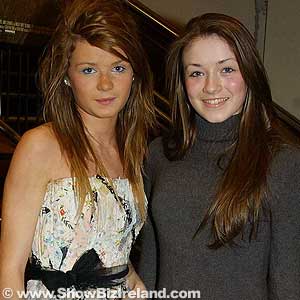 SOPHIE VAVASSEUR & SARA BOLGER @ BECOMING JANE
Irish men have for the past 40 years or so, been the face of Irish Showbiz with the likes of Peter O'Toole, Richard Harris, Liam Neeson, Pierce Brosnan, Bono, Bob Geldof, Colin Farrell, Cillian Murphy, Jonathan Rhys Meyers and many more leaving their native female counterparts behind in the shade.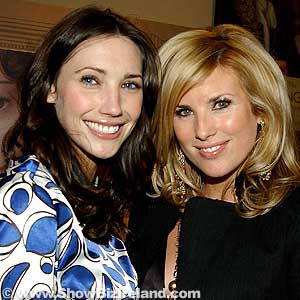 MICHELLE DOHERTY & JENNY BUCKLEY @ BECOMING JANE
But back home the balance has swung in the opposite direction with an assortment of talented Irish colleens grabbing our media's attention on the stage, screen and catwalk. Some of them may even have what it takes to break out of the limited Irish market space and go right to the top...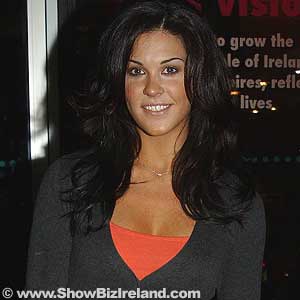 GLENDA GILSON @ PODGE & RODGE
Last week we caught up with two of our brightest female starlets, Sarah Bolger and Sophie Vavasseur. at the Becoming Jane movie premiere. We first noticed these talented two in child-roles in 'In America' and 'Evelyn' respectively. Both now all-grown-up, Sophie has a prominent part in Becoming Jane and Sarah has seen great success in 'Stormbreaker' and two upcoming starring roles in 'The Fence' and 'The Spiderwick Chronicals.'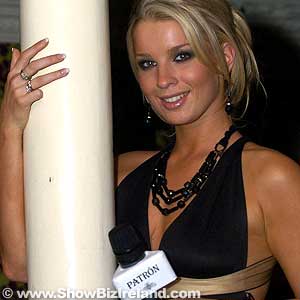 KATY FRENCH @ PATRON LILLIES PARTY
Away from the big screen our top models are starting to make inroads into television. Most notable is Michelle Doherty's fast growing male fan base on Channel 6's Night Shift and Glenda Gilson's popular interviewer spot on Bubble Hits. Don't be surprised if one or both of these gorgeous girls get snapped up by a UK mainstream channel very soon...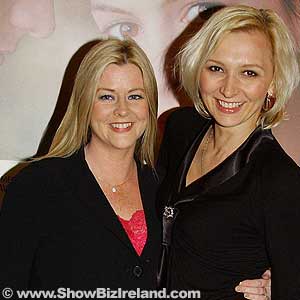 MARISA MACKLE & TATIANNA OULIANKINA @ BECOMING JANE
Further away from the small screen on the even smaller screen, model Katy French has taken full advantage of the publicity surrounding breakup with her restaurateur boyfriend Marcus Sweeney by landing a presenter job at The Patron TV tequila launch at Lillies Bordello this week. By "smaller screen" we mean internet / web TV, in case you're wondering.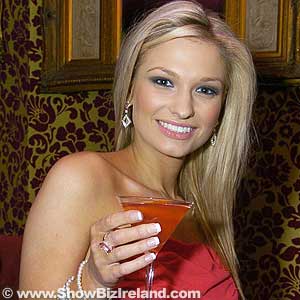 SARAH KAVANAGH @ PATRON LILLIES PARTY
Also at the Patron TV event was stunning model Sarah Kavanagh and Colin Farrell wannabe / look-a-likey Kevin Ryan. We'd like to offer actor Kevin a wee bit of advice: please stop dressing up like The Farreller circa 2004. Instead of trying to be "the next" Colin Farrell, try being "the first" Kevin Ryan. Enough said.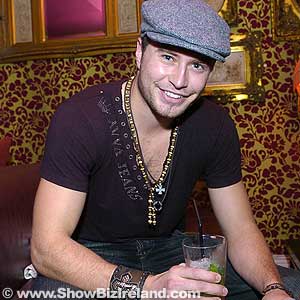 KEVIN RYAN @ PATRON LILLIES PARTY
And speaking of stunning models - we spotted new model on-the-block and the current face of FAS Opportunities, Georgia Salpa, strolling down Grafton Street this week. We hear shapely Georgia isn't too pushed on the public attention she's been getting lately, but that's no excuse to nibble those finely manicured nails!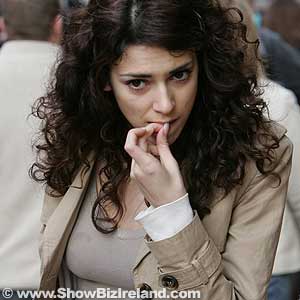 GEORGIA SALPA ON GRAFTON STREET
We also recently caught up with Shameless actress Amanda Ryan at the Sparkle movie premiere with her co-star in the flick Shaun Evans. Those of you who read these pages regularly will remember Shaun was dating Andrea Corr for a spell after filming The Boys From County Clare with her... Well, apparently that relationship is knocked-on-the-head and poor Shaun doesn't look too happy. Well, he was punching above his weight!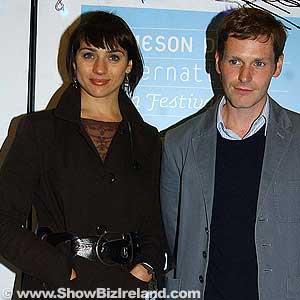 AMANDA RYAN & SHAUN EVANS @ BECOMING JANE
Lastly, we know Sophie Ellis Bextor's not Irish but we bumped into her in Lillies recently and were totally blown over by her unique delicate looks and elegant demeanor. The comeback Queen of Pop played Ireland's Premiere Gay Club, The George, this week and probably converted a few camp customers back to the light side... Well, only for the duration of the concert.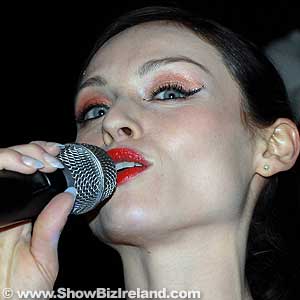 SOPHIE ELLIS BEXTOR @ THE GEORGE
Oh, and before we go, a special mention has to go out to two promising young Irish actresses Slaine Kelly & Rachel Kavanagh who both graced the launch of Velvet nightclub recently. Slaine has landed the role of Lady Jane Howard opposite Jonathan Rhys Meyers' King Henry VIII in 'The Tudors' and Fair City favourite Rachel is branching out into movies with a role in the Sophie Winkleman starring film 'Natalie'.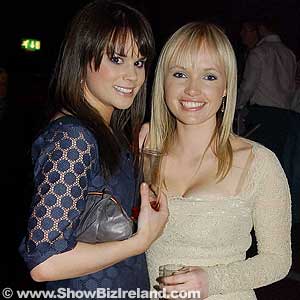 RACHEL KAVANAGH & SLAINE KELLY @ VELVET