| | | |
| --- | --- | --- |
| | 25.05.14 | |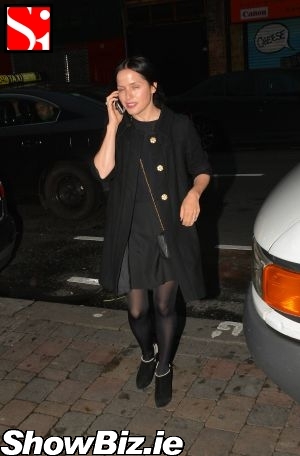 Opium, Dublin's New Opiate...
We've been slow on the updates here on ShowBiz.ie of late and we're getting guff from all quarters. Explanation? Well, in our 15 years we've never known Dublin to be a town so devoid of an exclusive social scene and the celebrity conveyor belt seems to have slowed to a stop. Sure, we haven't had a new one in nigh on three years. Saying that, the new(ish) Thai bar & restaurant on Wexford Street, Opium, is attracting a wee VIP crowd. Friday night saw some familiar faces looking to sample curries of red, green, and yellow...

| | | |
| --- | --- | --- |
| | 19.03.14 | |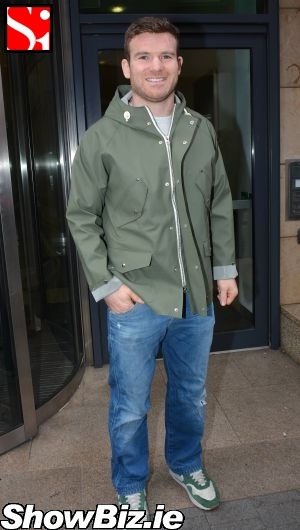 Mr Darcy's Gone Fishin'...
We spotted Six Nations champ Gordon Darcy leaving Today FM's Ray Darcy show yesterday missing about 2 stone of awesome celtic beardage and sporting a rather nice new rain coat. Now, we're not sure what vibe he's going for but the trendy garment reminded us of a green wax version of the jackets the brave Bering Sea trawler men wear on The Deadliest Catch tv show. Has the Irish weather got that bad folks? Yeah. Suppose...

| | | |
| --- | --- | --- |
| | 14.03.14 | |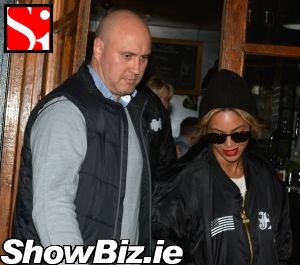 Who Bey This Famous Woman??
There was an unidentified singing superstar hanging around Dublin over past week with her mogul rapper husband and their wee cute baby girl. Yet, no one in Ireland knew who they were? Yup. She sold out The O2 four nights in a row, had thousands of fans hanging outside her City Centre hotel, made all the tabloid front pages with her trip to Dublin Zoo, and STILL remained anonymous... Well, if you happen to subscribe to US 'ShowBiz' website TMZ, then you'll know who this woman & her husband are – coz we haven't a clue...

| | | |
| --- | --- | --- |
| | 13.03.14 | |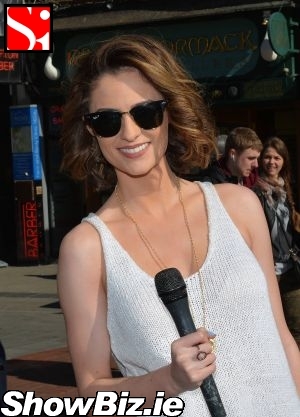 They're Calling Them Jackeen...
Little did we know when we spotted the big sparkler on ShowBiz.ie fav Madeline Mulqueen's finger this week that a global news scoop would follow. Yup. Seems we inadvertently outed Madeline Mulqueen & Jack Reynor's secret engagement. Ooopsie! Our Madzer was out on Grafton Street shooting a pilot TV show for RTE called Bounce. Right. Off to buy a new hat for the 'Jackeen' wedding in Limerick where, we're sure, there'll be a Horse Outside...

| | | |
| --- | --- | --- |
| | 13.03.14 | |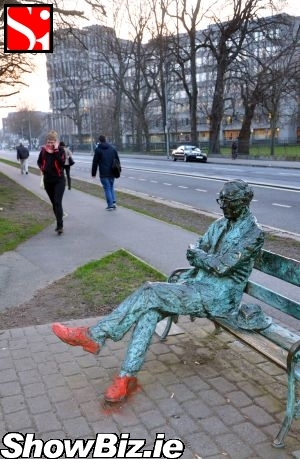 Kavanagh Gets Cherry Brogues...
If you happen by the Grand Canal at Baggot Street Bridge you might spot the benched contemplative gentleman in the ruby red slippers. And no, Patrick Kavanagh isn't channelling Dorothy in The Wizard of Oz. Some moron got at Ireland's most iconic poet with a can of spray paint and updated his wardrobe. Well, the joke's on the vandal. Red shoes are SO last season. Duh...

| | | |
| --- | --- | --- |
| | 12.03.14 | |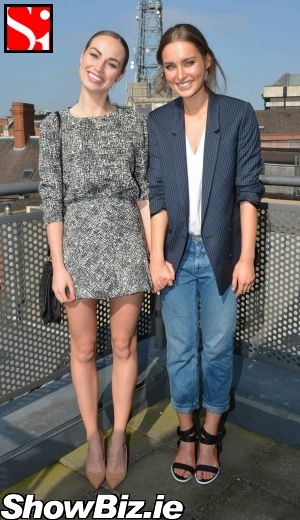 They're Calling Them Rozella...
When they held hands & stared into each other's eyes, one in a short summer dress and the other in jeans and a blazer, we instantly knew this was Ireland's Most Stylish Couple. Yup. Daniella Moyles & Rozanna Purcell being the big messers that they are at the VIP Style Awards 2014 launch at The Style Club today. They're calling them Rozella...

| | | |
| --- | --- | --- |
| | 12.03.14 | |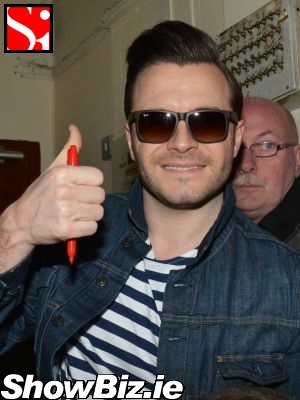 Shane Channeling Johnny Bravo...
We couldn't be happier or more excited for comeback king Shane Filan making his mark post Westlife and money woes. One of the nice guys in ShowBiz folks. More than that, we're lovin' the new quiff Mr Filan, it would put Johnny Bravo to shame. Our Shane is playing solo, flying without wings you might say, at The Olympia this week so if you haven't got your hands on a ticket, sort it...

| | | |
| --- | --- | --- |
| | 11.03.14 | |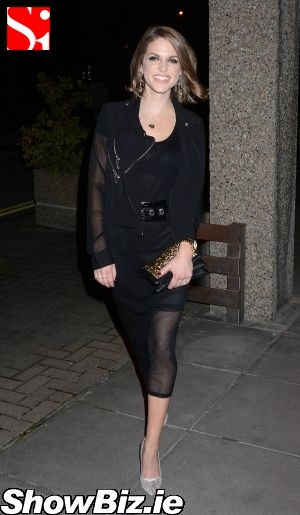 The Huberman Machine Goes On...
Right. You know it's time to update the ShowBiz.ie when Rochey sends ya worried texts! Here goes... Big news for Irish funny film fans. Our very own First Lady, Amy Huberman is juggling a baby, Brian O'Driscoll, and The Machine. Yup. Her fictitious brother in The Stag aka Peter McDonald. And all the cast of the new hilarious Irish movie were out at The Late Late Show last weekend Emperor Penguin style. Sadly, Hubbers was upstaged by Harry Shearer at RTE coz, you know, he's Harry Shearer. And, Spinal Tap trumps everything every time forever...

| | | |
| --- | --- | --- |
| | 10.02.14 | |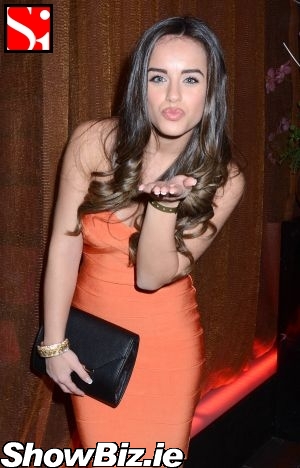 Corrie Gal Puts Foote in WV...
Better known as Katy Armstrong in Coronation Street, actress Georgia May Foote was back in town last weekend decked-out in a stunning Starla dress for a night in the Wright Venue. Even though she looks like a teenager the Corrie gal was celebrating her 23rd birthday at Baroque with fiance John Sage. Yup. All the best ones are gone folks...

| | | |
| --- | --- | --- |
| | 03.02.14 | |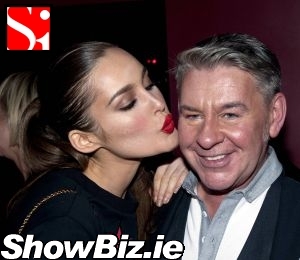 Celebrity Snipper Goes Fifty...
In Irish ShowBiz terms we don't think there's anyone growing old quite as disgracefully as Peter Mark celebrity snipper Michael Doyle. The man that gives good hair celebrated his 50th birthday at House on Leeson Street last night surrounded by a mixture of friends, work colleagues, his clientele, and some likely-lads in dresses. Needless to say, a drinky-winky or two as had and the party went on into the wee hours. Our snapper got out while the going was good. Happy Birthday Micko...