Wanna Be Paparazzi & Make Easy Money?
Email us your Celebrity Digital Photos and Videos... There could be a fortune sitting in your mobile handset. If you snapped it then send it to us at:
Very. Important. Pictures.
10-06-02 news EXCLUSIVE WITH PHOTOS
Bill & Bono, The Flower Pot Men...
They are the pictures the world has been waiting to see. ShowBizIreland.com's exclusive photos of the former US president Bill Clinton and Bono walking the streets of Dublin.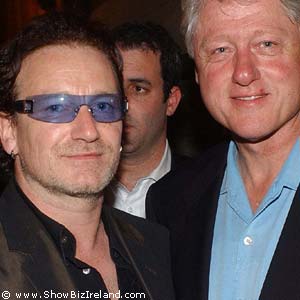 Bill & Bono on the Streets of Dublin
ShowBizIreland.com were the only Irish press to travel around Dublin with the two world famous stars as they walked around Dublin.
Even WE have to say it's strange when you find yourself out on a Wednesday night in the middle of a Dublin street with the worlds biggest rock star and the former president of America.
But, that's just what happened last Wednesday when Bill Clinton joined the U2 massive for a knees up in their hotel, The Clarence.
Bill arrived into the Four Seasons from the North last Wednesday and no sooner had he unpacked his socks then he and his 40 strong entourage were on their way to the Clarence for a pint with the world's new leader Bono.
Not being one to let a party opportunity go unnoticed among his friends. Bono invited his wife Ali, U2 band mates, best friends Guggi, Simon Carmody and Gavin Friday as well as the filmmaker Jim Sheridan and his wife Fran along to enjoy a meal with Bill in the hotel.
Not wanting to miss an opportunity Bill even gave our great leader a speech, which we heard as we were standing outside the window. After dinner the assembled party all left to go their separate ways.
All except Bono and Bill who walked out the back door of the hotel and just kept walking...
With ten cars, five Garda bikes, 20 Garda, 15 secret service men in tow Bono and Bill decided to go for walk through Temple bar. So, we thought it only fit that we join them.
So, we walked up along the lane beside the Olympia, across Dame Street and up onto South William Street to one of Bono's favorite haunts the SPY bar.
By the time we got there the secret service had already blocked off the street completely. Bono then walked Bill into the bar for a quick drink before emerging just before 2am when Ali arrived in the Bono-mobile to take hr husband home.
Unfortunately, for her Bono had other ideas and left the bar with Bill and Simon Carmody plus some more groupies and got into another car.
While Ali and a friend followed the entourage off into the night in their family saloon. Back to Bono's house for a party.
On Thursday morning Clinton hosted a breakfast in the Four Seasons, then a lunch before joining Bertie for an afternoon event. This was followed by a launch of the Ebony flooring company on Fitzwilliam Street by Clinton, which was then followed by an evening dinner in the Four Seasons.
More photos of Bill & Bono below: