Wanna Be Paparazzi & Make Easy Money?
Email us your Celebrity Digital Photos and Videos... There could be a fortune sitting in your mobile handset. If you snapped it then send it to us at:
Very. Important. Pictures.
01-03-07 news EXCLUSIVE WITH PHOTOS
Bramy: Ireland's Coy Couple...
Ireland Rugby ace Brian O'Driscoll is adept on the field of play at capturing the media's attention with his agility and skill but off the field his relationship with Amy Huberman is becoming just as conspicuous...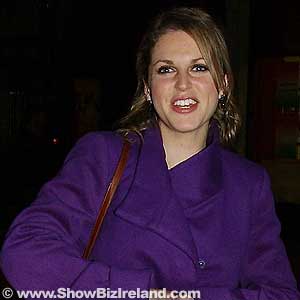 AMY HUBERMAN @ DUBLIN FILM FESTIVAL
Right. A while ago we copped Rosanna Davison and her then new fella Wesley Quirke hiding in the background at Mr. Ireland and just for laughs we labeled them 'Wezanna' ala Brad & Angelina's celebrity moniker: 'Brangelina'. And it caught on, even on Bebo.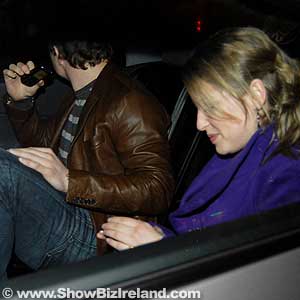 BRIAN O'DRISCOLL & AMY HUBERMAN @ DUBLIN FILM FESTIVAL
So. We thought it might be funny to serve out the same treatment to Irish Rugby legend Brian O'Driscoll and his new girlfriend from The Clinic TV show, Amy Huberman. Mainly because he's making their relationship overly conspicuous by thinking he's invisible when he puts his tiny mobile phone over his face... Ehhh, we haven't fallen for the peek-a-boo trick since we were about 3 months old Brian!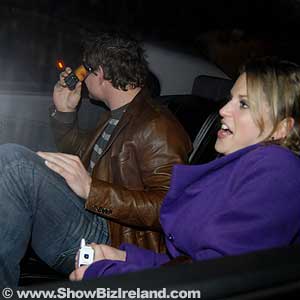 BRIAN O'DRISCOLL & AMY HUBERMAN @ DUBLIN FILM FESTIVAL
Thus, ShowBiz Ireland officially Christens Brian O'Driscoll's relationship with Amy Huberman: 'Bramy.' And before you accuse us of celebrity stalking, Brian showed up after the launch of the Dublin International Film Festival to collect his better-half. When it dawned on him that there were photographers there (what? photographers at a film Premiere? No. Way.) he successfully ducked and dodged past our snappers and got away clean...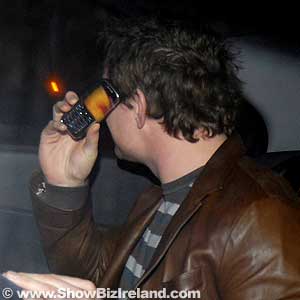 BRIAN O'DRISCOLL & AMY HUBERMAN @ DUBLIN FILM FESTIVAL
The only problem was he sorta left his date behind on the footpath looking bewildered, until she found him waiting in a taxi on O'Connell Street. Wearing the same brown leather jacket we've snapped in numerous times before, Brian then tried to hide behind his mobile phone (you can't see meeee) as our photographers got off a few frames before the cab pulled off.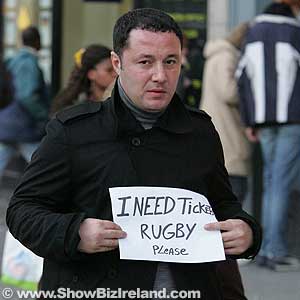 A DESPERATE RUGBY FAN ON O'CONNELL STREET
We love Brian O'Driscoll here at ShowBiz Ireland and we're glad he's trying to avoid making the same mistakes he made with his over publicized relationship with model Glenda Gilson. But, c'mon. This desperate rugby fan seeking tickets with a big sign on O'Connell Street before the Croker showdown between Ireland & England last week was far less conspicuous than Bramy leaving the Film Festival Gala in The Savoy!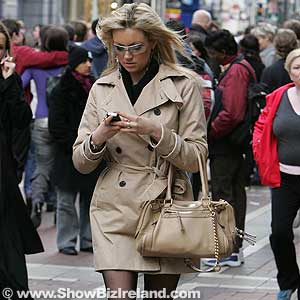 ROSANNA DAVISON ON GRAFTON STREET
But just because we reckon Bramy are the new hot Showbiz couple in the Irish social scene don't think for one second we've forgotten about Wezanna. We spotted one half of Ireland's most handsome pair, Rosanna Davison, walking down Grafton Street last week.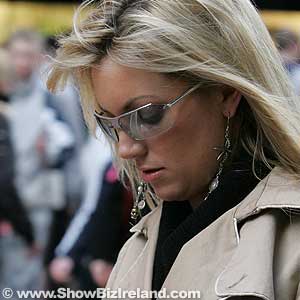 ROSANNA DAVISON ON GRAFTON STREET
Looking more like The Lady in Beige than The Lady in Red, Rosanna was far too immersed in a two handed text message to notice our photographer (or anyone else) as she weaved her way through the busy shoppers with her head down.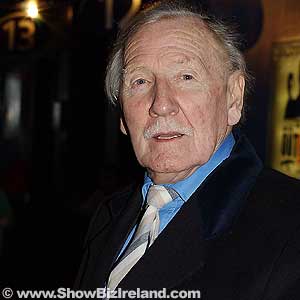 LESLIE PHILLIPS @ VENUS PREMIERE
And speaking of the 5th Jameson Dublin International Film Festival, ShowBiz Ireland attended a right few movie screenings last week but we were most proud of catching up with veteran actor Leslie Phillips at the Premiere of Venus. He's our hero!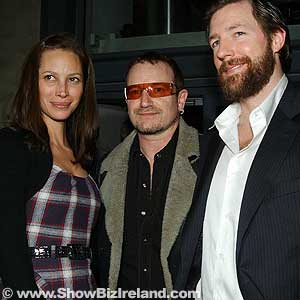 CHRISTY TURLINGTON, BONO & ED BURNS @ EDEN
We also caught up with an old favourite of ours, Bono, as he attended the Premiere of his pal Ed Burns' movie 'Groomsmen' held at Cineworld.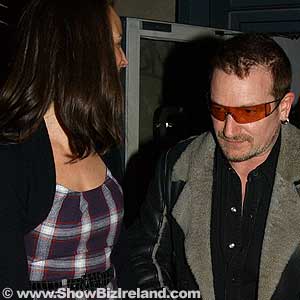 CHRISTY TURLINGTON & BONO @ EDEN
Bono later took Ed and his supermodel wife Christy Turlington out for some grub in the posh Eden restaurant in Temple Bar. As they left it looked like our Bono was checking out the tartan pattern on the front of Christy's dress! Well, not really. But we've gotta 'sex-up' this feature somehow. Ahem.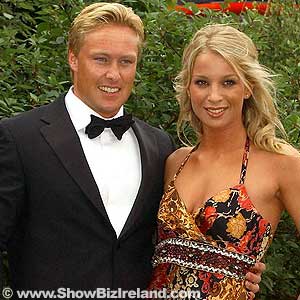 MARCUS SWEENEY & KATIE FRENCH @ PJ MANSFIELD & ANDREA ROCHE WEDDING
Oh, and if Marcus Sweeney & Katie French rekindle their supposedly off relationship we are totally referring to them as 'Markating' going forward, for very obvious reasons... Get it?