Wanna Be Paparazzi & Make Easy Money?
Email us your Celebrity Digital Photos and Videos... There could be a fortune sitting in your mobile handset. If you snapped it then send it to us at:
Very. Important. Pictures.
25-09-06 news EXCLUSIVE WITH PHOTOS
Bono Wilde at Book Signing ...
U2 frontman Bono is world renowned for his public persona and huge charisma once the cameras are pointed in his general direction so we were glad he didn't under-perform at a book signing at Easons on Saturday...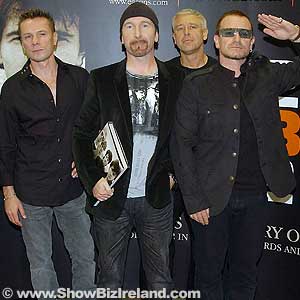 U2 BY U2 BOOK SIGNING @ EASONS DUBLIN
When the U2 machine rolls into town you can bet-your-bottom-dollar (and you'll need it) that Bono won't be afraid to ham-it-up and give the cameras another unique and spontaneous photo opportunity.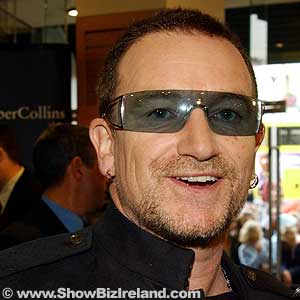 BONO @ U2 BY U2 BOOK SIGNING @ EASONS DUBLIN
Last Saturday Mr. Vox didn't disappoint as he flitted around the media packed book store on O'Connell Street defacing posters of Irish literary giants James Joyce and Oscar Wilde.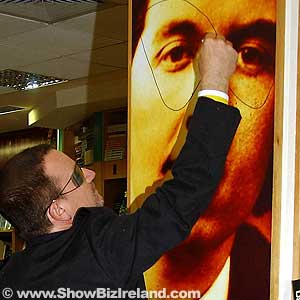 BONO & OSCAR WILDE @ EASONS DUBLIN
The world renowned singer and human rights campaigner 'Bono-ized' two of our greatest sons giving Wilde a set of Fly Shades and Joyce what looked like a dubious Doobie!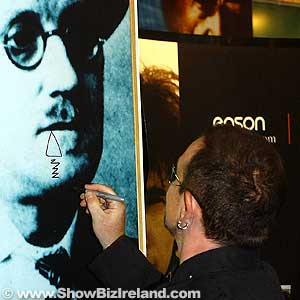 BONO & JAMES JOYCE @ EASONS DUBLIN
But as Bono captured the attention of the gathered media the usually more understated Larry Mullen sought revenge for his frontman's vandalism by scrawling a set of John Lennon-esque bins and a ropey moustache and beard on a mulleted photo of his pal...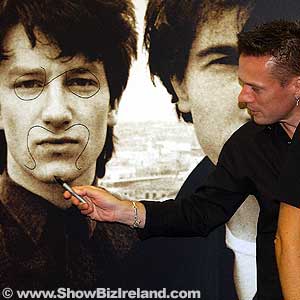 LARRY MULLEN & JAMES JOYCE @ EASONS DUBLIN
After all the initial fun-and-games the U2 boys sat down to the business of signing copies of their latest hard-backed offering 'U2 BY U2' for the lucky few hundred fans allowed access to Easons Book Store...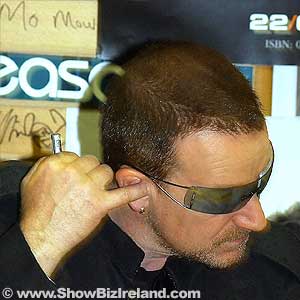 BONO @ EASONS DUBLIN
Sat under the signature of Mo Mowlam, Bono continued to keep the humour in the room electric by signing shirts, arm wrestling fans and even removing his signature shades for a young U2 enthusiast - although the canny Dubliner kept his head turned while his face was naked!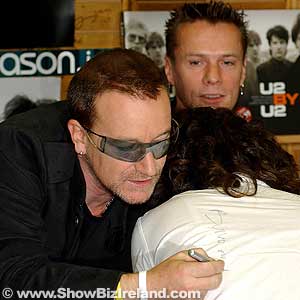 BONO SIGNS FAN @ EASONS DUBLIN
Outside the store thousands of fans were gathered to get a glimpse of their idols and anyone watching the Ryder Cup over the weekend will appreciate just how wet and windy Dublin was...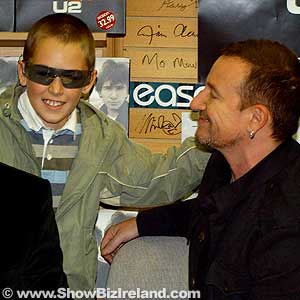 BONO & FAN @ EASONS DUBLIN
But that didn't stop Bono and the Boys from taking-the-time to spend time with their masses, many of which had come from the USA and other far-flung-places to see the lads on home-soil.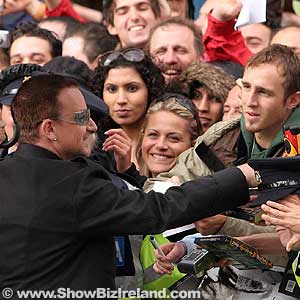 BONO & FANS @ EASONS DUBLIN
Amongst the crowd on the inside of the book store we spotted the fifth Beatle, Paul McGuinness and former tennis ace Boris Becker looking to get his book signed (we bet he didn't queue)...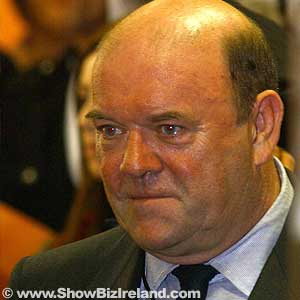 PAUL MCGUINNESS @ EASONS DUBLIN
With Bono having recently traded his long flowing locks for a good old fashioned short-back-and-sides haircut we were suprised to see that his best mate Gavin Friday has followed suit.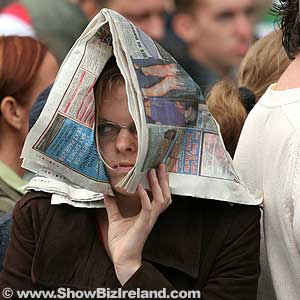 A WET U2 FAN @ EASONS DUBLIN
The singer was out with Guggi at Lillies Bordello on Friday night with his head totally shaved - we wonder will Guggi now chop off his trademark blonde locks?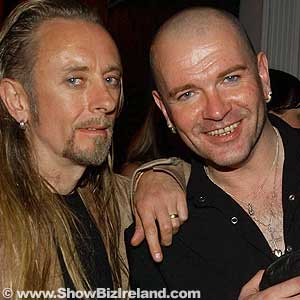 GUGGI & GAVIN FRIDAY @ LILLIES BORDELLO
Discuss this story in ShowBiz Ireland Forums...