Wanna Be Paparazzi & Make Easy Money?
Email us your Celebrity Digital Photos and Videos... There could be a fortune sitting in your mobile handset. If you snapped it then send it to us at:
Very. Important. Pictures.
22-04-02 news EXCLUSIVE WITH PHOTOS
The Bono's shy away from Irish Politics...
Bono's wife Ali Hewson has spoken exclusively about rumours that she is to make a move into politics.
It was rumoured that Ali was to join the Labour Party and run against President Mary McAleese in the next Irish presidential election.
The rumors started after Ali launched her campaign to shut the Sellafield nuclear power plant last month.
Speaking in the Mater hospital last week, where The Corrs joined her, Ali admitted that it would be an honour for her to be asked but she simply did not have the time.
"I don't have time to be president. I'm not even qualified to be the president of Ireland. It would be a great honor but the Labour party have not even asked me. That was just a press rumor. I don't think anyone in the Labour party would be serious about that for even a minute. Anyway, I think Mary McAleese can still keep the job for another seven years when her first term is up. Once no-one opposes her" she said.
As Ali is married to the great political messiah of the charity world it was only natural to ask her if Bono had ever seriously talked about running for the Presidents job?
"No, way. He has always said he would never move to a smaller house for anything" she joked.
Apart from Ali, Dundalk band The Corrs also made the trip to the Mater to ask patients in the hospital to post their shut Sellafield cards.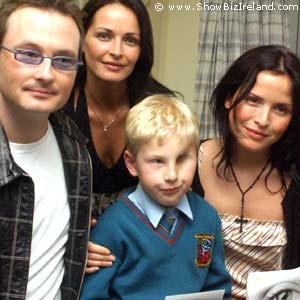 The Corrs with the Chernobyl Children
Sadly, Jim and Andrea are still not talking to ShowBizIreland.com but, the delightful Sharon and Caroline Corr talked at length about both their love lives.
It's a year ago in July since Sharon Corr became the first member of the family to marry (when she tied the knot to the barrister Gavin Bonner) and she admitted that she was now looking forward to having a family.
"Marriage is fantastic. The first year is up now in July but we have no plans for a family yet but I am looking forward to it" she said.
As for the drummer girl Caroline? She is now with her boyfriend Frank Woods for over three years and despite rumours, she is adamant that wedding bells are still a long way off.
"I knew you were dying to ask me that important question. But, there is no chance yet of any wedding. As always I'm sure you will be the first to know if there is and no we don't live together yet. We are not at that stage. I'm not saying anything for now. But, there is nothing happening yet on the marriage front" she said.
More Photos of The Corrs & Ali Hewson: