Wanna Be Paparazzi & Make Easy Money?
Email us your Celebrity Digital Photos and Videos... There could be a fortune sitting in your mobile handset. If you snapped it then send it to us at:
Very. Important. Pictures.
16-08-07 news EXCLUSIVE WITH PHOTOS
Sonya Takes Pound of Flesh...
There's an Irish actress out there in Hollywoodland knocking on doors, banging on windows and kicking over fences to get her talent noticed. She flew back to Dublin at the weekend to film her role in All The Little Things...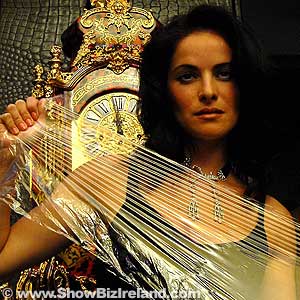 SONYA MACARI FILMS ALL THE LITTLE THINGS
Here at ShowBiz Ireland we've known Sonya Macari and her sister Virginia as two Italian blooded hotties off the Dublin social scene for the past few years. But it was only when we spotted Sonya on the set of The Tudors last year did we realise she was a budding actress with bags of that vital ingredient: ambition.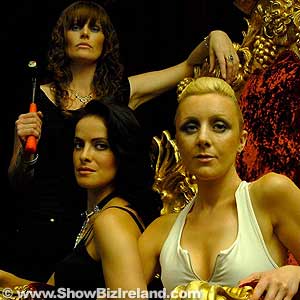 RUTH HART, SONYA MACARI & MARIA MANTON FILM ALL THE LITTLE THINGS
Pitting her smouldering sexuality against Jonathan Rhys Meyer's lusty eye for wenches as King Henry VIII, Sonya really stood-out in The Tudors and used that role as leverage out in 'Lala Land' where that TV show has become hugely successful...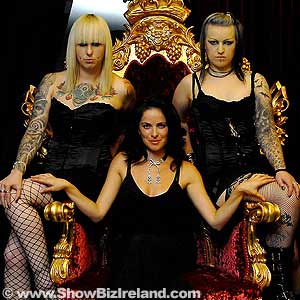 ANYANCA, SONYA MACARI & LEE ZOMBIE FILM ALL THE LITTLE THINGS
So when we heard that movie making brothers Jonathan and Jason Figgis had cast her in the culminating bloody scene on their short flick All The Little Things, we made sure we wangled our way onto the plush Crunch Fitness Premiere gym set in Temple Bar and see her talents up close...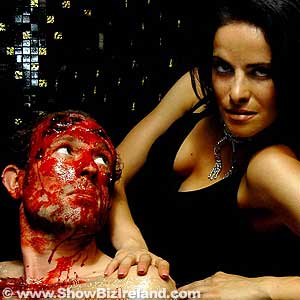 STEVE GUNN & SONYA MACARI FILM ALL THE LITTLE THINGS
Having already seen another Irish beauty, Glenda Gilson, filming her seductive scenes for the movie in Krystle Nightclub - we weren't quite ready for what was in-store for the male victims of these cold hearted killers once they plied them with drugs and took them back to their ultra glamorous dungeon...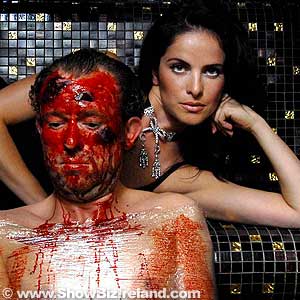 STEVE GUNN & SONYA MACARI FILM ALL THE LITTLE THINGS
For it was only when we witnessed a stunner like Sonya; who reminds us of a young Elizabeth Taylor - dressed in a slinky evening dress yet wielding a claw hammer, a hacksaw and a roll of plastic wrap - did we realise just how shocking and stomach churning this horror flick is going to be...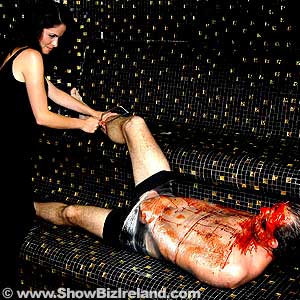 STEVE GUNN & SONYA MACARI FILM ALL THE LITTLE THINGS
Coming from the twisted mind of Director Jason Figgis, All the Little Things contrasts opulent locations and gorgeously turned out sophisti-cats against their primordial urge to dismember and consume their masculine counterparts. The deadly Black Widow Spider could take notes from these gals!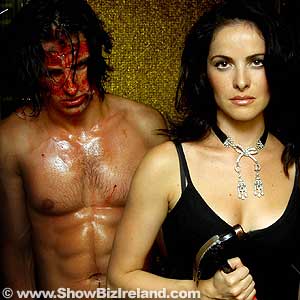 EOIN MACKEN & SONYA MACARI FILM ALL THE LITTLE THINGS
When we caught up with Sonya and the movie's leading lady Maria Manton, they were calmly discussing whether bludgeoning with a hammer, removing nipples with pliers or the sound of a hacksaw blade eating through human bone would create the ultimate cinematic affect - their cling-wrapped victims Eoin Macken and Steve Gunn looked on uncomfortably!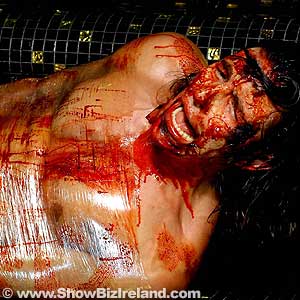 EOIN MACKEN FILMS ALL THE LITTLE THINGS
This ten minute short was commissioned by the Irish Film Institute and is intended to open their horror season this coming October. This is of course, if it can make it past the Irish film censor, who we hope hasn't eaten his lunch before he reviews this gory production...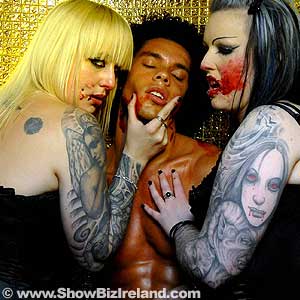 ANYANCA, CARL SHAABAN & LEE ZOMBIE FILM ALL THE LITTLE THINGS
Other cast members include Alice Li, Carl Shaaban, Emmet Scanlan, Ruth Hart, Aimee, Anyanca, Lee Zombie, Patrick Clarke and even a wee cameo by ShowBiz Ireland's Ray Senior...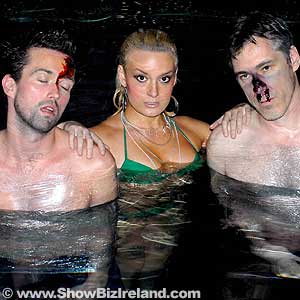 EMMET SCANLAN, AIMEE & PATRICK CLARKE FILM ALL THE LITTLE THINGS
Oh, and expect to see three warped movies from the not-quite-right mentalities of the Figgis Brothers out in 2008. What the hell is going-on with that family???