Wanna Be Paparazzi & Make Easy Money?
Email us your Celebrity Digital Photos and Videos... There could be a fortune sitting in your mobile handset. If you snapped it then send it to us at:
Very. Important. Pictures.
20-06-01 news
Review & Pics of U2 in DC...
Almost three months after they first 'elevated' fans in Miami, U2 are gradually saying goodbye to their American fans as the tour is coming to an end.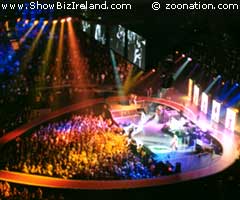 On Friday (June 15) night's show in Washington DC, the band gave yet another typical but unforgettable performance. Kicking off with 'Elevation' under the full lights of the arena, they played a set very much like a greatest hits album.
It was a mix of old and new U2 songs, although tracks from 'Pop' were omitted. 'Sunday Bloody Sunday' and a flawless '11 O'Clock Tick Tock', although evocative of Red Rocks, lacked the stamina of the U2 of those days.
But the band, with time and experience, has acquired a different energy now, one that isn't perhaps as physical - except Bono's marathon run during 'Where the Streets Have No Name' - but which nevertheless makes a deep impact on the crowd.
And the crowd went wild, especially when Bono introduced his bandmates. "I am going to do something which is very hard for singers to do. I'm going to introduce the band."
At the tip of the heart, the band broke off into a semi-acoustic, toned-down version of 'Desire'. The Edge's guitar expertise on 'New York' 'The Fly' rocked the house as it did on 'Until the End of the World', where he played a cat-and-mouse game with Bono on the heart.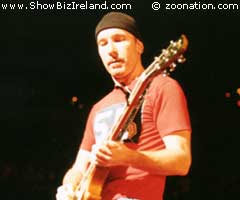 Although a very minimalist show, 'Mysterious Ways' was flooded in the technicolor glory of PopMart. Bono also borrowed some verses from a couple of classic hits, such as Bob Marley's 'Get Up, Stand Up' and Marvin Gaye's 'Sexual Healing', incorporating them into the rock 'n roll melodies of U2.
The band's own songs have reached the perennial status of these classics. And no U2 concert is complete without raising awareness about certain issues. And what better place than Washington DC, where Bono mingles regularly with high-profile politicians lobbying for the Drop the Debt campaign.
Rock's Most Outspoken Conscience tried to open hearts and minds as he made brief declarations about an array of social issues, ranging from the cancellation of Third World debt and AIDS to the rights of homosexuals, for whom 'One' was dedicated.
'Bullet the Blue Sky' featured images of Charlton Heston, president of the National Rifle Association, U2's new enemy in their protest for gun control.
Bono held a spotlight over each section of the arena - the star shining light over his audience. U2 ended the evening with 'Walk On'.
The full setlist was as follows: