Wanna Be Paparazzi & Make Easy Money?
Email us your Celebrity Digital Photos and Videos... There could be a fortune sitting in your mobile handset. If you snapped it then send it to us at:
Very. Important. Pictures.
22-05-07 news EXCLUSIVE WITH PHOTOS
Bubble's An International Hit...
Crazy Frog innovators and Ireland's hottest young entrepreneurs James Hyland and Lee Walsh celebrated the increased roll-out of their Bubble Hits TV Channel with ShowBiz Ireland in the Dylan Hotel...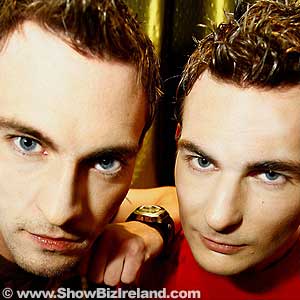 LEE WALSH & JAMES HYLAND @ DYLAN HOTEL
Here at ShowBiz Ireland we've always got an eye-out for the next big-thing on the entertainment horizon; whether that be an actor, singer, model, wrestler or even TV channel - we don't really care! So we're very excited about the international and Irish expansion of the uber popular Irish owned Bubble Hits.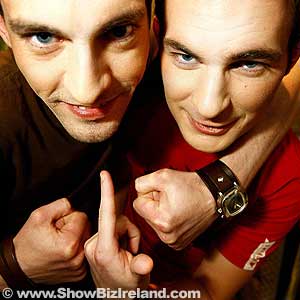 LEE WALSH & JAMES HYLAND @ DYLAN HOTEL
Set up by James Hyland and business partner Lee Walsh, and fronted by Glenda Gilson, the burgeoning station has seen huge growth in viewer numbers on Sky Digital to such an extent that it's now to be carried on UPC Ireland (new parent of NTL & Chorus), Smart Vision and Magnet from the start of June and also on platforms in Germany, Hungary and Poland. Go lads!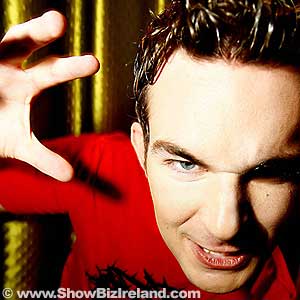 JAMES HYLAND @ DYLAN HOTEL
With a Rock 'n' Roll approach to business James and Lee have gained a reputation in Ireland for being ahead of the curve in terms of technical innovation and the use of new media in sound and graphics, keeping their finger right on the pulse of youth culture...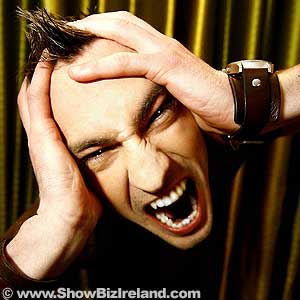 LEE WALSH @ DYLAN HOTEL
Earlier this week ShowBiz Ireland exclusively photographed the two lads in a plush suite in the Dylan Hotel in Dublin. Delighted at the prospect of the roll out across Ireland, James told us: "We're so proud of the station and it's just awesome that more Irish people will be able to watch Ireland 's only dedicated music channel on these new platforms. We will now be on every digital provider in Ireland and many other countries throughout Europe so that limit in the sky is looking good!"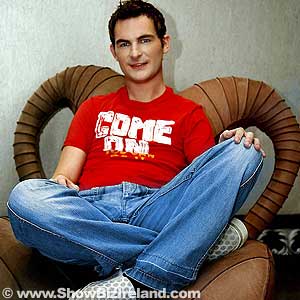 JAMES HYLAND @ DYLAN HOTEL
So with such a broad audience it looks like Ireland's top model, Glenda Gilson, could become Ireland's top TV presenter as she fronts the Bubble Hits channel and their ShowBiz gossip segment...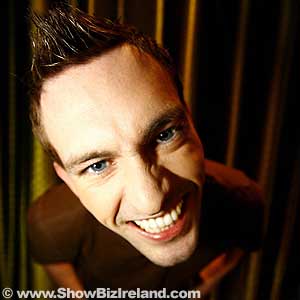 LEE WALSH @ DYLAN HOTEL
We caught up with gorgeous Glenda last week as she was fronting (ahem) another successful Irish story at the Dundrum Shopping Centre. With a naturally enhanced cleavage the stunner was promoting the Voluptuo programme which has upped her bosoms' cup size a tad (as if we were looking!).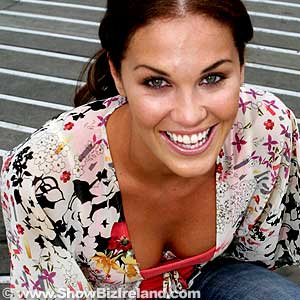 GLENDA GILSON @ DUNDRUM SHOPPING CENTRE
Whilst Glenda was posing for our cameras Bono's best mate Guggi just happened by as he was on the way to the shops. Naturally the artist, coincidentally renowned for painting cups, stopped to see what all the fuss was about... Purely for artistic research reasons we're sure!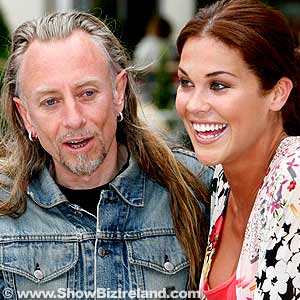 GUGGI & GLENDA GILSON @ DUNDRUM SHOPPING CENTRE