Wanna Be Paparazzi & Make Easy Money?
Email us your Celebrity Digital Photos and Videos... There could be a fortune sitting in your mobile handset. If you snapped it then send it to us at:
Very. Important. Pictures.
04-10-04 news EXCLUSIVE WITH PHOTOS
Chernobyl's Got The Edge...
The Edge took a short break from U2's impending album release, How to Dismantle an Atomic Bomb, to attend the screening of a movie which clearly illustrates the ill effects of nuclear energy...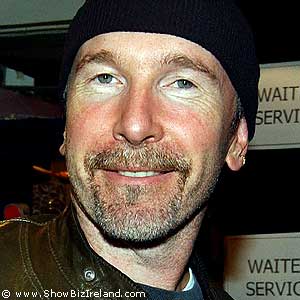 CHERNOBYL HEART: THE EDGE
It was like a global sigh of relief when it was announced at the Oscars that Chernobyl Heart had won the Academy Award for Best Documentary, and the hard work done by Adi Roche and Ali Hewson had finally got full recognition.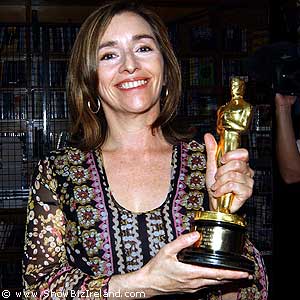 CHERNOBYL HEART: MARYANN DELEO
For the documentary takes a long hard look at children born after the 1986 Chernobyl nuclear plant disaster, who have been born with a deteriorated heart condition, and the work of the Chernobyl Children's Project, headed up by Adi and Ali, to help them.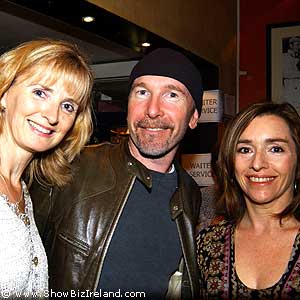 CHERNOBYL HEART: ADI ROCHE, THE EDGE & MARYANN DELEO
The Oscar winning director of the film, Maryann Deleo, was in attendance at the IFI last Sunday marking the launch of the Stranger Than Fiction Documentary Film Festival 2004.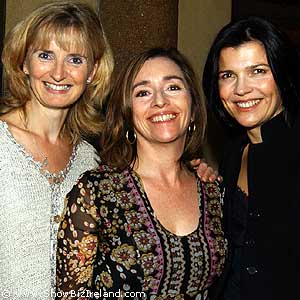 CHERNOBYL HEART: ADI ROCHE, MARYANN DELEO & ALI HEWSON
Although Bono could not be there to support his wife due to his very busy schedule he sent along his second-in-command The Edge to show U2's support for the heart wrenching movie.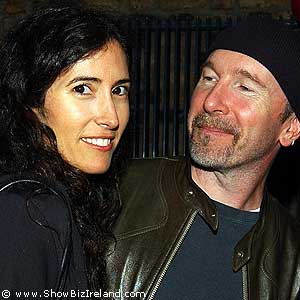 CHERNOBYL HEART: THE EDGE & MORLEIGH
It was nice to see that the love affair between The Edge and his better-half Morleigh is still fresh with the two doting over each at the screening. Awwwe, how sweet!
For more info about the Film Festival go to: www.IrishFilm.ie
Discuss this story in ShowBiz Ireland Forums...