Wanna Be Paparazzi & Make Easy Money?
Email us your Celebrity Digital Photos and Videos... There could be a fortune sitting in your mobile handset. If you snapped it then send it to us at:
Very. Important. Pictures.
01-10-00 news EXCLUSIVE
Bono & Liam's Pic on the Black Market...
The most controversial picture ever taken of U2 singer Bono and Oasis singer Liam Gallagher is about to hit a street corner near you. The famous snap taken in Dublin of Bono and Liam kissing which appeared on the cover of Rolling Stone magazine and a number of other well known publications is rumoured to be on the black market and circulating for the use on illegal merchandise.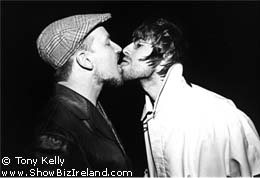 Bono & Liam Gallagher's intimate moment
Photo: Tony Kelly, mrkelly37@hotmail.com
Ireland's premier showbiz photographer Tony Kelly, who took the picture has told ShowBizIreland.com, he has been informed that with the break up of Liam Gallagher and his wife Patsy Kensit the picture is expected to go onto the front of T-shirts with the caption "Liam gets over Patsy", "Liam's New Love", and "Liam falls for another singer."
Copyright on the photograph still belongs to Mr. Kelly who is set to lose a considerable amount of money when the illegal merchandise his the street.
Related Stories:
11-05-07
Happy 47th Birthday Bono
03-01-07
Sir Bono: Cool Or Not Cool???
25-09-06
Bono Wilde at Book Signing
19-06-06
The Edge Honours Gallagher
15-05-06
Bono Birthdays at Lillies
30-03-06
Bono Bent on Beckett...
27-03-06
Bono Back on Irish Soil
18-01-06
Stars Breakfast on Pluto
09-01-06
Bono's Christmas Smooch
22-07-05
U2 Support Their Friend
29-06-05
U2 Back On Home Soil
24-01-05
Bono Gets in By A Whisker
04-01-05
Bono Takes Family To The Races
21-12-04
Bono & Duffy Merry @ Lillies
17-12-04
Bono Walks Among His People
14-12-04
U2 Dismantle Dublin City
30-11-04
Bono's Dublin Sex Shop Stop
17-11-04
Bono Rocks Whiley Radio 1 DJ
04-10-04
Chernobyl's Got The Edge
28-09-04
Bono's Chili Reception
03-06-04
Bono Takes the EU for Lunch
28-05-04
Bono Takes U2 on a Carriage Ride
25-05-04
Bono Takes Musos to Renards
13-05-04
ShowBiz Recap of the past 7 Days
12-02-04
Neeson Joins The Edge in Batman
09-02-04
Bono Celebrates Flower Power
04-02-04
Bono Puts Janet's Boob Behind Him
19-01-04
U2 Nearly Split by the Hand of God
22-12-03
Bono Parties Hard with Justin
19-12-03
Bono Up For a Globe In America
03-12-03
For the Rev. Martin Luther King, Sing
19-11-03
Eubank Bowled Over in Dublin
28-10-03
Bono & Celeb Pals Party at Lillies
21-10-03
That Painting is the Image of Bono
20-10-03
Bono Sprints for a Pint in Lillies
06-10-03
Bono Launches Peter & The Wolf
02-10-03
Bono's Talking Fables Again
25-09-03
U2 & The Corrs Support Fringe Fest
16-09-03
Bono Buys His Neighbour's Gaff
03-09-03
Bono Lunches with Beyonce & Jay-Z
18-08-03
Bono To Join Jagger in Dublin?
12-08-03
U2's Dockland Home has a Designer
10-07-03
Bono & Bob to Bang Dustbins
08-07-03
Bono & Bertie Launch Report
12-05-03
U2 Come Out for Neil Young
07-05-03
Bono & Robert De Niro in Dublin
01-05-03
Bono & Stars Support The Sherrif
17-04-03
U2 to Play Secret Lou Reed Gig?
10-04-03
Bono & Pavarotti to Help Iraqis
01-04-03
Bono Duets with Diva J.Lo
10-03-03
Bono's Back Clashes with Engagements
05-03-03
Bono Accused of Insider Trading
04-03-03
Bono's Farrell Drop the Debt Plea
28-02-03
Bono Gets Humanitarian Award
19-02-03
Bono Slips out of Another Premiere
18-02-03
Bono Backs Out of Frida Premiere
13-02-03
U2 & Daniel Gang Up on Oscars
04-02-03
Bono: The Best Singer of All Time?
28-01-03
U2 throw Celeb Bash in Clarence
27-01-03
The Edge struts his stuff for BT
27-01-03
U2 Play Host to Top Celebs
23-01-03
Bono Welcomes Helena to Dublin
20-01-03
U2 get Hands on Golden Globe
13-01-03
U2 and More at Gangs Premiere
09-01-03
The Edge becomes a Super Model
03-01-03
The Edge Signs Peace for New Year
23-12-02
U2 Endure the Christmas Party
09-12-02
U2 Contemplate The End
28-11-02
U2 World Tour next Summer?
15-11-02
No U2 Storm at MTV Euro Awards
13-11-02
U2 moving their Studio to Britain
12-11-02
Bono gives You're a Star Azi his Vote
04-11-02
Bono collaborates with Friday again
21-10-02
Listen to U2's "Best of" Online
08-10-02
Bono Helps Guggi Host New Work
24-09-02
Bono's Boys Are Back in Town
22-08-02
U2's Tribute to The Ramones
12-08-02
The Bonos 20th Anniversary
30-07-02
U2 to cause Electric Storm
29-07-02
A Musical Weekend in Dublin
23-07-02
The U2 boys are back in Town
05-07-02
Bono Rules Out the Political Podium
02-07-02
Bono Soldiers On & On...
24-06-02
The Edge & Morleigh Man & Wife
21-06-02
U2 still sing at the Dock of the Bay
13-06-02
Larry Leaves Bono to Sir Paul
10-06-02
Bill & Bono The Flower Pot Men
07-06-02
Clinton takes the Bono Tour of Dublin
21-05-02
Bono Takes Irish History to Africa
20-05-02
The Edge to Marry Mysterious Morleigh
15-05-02
ShowBiz Ireland Cribs: The Edge & Irvine
13-05-02
Bono Celebrates a Quiet Birthday
10-05-02
U2 Stuck In A Moment with *NSYNC
03-05-02
Bono Shows His Hot Lips!!
24-04-02
Bono is No Naked Chef!!
22-04-02
The Bono's Shy Away from Irish Politics
15-04-02
Friday's Back on East of Harlem
12-04-02
Bono Finally Plays His Joker Card
27-03-02
Bono defends his REM pal
25-03-02
The Edge wins wife & loses Ride
21-03-02
U2 & Irish Stars turn out for Ronan's Mum
20-03-02
Bono looses face with friends
11-03-02
U2 talk to ShowBiz Ireland
06-03-02
Exclusive U2 After Show Photos
06-03-02
Exclusive Meteor Awards Photos
05-03-02
U2 get 7 & Westlife get 3
04-03-02
U2 & Westlife to clean-up at Irish Awards
01-03-02
U2 Leave no Grammys Behind
18-02-02
U2 to join Enrique & The Corrs
13-02-02
U2 are Feckin' Loaded!!
11-02-02
No more kids for Bono says Ali
08-02-02
Ali & a Cranberry Time Out in Bono's Pad
07-02-02
Ali leaves Bono for The Cranberries
30-01-02
U2 battle for Hanover Quay
23-01-02
Irish bands have no NRJ in France
21-01-02
U2 for Irish Music Awards?
19-12-01
Bono chooses PACHA over Ronan
17-12-01
Bono & Van's Stamp duty
13-12-01
Bono is proud to be Irish
06-12-01
Bono wants to Cruise to retirement
30-11-01
U2 have French 'NRJ'
20-11-01
Bono advises Steriophonics
09-11-01
Irish stars flunk at MTV Awards
31-10-01
U2 & Ash Awarded Q's
18-10-01
U2 new album and Bono burn-out
02-10-01
Bono talks tough measures
28-09-01
U2 get 4 chances to meet Ali G
18-09-01
U2's WTC disaster donation plea
10-09-01
U2's MTV VMA Report 2001
04-09-01
Photos of U2's Slane after-show party
27-08-01
Photos of Bono's Dad funeral + Slane Report
24-08-01
Sean Penn follows Bono's Pledge
21-08-01
U2 sends Oasis "back to the drawing board"
16-08-01
U2 Tickets for Sale: £500 a Pop!
14-08-01
Bono's Dad only "days to live"
10-08-01
U2 plan massive Slane VIP party
31-07-01
U2 go to hardback
26-07-01
U2 report from 'Gay Paris'
25-07-01
U2 5 MTV VMA NOMS!
24-07-01
Bono & Geldof Drop Protesters,
18-07-01
Bono comes home for ill Bob
17-07-01
U2 Slane tribute: Irish fans wanted
20-06-01
U2 have a Christmas Destiny
20-06-01
Review & Pics of U2 in DC
15-06-01
U2 U-turn on their loyal again
14-06-01
Bono: I name thee John Abraham
08-06-01
U2 - Feedback the story so far
07-06-01
Bono, Jackson, Bon Jovi Academia
28-05-01
Busy night for Bono, Bob, Bertie & Bill
22-05-01
Actung Baby boy
10-05-01
Bono & Friday open Cannes
01-05-01
Bono seeks Oprah's help
27-04-01
Bono splashes out on more Pressies
26-04-01
Bono helps fight Foot & Mouth
17-04-01
Bono to give Turlington Away
10-04-01
Tomb Raider saves U2
03-04-01
Bono made "ill" REM
27-03-01
Bono & Friday Children of the Revolution
26-03-01
U2 Elevate in Miami
23-03-01
Slane may be a Foot in Mouth case
20-03-01
The Corrs to support U2 in Miami
14-03-01
ShowBiz Ireland Banned by U2??
12-03-01
Help get "No2 4 U2" @ Slane
01-03-01
Confirmed: No U2 Dublin Gig!
28-02-01
U2 very close to Dublin gig
27-02-01
Irish Artists dominate Brits
23-02-01
ShowBiz Ireland Live at the Brits with U2
12-02-01
U2 want to do 2 Slane gigs
08-02-01
Exclusive Pics and Review of U2's London gig
07-02-01
Yes ShowBiz are Live at U2's UK gig
05-02-01
U2 may play secret Dublin gig
01-02-01
U2's Stuck in a Kitten Moment
18-12-00
The Edge at home in Malibu
15-12-00
U2 welcome a Fun Lovin' Criminal
13-12-00
Bono hits back at Gibson
05-12-00
Bono & Jagger move in together
01-12-00
Bono missed Batman role
29-11-00
U2 to receive Brit Award
13-11-00
Bono's father "still rocking at 75"
30-10-00
Bono's song for Omagh
27-10-00
U2: Hotpress Interview
26-10-00
Irish fans get a bonus U2 track
25-10-00
Dylan snubs Bono for mouthing
20-10-00
Gibson slates Bono's Hotel
17-10-00
Larry Mullen wants no more neighbours
10-10-00
Bono buys a pad in NYC
01-10-00
Bono & Liam's pic on the Black Market
29-09-00
Bono wants Slane to be U2's last outdoor concert
28-09-00
U2 to perform at Euro MTV Awards
26-09-00
U2 sing from the rooftops again
19-09-00
Bono's condolences to Paula's children
12-09-00
U2 set to take new album to smaller venues
12-09-00
Bono pays Stipe's £6,000 bill
07-09-00
U2 to attend MTV's VMAs
25-08-00
Bono: the birth of a salesman
02-08-00
Bono misses Ronnie's party to play with new toy
04-07-00
U2's Secret charity party in Killiney
23-06-00
www.U2.com at last
20-06-00
Bono gives Jagger some screen-writing tips
02-06-00
The Edge talks exclusively to Showbiz Ireland
16-05-00
Happy Birthday Bono, Andrea, & Pierce
06-05-00
Bono's 40th Birthday Bash
01-04-00
Bono's hotel staff move on
25-03-00
U2's Freedom up in smoke
25-03-00
U2 Ginger Connection