Wanna Be Paparazzi & Make Easy Money?
Email us your Celebrity Digital Photos and Videos... There could be a fortune sitting in your mobile handset. If you snapped it then send it to us at:
Very. Important. Pictures.
29-06-05 news EXCLUSIVE WITH PHOTOS
U2 Back On Home Soil...
Here at ShowBiz Ireland we feel like we're suffering from a week-long U2 hangover after following the boys from nightclubs to concerts and even to court!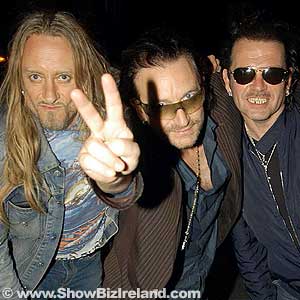 GUGGI, BONO & GAVIN FRIDAY @ RENARDS
U2 are just about every media person's dream project because no matter where they go they always generate tons of stories, gossip and photo opportunities...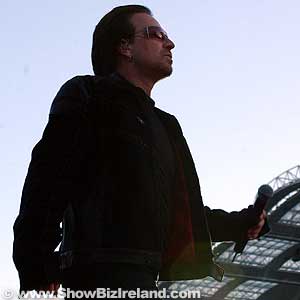 U2 PLAY CROKE PARK
And their current visit to their home stomping-ground is no exception as the hype they brought with them and their gargantuan Vertigo Tour has basically filled the pages of every newspaper in this country for the past week.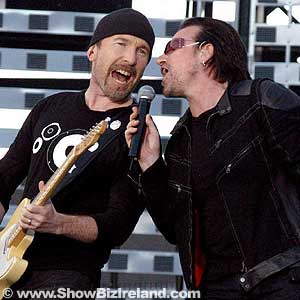 U2 PLAY CROKE PARK
When Bono got back to Dublin last week the first thing he did was to catch up with his best mates Guggi and Gavin Friday with a few bevys in Lillies Bordello with Andrea & Jim Corr and then on to Renards for a few more with Coldplay!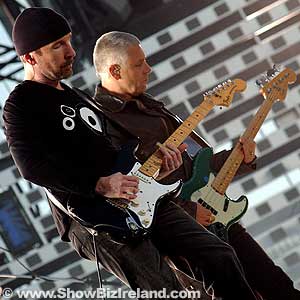 U2 PLAY CROKE PARK
Then things went quiet for a day so the lads could be well rested for the first night of their concerts on Friday in Croke Park.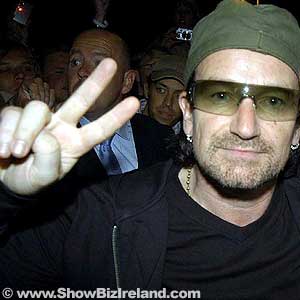 BONO @ THE CLARENCE HOTEL
And without fail the boys delivered the concert that blew away all die-hard U2 fans and even impressed those not too fond of Bono's humanitarian rhetoric.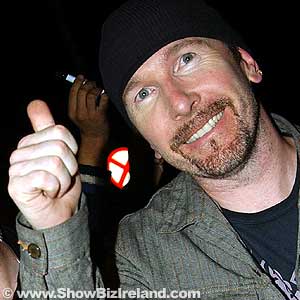 THE EDGE @ THE CLARENCE HOTEL
After the concert on Saturday night the lads had a bit of a shindig in their Clarence Hotel with friends and family and had Sunday free to sleep off the hangover...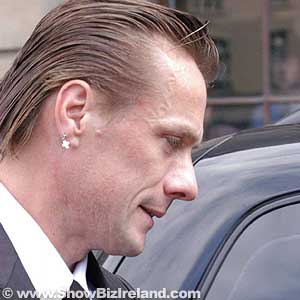 LARRY MULLEN @ COURT 28
And after their final concert on Monday night U2's schedule wasn't clear yet - they had an impending court case to attend against a former stylist of theirs, Lola Cashman, who allegedly wrongfully took certain classic pieces of Bono's wardrobe back in the late 80's.
Both Bono and Larry Mullen appeared in Court 28 yesterday to testify against Lola - the case continues today.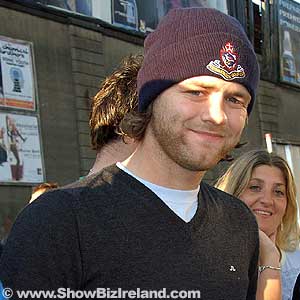 BRIAN MCFADDEN @ CROKE PARK
But with all the U2 hype going on spare a thought for Brian McFadden who's been getting a lot of flack from the media lately - the former Westlife singer got no VIP treatment as he had to queue-up with the thousands of other fans on Monday night to get access to the final U2 gig Croke Park!
Discuss this story in ShowBiz Ireland Forums...