Wanna Be Paparazzi & Make Easy Money?
Email us your Celebrity Digital Photos and Videos... There could be a fortune sitting in your mobile handset. If you snapped it then send it to us at:
Very. Important. Pictures.
11-02-02 news EXCLUSIVE WITH PHOTOS
No more kids for Bono says Ali...
Bono's Sweetest thing, his wife Ali Hewson, has spoken exclusively to ShowBizIreland.com last week admitting that the couple will never have any more children.
Speaking in U2's hotel The Clarence last Thursday Ali said, "The house is full enough. No more Kids. That's it we are done and we are very happy. Definitely no more kids we are over run as it is."
But, Bono is not the only man Ali is laying down the law with. The Irish Taoiseach Bertie Ahern and the British Prime Minister Tony Blair are also coming under fire from Mrs Bono.
"I'm actually going into see the Irish government this week. I have something I am organizing for this year but is nothing like the charity fashion show I organized. It is about Sellafield. I'm really trying to get everybody to do something."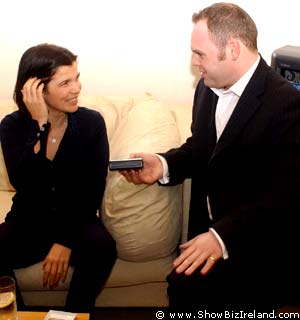 ShowBiz Ireland's Jason O'Callaghan with Ali Hewson
She went on, "Since September 11th I have definitely been more conscious. Who knows what terrorists will do. Sellafield can't be fully protected. We will lobby the Irish government. Not just Bertie Ahern. We will be going after Tony Blair as well."
Ali also spoke about the couple being refused planning permission for a whole new floor on the couple's Killiney home recently.
"We didn't get permission but that's okay. An Taisce are doing a good job and keeping an eye out for everybody. So, as long as we are treated the same as everybody else that's fine. I am not bothered because it's one less thing to worry about this year."
Ali was joined in the Clarence by the lead singer of The Cranberries Dolores O'Riordan and Adi Roche, the director of the Chernobyl Children's project to launch The Cranberries new single "Time is Ticking Out" which is in aid of the charity and was inspired by Ali's work for the charity.