Wanna Be Paparazzi & Make Easy Money?
Email us your Celebrity Digital Photos and Videos... There could be a fortune sitting in your mobile handset. If you snapped it then send it to us at:
Very. Important. Pictures.
06-12-07 news EXCLUSIVE WITH PHOTOS
Katy French Rest in Peace...
It is with a heavy heart and a tear in the eye we report that Irish Model Katy French passed away this evening - at this time only a very short week ago, she was getting ready for the biggest party of her life...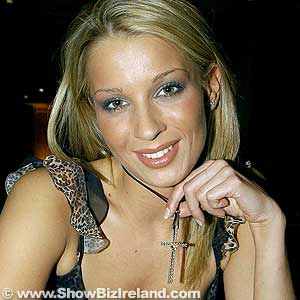 KATY FRENCH, MODELS NECKLACE
At the tender age of 24 Irish Model Katy French passed away in Our Lady's Hospital in Navan surrounded by her sister, her mother and her father. The young beauty had been in a coma since the early hours of last Sunday morning and unfortunately never regained consciousness to witness the nationwide support and outpouring of public sympathy.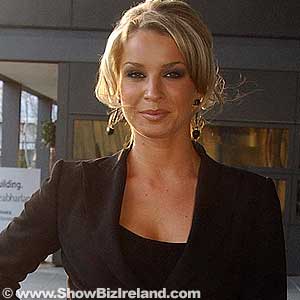 KATY FRENCH, THE PODGE & RODGE SHOW
It was only last Thursday, this very night, that we attended Katy's 24th Birthday party in Krystle night club where the vivacious social butterfly worked some of Ireland's toughest journalists and raised a smile and a wink from every man in the room...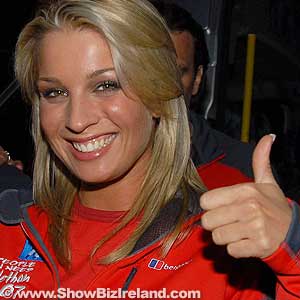 KATY FRENCH, THE LATE LATE SHOW
Many people thought it strange that the energetic blonde celebrated her birthday surrounded by Showbiz industry types rather than close personal friends, but that was Katy. Always working, always on. She even admitted herself that it was more of a media event than a bash for her pals. And agree with this approach to life or not, she certainly grabbed the media's attention and rapidly rose to the top of her notoriously competitive profession.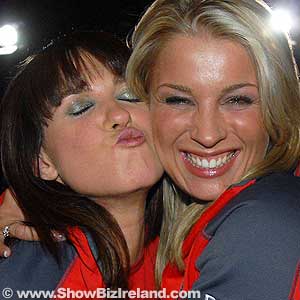 KATY FRENCH WITH VICTORIA MARY CLARKE
Katy was a hard person to dislike, even tough she used every trick-in-the-book (and a few new ones) to get maximum publicity from the press. If you got the chance to talk to her you would have found her very down-to-earth, intelligent, articulate, witty, family driven and brutally, brutally honest! In fact, there wasn't anything she didn't have an opinion on. And in that regard her musings were probably not the standard prerogative you were expecting from a person who derived a living from her looks.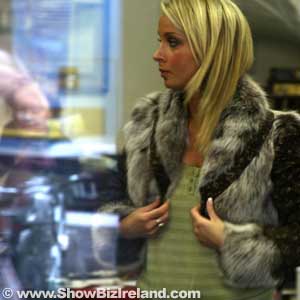 KATY FRENCH, TRIES ON REAL FUR
It was only a few months back we had an extended lunch with Katy ('Frenchy' to her pals) sitting outside Pasta Fresca just off Grafton Street. She told us at the time, with a wry smile, "all the publicity wasn't for nothing ye know?" She'd given up "going to the opening of an envelope" and even had plans for TV shows and was working on a few programme concepts with a well known production company. Any clues Katy? "A Travel show, nothing like what Kathryn Thomas is into! That, I can tell you." She was determined to have a long and successful career in the spotlight and not just be "another flash in the pan."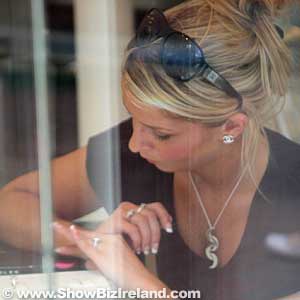 KATY FRENCH, TRIES ON ENGAGEMENT RING
It's fair to say we here at ShowBiz Ireland would have considered Katy to be a friend, but in the light of her tragic passing it's probably a bit cliche to say that now... As in this industry it's hard to call anyone a friend really, as we know nothing personal about one-another, other than what gossip we pick up at each successive party launch or in between drinks in the VIP lounges of Lillies, Renards or Krystle. Too many air-kisses and not enough bear-hugs! That's probably something that's passing through the minds of many people on 'the scene' tonight - should we have picked up on the fact that all was not well with Katy and perhaps changed this horrific outcome, somehow? Who knows...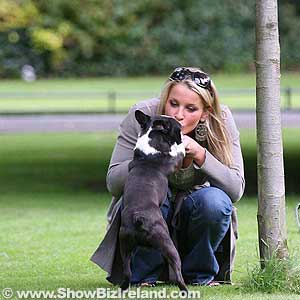 KATY FRENCH, PLAYS WITH A POOCH
Either way we've lost one of the brightest sparks in Irish Show Business tonight and it feels like such a tragic waste of a life. Many web bloggers liked to use the pun; 'What Katy Did Next...' in relation to her numerous outrageous media pranks and gaffes, but the sad realisation has just hit us - we will never know what Katy did next... Who knows what potential she had? Such a shame. A tragic loss.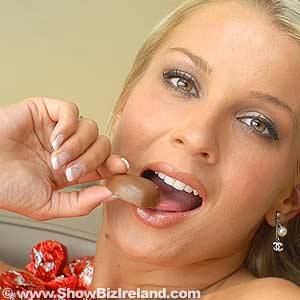 KATY FRENCH, MODELS WITH CHOCOLATE
ShowBiz is a tough industry, probably the toughest. You need a thick-skin and a brass-neck to get on in this business. Katy had both... Speaking to her you would find it hard to believe she was merely 24-years-old as she was extremely media-savvy and so confident in her opinions and views. A strong ambitious girl who perhaps lost her way...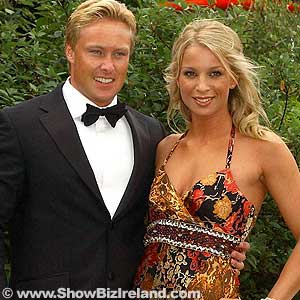 KATY FRENCH, WITH EX MARCUS SWEENEY
With Christmas coming our sincerest thoughts are with the French family, her friends, her work colleagues, and her many, many fans. Our collective loss is unimaginable and hopefully if there are any lessons to be learned from the death of Katy French, we learn them quick and don't just throw away her memory with 'tomorrow's chip paper' (Katy's favourite phrase!)...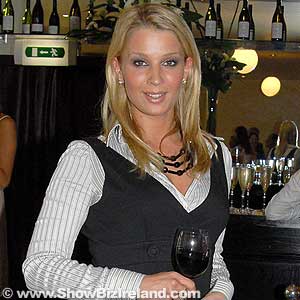 KATY FRENCH RIP
As we left Katy's 24th Birthday party last Thursday night around midnight she stopped us, and the last words she said to us were: "You're not leaving already, are ye?" Who knew at the time that Frenchy would be the one to ultimately leave the party early...
If ever you go to Dublin Town in a hundred years or so...
Katy French Rest in Peace.