Wanna Be Paparazzi & Make Easy Money?
Email us your Celebrity Digital Photos and Videos... There could be a fortune sitting in your mobile handset. If you snapped it then send it to us at:
Very. Important. Pictures.
05-06-07 news EXCLUSIVE WITH PHOTOS
Nina Finds Krystle Stiletto...
There's a new Irish artist on the block called Nina Divito, she's come straight out of Dublin's emerging affluent Bebo Generation who are trying to redefine our capital's VIP club scene...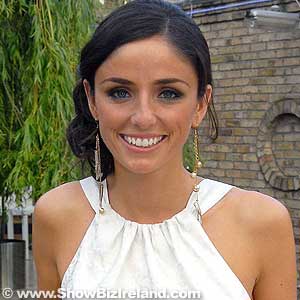 NINA DIVITO @ KRYSTLE NIGHTCLUB
ShowBiz Ireland's remembers Dublin City in the rare old times, and in the rare old times before that, and probably before that again... But in a city that is in a constant state of flux, change is inevitable and nowhere is this better reflected than in what is considered 'hot' and thus 'not' in our choice of clubs.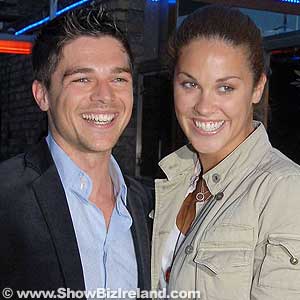 GLENDA GILSON & BRIAN O'MALLEY @ KRYSTLE NIGHTCLUB
Of course Lillies Bordello has been the king of clubs in this town for years and showed a clean pair of heels to any pretenders to its gilded crown. And with every new club that opens we hear the jaded herald from the social-set that it's over for the Bordello, only to see them gradually file back to the venue with tails firmly fixed between their legs.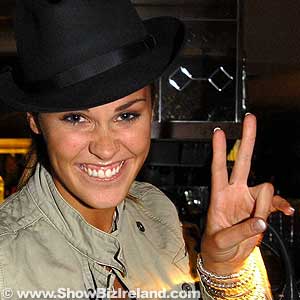 GLENDA GILSON @ KRYSTLE NIGHTCLUB
But the latest challenger in the competitive VIP club scene seems to have shaken things up a tad. Krystle Nightclub on Harcourt Street burst onto the scene recently and has become HQ for our young silver spoon fed models and their wealthy kinsmen. And with so many pretty girls on show the male punters are swarming through the doors.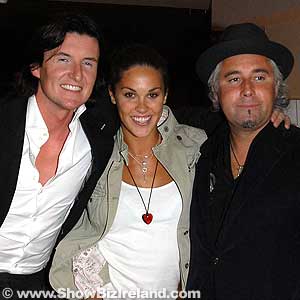 JOHN FOLEY, GLENDA GILSON & TERRY BRADLEY @ KRYSTLE NIGHTCLUB
With all the hype and hullabaloo going on ShowBiz Ireland decided to investigate. We attended an exhibition of works based on iconic semantic of the humble stiletto called "Champagne & Shoes" by talented Irish artist and designer Nina Divito displayed inside Krystle's glamorous doors...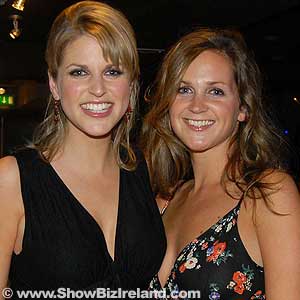 AMY HUBERMAN & JOANNA MANAHAN @ KRYSTLE NIGHTCLUB
Coincidentally, Nina is dating one of the club's young managers, Brian O'Malley... The club's other young manager, Conor Buckley, is dating top Irish model Sarah Kavanagh... Hmmm, there is definitely a feeling that the first ever generation of celtic tiger cubs are coming up and putting their own stamp on this town's late night culture.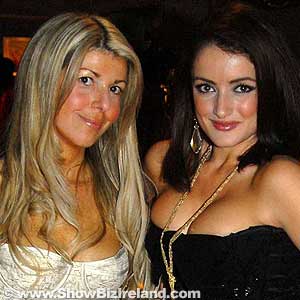 TARA O'LEARY & VIRGINIA MACARI @ KRYSTLE NIGHTCLUB
Inside, Krystle looks great. It's got a very contemporary feel with clean lines, glass panels, white leather and cool blue neon. But the x-factor lies with the outdoor / indoor proportionality, with a large percentage of the floor space devoted to a 'smoking room' which, in affect, is a clever use of space coinciding with our recently updated smoking regulations.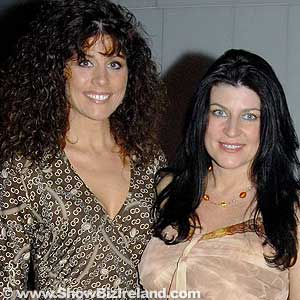 GILLIAN QUINN & PATRICIA ROE @ KRYSTLE NIGHTCLUB
And with a fresh new approach to layout and target marketing our wealthy young emerging graduates, most of which still use Bebo to interact, Krystle has got some of the more established clubs and late night bars worried...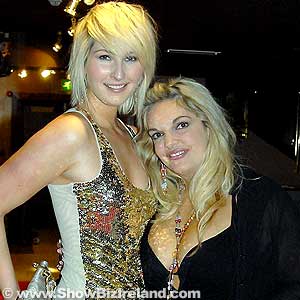 EIMEAR KELLY & KARLA ELLIOT @ KRYSTLE NIGHTCLUB
Eddie Irvine was first to hit back announcing his plush bar Cocoon is closing down for a few weeks and re launching with an outdoor terrace and a complete redesign. We also heard a rumour that Lillies Bordello has tightened its door policy and is also planning a redesign of it's outdoor smoking areas...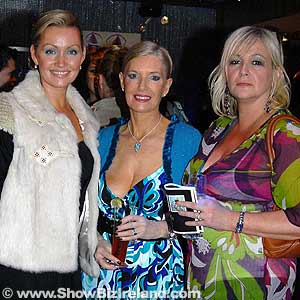 VIVIENNE CONNELLY, ANNE BOYLE & JACKIE ALLMAN @ KRYSTLE NIGHTCLUB
So rather than spell out doom and gloom for Dublin's top VIP venues, the arrival of Krystal has really just shaken-up the city's publicans. And if increased competition from these young pretenders does nothing more than breath some life back into Dublin's increasingly stagnant 'scene' then we're all for it and wish the lads the best of luck with their exciting venture.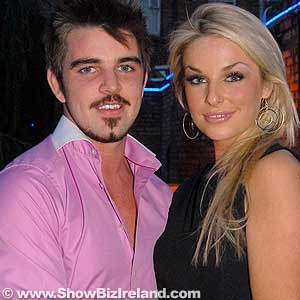 ANDY QUIRKE & PIPPA O'CONNOR @ KRYSTLE NIGHTCLUB
If you would like to get more information on artist and designer Nina Divito please visit her website here: www.ninadivito.com...