Wanna Be Paparazzi & Make Easy Money?
Email us your Celebrity Digital Photos and Videos... There could be a fortune sitting in your mobile handset. If you snapped it then send it to us at:
Very. Important. Pictures.
19-06-07 news EXCLUSIVE WITH PHOTOS
It's On: Sheamus Vs Vinnie...
He's fast becoming one of Ireland's busiest actors and is soon to scale the heights on the biggest stage there is - but Irish Wrestler Sheamus O'Shaunessy relished a show-down with UK hard man Vinnie Jones last week...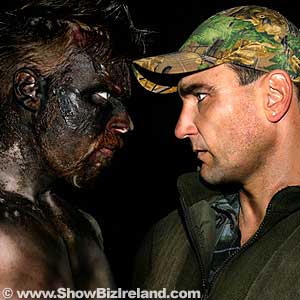 SHEAMUS O'SHAUNESSY & VINNIE JONES: BOG BODY
Actresses Amy Huberman and Olga Wehrly looked fearful as they walked through the misty laneways in the Wicklow Mountains last week, for something huge and ancient had just emerged from the peat bog and was stalking them with extreme malice...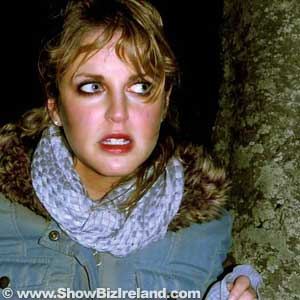 AMY HUBERMAN: BOG BODY
But help was at hand from an unlikely source, Vinnie Jones! With a sidewinder bow pulled back to its limits the former soccer star let go and pinned the dark evil figure to a mighty Oak with a single arrow, but it still lived...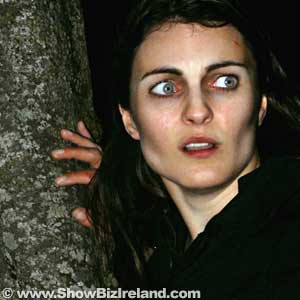 OLGA WEHRLY: BOG BODY
So he doused the undead warrior in petrol, lit an arrow head, aimed carefully and shot the flame into the flaying beast's chest, enveloping it in an intense inferno.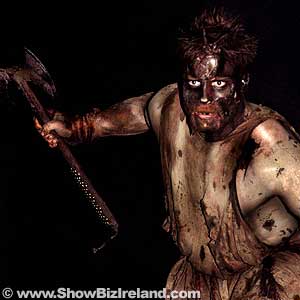 SHEAMUS O'SHAUNESSY: BOG BODY
But before you start avoiding the hills around Dublin, the scenario was acted out as part of the opening scene in Irish horror movie Bog Body. Vinnie was playing the hero role of Mr. Hunter and Sheamus was playing an ancient ritualistically murdered Celtic Warrior risen from the dead after being preserved in the murky enchanted bog...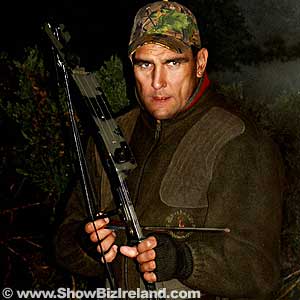 VINNIE JONES: BOG BODY
Written and directed by Brendan Foley and produced by Joe Condren, the plot of Bog Body sees Vinnie Jones on the trail of his old chum from Snatch, Adam Fogerty, who plays the main Bog Body in the film. After developers disturb a peat bog a 2000 year old murder victim returns to life and battles with the Irish, English and American cast.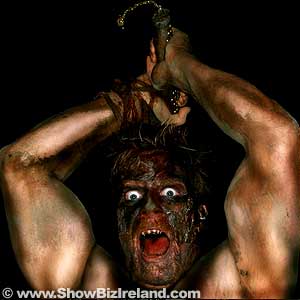 SHEAMUS O'SHAUNESSY: BOG BODY
ShowBiz Ireland managed to blag our way onto the Bog Body set on a secluded hillside on a cold wet night last week and catch up with Sheamus, Vinnie and Adam as they sat in their trailer staring out at the heavy rain that looked as if it was never going to stop.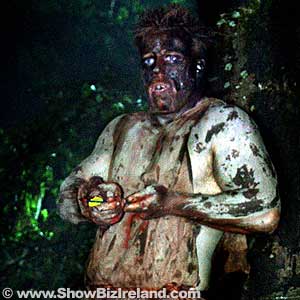 SHEAMUS O'SHAUNESSY: BOG BODY
Vinnie had just come from promoting The Condemned in the USA with former WWE wrestling superstar Steve Austin, so we thought it was ironic that he was hanging out with the WWE's next big star (if the rumours are to be believed), Sheamus O'Shaunessy...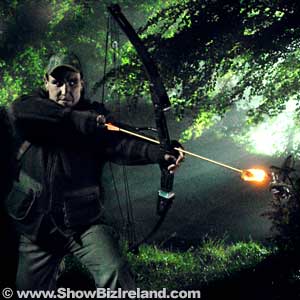 VINNIE JONES: BOG BODY
Even though we knew we weren't gonna get a straight answer on whether the big ginger giant was soon to be part of Vince McMahon's roster, we asked him anyway. To which Sheamus replied: "No Comment Fella!" Well we weren't gonna push the point, have you seen the size of him?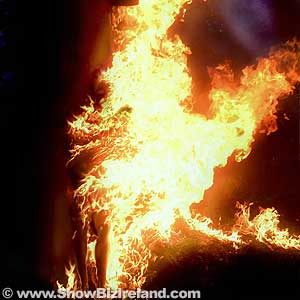 SHEAMUS O'SHAUNESSY GETS HOT: BOG BODY
After spending a few damp hours on the Bog Body set we're really looking forward to seeing this Irish movie in the cinemas. With many of the people behind-the-scenes from stunt coordination backgrounds there is definitely an emphasis on the spectacular with lots of big bangs and splashes!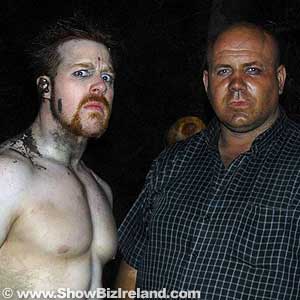 SHEAMUS O'SHAUNESSY & ADAM FOGERTY: BOG BODY
You can visit Sheamus O'Shaunessy's official website here: www.sosofficial.com or drop him a message at his new MySpace page: www.myspace.com/sosofficial...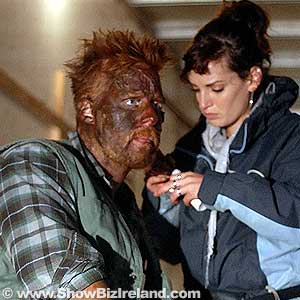 SHEAMUS O'SHAUNESSY & MAKE UP ARTIST NINA AYOUB: BOG BODY