Wanna Be Paparazzi & Make Easy Money?
Email us your Celebrity Digital Photos and Videos... There could be a fortune sitting in your mobile handset. If you snapped it then send it to us at:
Very. Important. Pictures.
05-01-07 news EXCLUSIVE WITH PHOTOS
Sinead Gives Birth to Jesus...
Between Christmas 2006 and New Year's Day 2007 ShowBiz Ireland witnessed 3 historic events in Irish popular culture which will probably signal the end of the world and life as we know it. Probably...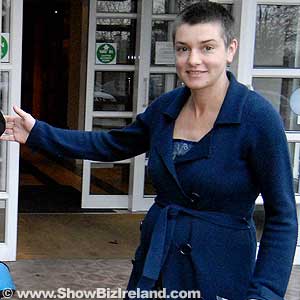 SINEAD O'CONNOR @ MOUNT CARMEL
We're most likely the only ShowBiz website on the planet that is constantly seeking apocalyptic signs in the Irish Entertainment industry while other charlatans waste their time on astronomy, Rune stones, tea leaves, psychics and even bleedin' scientific evidence... What a waste of time. Global warming? George Bush? Yeah Right!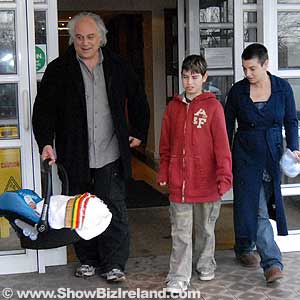 SINEAD O'CONNOR WITH PARTNER FRANK BONACLIO HIS SON CIAN & BABY YESHUA @ MOUNT CARMEL
Hence, ye of little faith will rue the day that Ireland's top celebrity website ignored the planetary alignments, saw past a pair of boots on the coffee table, laughed at the gypsy's evil eye, openly jested several black cats and magpies yet foresaw the Second Coming, The Anointing of a non-believer, and The Burning Bush. Read our critique of evidence which surely signals doom on the horizon...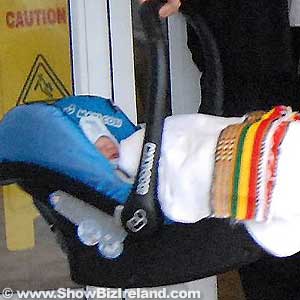 BABY YESHUA @ MOUNT CARMEL
Firstly, Irish singer Sinead O'Connor gave birth to a baby boy at Christmas which she called Yeshua - the Hebrew name for Jesus. Sinead is a priest plus she played Jesus' mother Mary in Neil Jordan's The Butcher Boy. Thus, we're calling this Virgin birth the first sign: The Second Coming.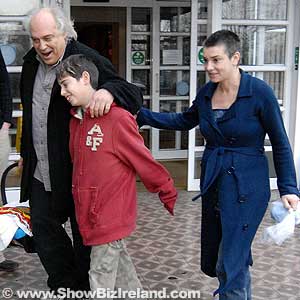 SINEAD O'CONNOR WITH PARTNER FRANK BONACLIO HIS SON CIAN & BABY YESHUA @ MOUNT CARMEL
Secondly, patron Saint of everything that is good and charitable in the world, Bono, agreed to accept a knighthood from the Queen of England. He justified this action based on the fact that he has accepted similar honours from other nations and didn't want to insult the British. We're not convinced and think our greatest living Irishman feels pressured into taking the Queen's Shillin'. We're calling this second sign: The Anointing of a Non-Believer...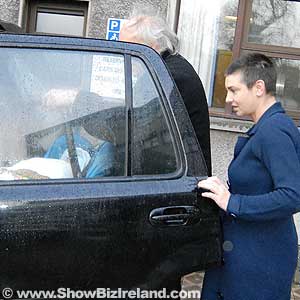 SINEAD O'CONNOR WITH PARTNER FRANK BONACLIO & BABY YESHUA @ MOUNT CARMEL
Thirdly and lastly, as the bells chimed in 2007 we got a frantic phone call stating that: The George, The George, The George is on Fire! We immediately dispatched a photographer around to Dublin's Premier Gay club only to find that a Christmas tree in the hallowed venue had spontaneously burst into flames. We're calling this third sign: The Burning Bush.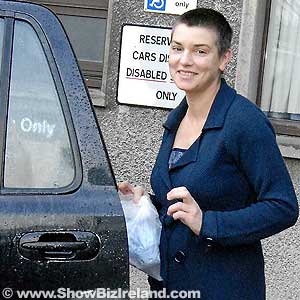 SINEAD O'CONNOR @ MOUNT CARMEL
Granted, we're ignoring Colin Farrell finally giving up the booze and Dublin house prices dipping for the first time in 12 years. But even omitting these other foreboding omens the 3 ominous signs above must surely be a premonition of the coming of The Four Horsemen of the Apocalypse? What else could they mean FOR GOD'S SAKE!!!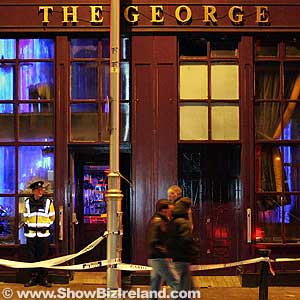 ALL IS QUIET ON NEW YEARS DAY @ THE GEORGE
Well if these 3 eerily weird phenomena aren't the foretold biblicalesque happenings Nostradamus predicted then maybe, just maybe the world is safe for another year. Even so, we'll be watching all things that happen to Irish celebs in 2007 just in case: The End of the World in Nigh!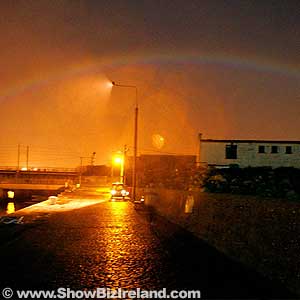 A RAINBOW AT NIGHT OVER BRAY HARBOUR
Oh, we forgot to mention. A rare Rainbow anomaly appeared at night over Bray Harbour yesterday at 8.30pm. Running along the coast starting near where Bono lives, ending close to Sinead's abode! Now are you scared???
Let ShowBizology be your brand of saviour in 2007...