Wanna Be Paparazzi & Make Easy Money?
Email us your Celebrity Digital Photos and Videos... There could be a fortune sitting in your mobile handset. If you snapped it then send it to us at:
Very. Important. Pictures.
22-07-05 news EXCLUSIVE WITH PHOTOS
U2 Support Their Friend...
In Ireland we're used to not seeing friends and relations for years at a time but there's one occasion that always seems to bring us together - a funeral. Gavin Friday's father was buried this week and all his friends rallied around him...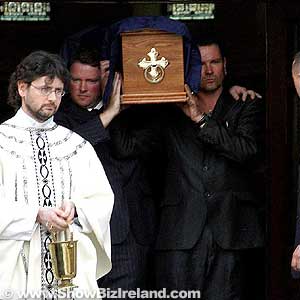 GAVIN FRIDAY @ FATHER'S FUNERAL
In the past ShowBiz Ireland has been criticized for our coverage of celebrity funerals and we completely understand why people feel this way.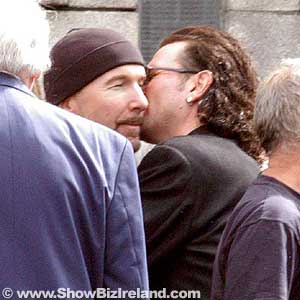 THE EDGE & GAVIN FRIDAY @ FUNERAL
But in Ireland funerals are a strange combination of grief and support and remembrance that we feel need to be documented and thus remembered...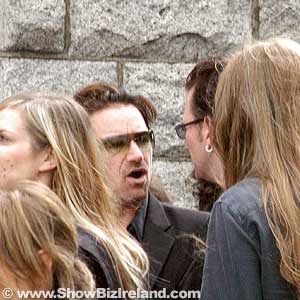 BONO & GAVIN FRIDAY @ FUNERAL
And there is probably no other event in this country that brings everyone together like a funeral - family and friends return from all corners of the world to support the bereaved... It's probably one of the last traditions we have left in Ireland!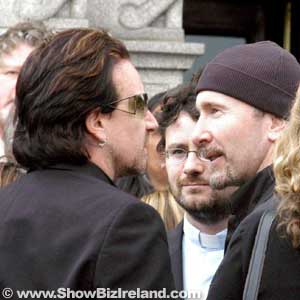 BONO & THE EDGE @ FUNERAL
This week singer Gavin Friday buried his father Robert Paschal Hanvey draped in a Dublin flag as all of his friends from the world of showbiz gathered to lend their support.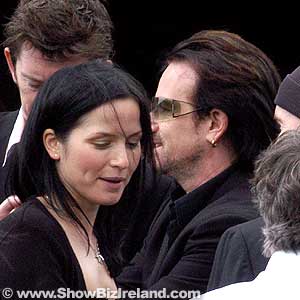 ANDREA CORR & BONO @ FUNERAL
It was very moving to see the likes of the boys from U2, who know Gavin since childhood, coming back from their massive world tour just to be there.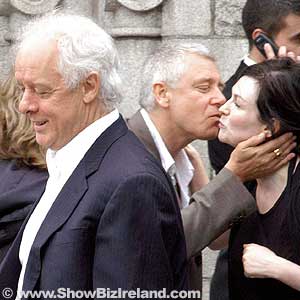 JIM SHERIDAN & ADAM CLAYTON @ FUNERAL
The four U2 lads Bono, The Edge, Larry Mullen and Adam Clayton plus all their respective partners all turned up at the funeral in Finglas.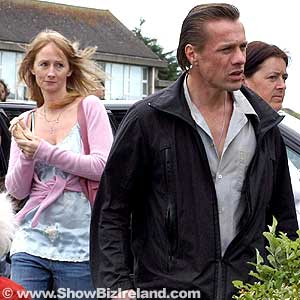 LARRY MULLEN & ANN ACHESON @ FUNERAL
Other Irish stars who attended the funeral included Andrea Corr, Jim Sheridan, Paul Brady, John Rocha, Guggi and many others...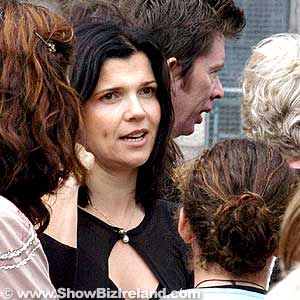 ALI HEWSON @ FUNERAL
R.I.P. Robert Paschal Hanvey.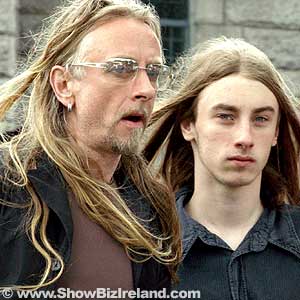 GUGGI & SON @ FUNERAL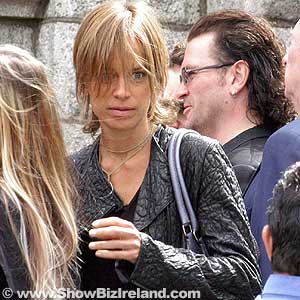 ADAM CLAYTON'S FRIEND @ FUNERAL
Discuss this story in ShowBiz Ireland Forums...