Wanna Be Paparazzi & Make Easy Money?
Email us your Celebrity Digital Photos and Videos... There could be a fortune sitting in your mobile handset. If you snapped it then send it to us at:
Very. Important. Pictures.
26-07-07 news EXCLUSIVE WITH PHOTOS
Glenda's A Movie Man Eater...
Not content with with dominating the Irish modelling world and having her own music TV show on Bubble Hits, supreme stunner Glenda Gilson is headed at full throttle for the silver-screen with glorious abandon...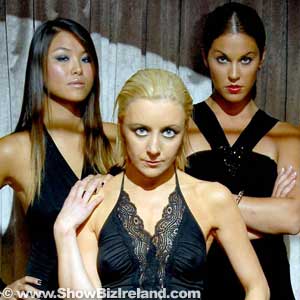 ALICE LI, MARIA MANTON & GLENDA GILSON ON ALL THE LITTLE THINGS
If you ask any actress from Hollywood, Co. Wicklow to Hollywood, California about the state of play in their chosen profession they are sure to hit you with the "there aren't enough meaty roles for women" line, and then probably tell you all men are bastards... Well, it's true. All men ARE bastards BUT thanks to Irish director Jason Figgis and producer Jonathan Figgis there are finally some roles the fairer sex can get their teeth into. Literally!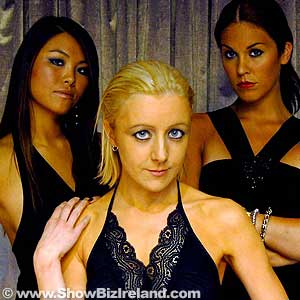 ALICE LI, MARIA MANTON & GLENDA GILSON ON ALL THE LITTLE THINGS
Set in Miami in the not-to-distant-future, 'All The Little Things' is a ten minute short which will open the Irish Film Institute's horror season this coming Halloween, and it's sure to scare the bejaysus out of any of you sleazy nightclub crawlers out to hit on anything in a dress and a pair of stilettos. Hell, it scared the crappola outta us!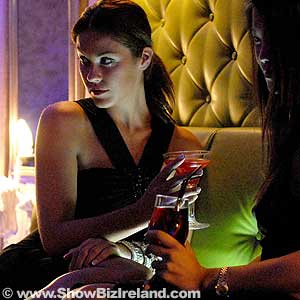 GLENDA GILSON ON ALL THE LITTLE THINGS
For the plot of the movie turns-the-tables on men, when a coven of leggy stunners actually take the bait when hit with their cheesy chat-up-lines. Instead of taking them home for a sexual liaison, the guys become an after club snack for these cruel sirens.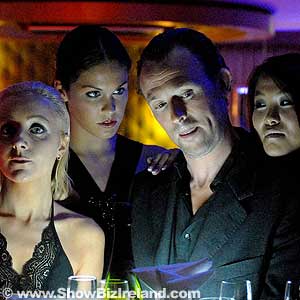 MARIA MANTON, GLENDA GILSON, STEVE GUNN & ALICE LI ON ALL THE LITTLE THINGS
The man eaters, led by Irish actress Maria Manton, are a trio of cannibalistic beauties including Chinese actress Alice Li and introducing Irish model Glenda Gilson. But these uber banshee babes are anything but content with the hierarchy of the group, all want the prime cuts of meat!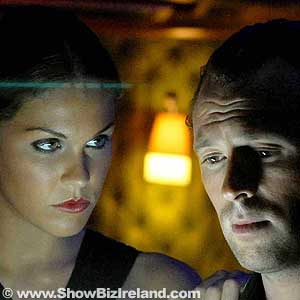 GLENDA GILSON & STEVE GUNN ON ALL THE LITTLE THINGS
ShowBiz Ireland caught up with the very suave cast as they shot the first half of the flick in the plush VIP area of Krystle nightclub on Harcourt Street. And, as you can see from the photos we took, this production is going to be very sleek and very different looking to any other movie ever shot in Ireland.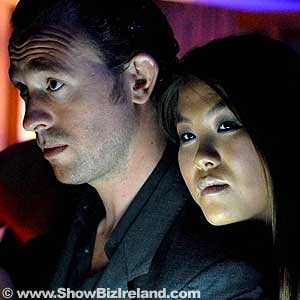 STEVE GUNN & ALICE LI ON ALL THE LITTLE THINGS
And we're glad to report that Ms Gilson totally slew the role she was given... Playing a predatory female and made-up to look like a character from a Robert Palmer video, her on-screen presence impressed all and even grasped her a big part in the producers' next feature film. Go Glenda!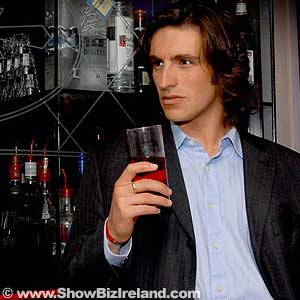 EOIN MACKEN ON ALL THE LITTLE THINGS
The main male leads in the flick are filled by talented Irish actors Eoin Macken and Steve Gunn, and the rest of the cast are comprised of a bevy of models and a few familiar faces off the Dublin club scene.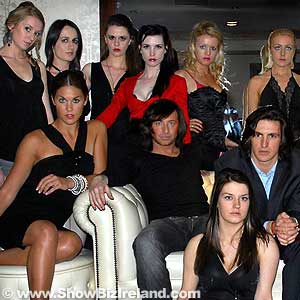 PREY: RAY SENIOR & EOIN MACKEN SURROUNDED BY SIRENS ON ALL THE LITTLE THINGS
Providing the soundtrack to the gorgeous-gore-fest is newcomer Una Healy, who also sings her tracks live in the club whilst all around her vampish harpies select their masculine prey for a post-party nosh-up. Well, it beats going for curry chips on Dame Street!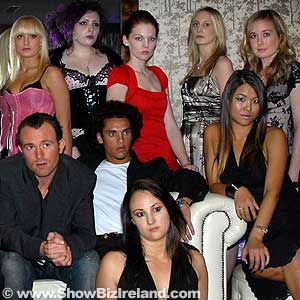 PREY: STEVE GUNN & CARL SHAABAN SURROUNDED BY SIRENS ON ALL THE LITTLE THINGS
And just to show we're still with-the-times we took some video footage of Una performing two of her songs at the Krystle shoot, and despite the shaky-cam we're pretty proud of our little films!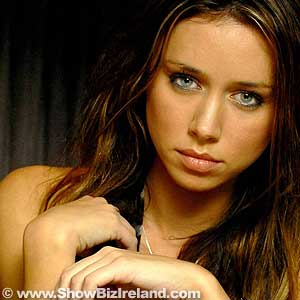 UNA HEALY ON ALL THE LITTLE THINGS
Una Healy performed her original tracks 'Sorry' and 'Same Dream' for the cameras and if our 100% record on spotting talent isn't enough to convince you she's going straight to-the-top then maybe these two ShowBiz Ireland exclusive videos will be...

UNA HEALY SINGS 'SORRY' ON ALL THE LITTLE THINGS
You can check out Una's myspace page here, tell her we sent ya: www.myspace.com/unahealy

UNA HEALY SINGS 'SAME DREAM' ON ALL THE LITTLE THINGS