Wanna Be Paparazzi & Make Easy Money?
Email us your Celebrity Digital Photos and Videos... There could be a fortune sitting in your mobile handset. If you snapped it then send it to us at:
Very. Important. Pictures.
07-05-03 news EXCLUSIVE WITH PHOTOS
Bono & Robert De Niro in Dublin...
Talk about ShowBiz legends - Dublin saw two of the biggest names on the globe, Robert De Niro and Bono, out on the town together on Monday night!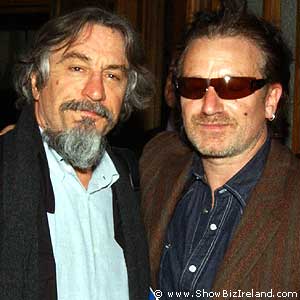 De Niro and Bono
Monday night's events is basically why ShowBiz Ireland was set up in the first place... To see Bono and Robert De Niro walking out of the Clarence Hotel while across town Lou Reed was playing a rare live concert is mind-blowing when you think about how relatively small Dublin is?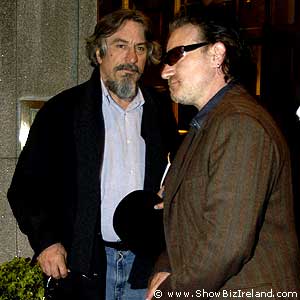 De Niro and Bono
Many people around the world when they think of Ireland think of old men with pipes standing under the stoop of hay thatched cottage with a backdrop of green hills and blue skies - your typical postcard from Ireland.
But NOT us... Apart from Hollywood, Ireland has to be one of the biggest celebrity destinations on the planet and Monday night proved it.
We had the world's biggest rock star out for a quiet meal with the world's biggest movie star like it was the most normal everyday event - in any other city paparazzi would have been swarming like bees!
According to reports De Niro was in Ireland as a guest of Bono and the two went to races in Naas as part of a day out in the country.
The two later ended up in Bono's hotel for a spot of supper and then headed off into the night - it is thought that De Niro is staying Bono's plush Killiney home.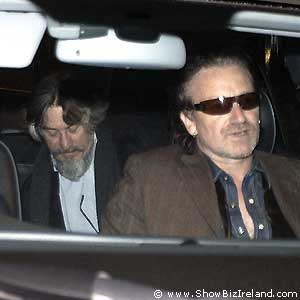 De Niro and Bono
Apparently old Bob is in Ireland until Thursday when he will head back to Spain.
Interestingly De Niro had some literature under his arm related to Autism - perhaps the double Oscar winner is preparing for an upcoming role?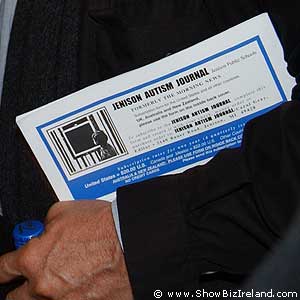 De Niro's Autism Journal
Why are De Niro and Bono spending so much time together? Could they be planning a mutual project? Discuss it in ShowBiz Ireland's U2 Forum...