Wanna Be Paparazzi & Make Easy Money?
Email us your Celebrity Digital Photos and Videos... There could be a fortune sitting in your mobile handset. If you snapped it then send it to us at:
Very. Important. Pictures.
28-05-01 news
Busy night for Bono, Bob, Bertie, & Bill...
Itís was a night for Bertie, Bill, Bob and Bono. But for Ali Hewson who only left Mount Carmel Hospital on Tuesday afternoon some things were more important then hanging around with Bill and Bono.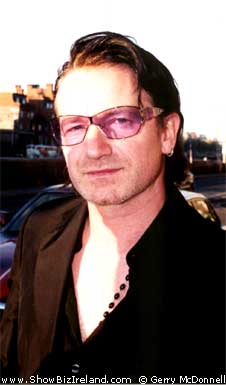 Bono after the Birth
After Monday night when Bono and Gavin Friday took Bill Clinton back to U2ís place, The Clarence Hotel, for a few drinks to wet the babies head Ali was taking no chances in Bono going on another party night without her.
Even though she had just given birth to their forth child on Sunday. Arriving at 8.30pm an half an hour after Bill (well he is Bono?) Ali and Bono told ShowBizIreland.com that they still had no name for their New born baby.
A while later after Bertieís and Michael Smufits speeches and during dinner we spotted Ali slip out the side door into a waiting car and run down to The Clarence Hotel. Where we found out the couple's baby boy was waiting with a Nanny to be fed.
After a short while Ali emerged and returned to her waiting car and flew back up to Dublin Castle just in time for her husbandís speech which was followed by a speech by Senator George Mitchell and then ex-President Clinton.
Ali must also have rushed back for the party going on at Bonoís table. The Hewsonís guests included the MC for the night Sir Bob Geldof and his girlfriend Jeanne Maire, Dennis Desmond the concert promoter for Slane, Gerry and Moira Ryan, the director of the Gate Theatre Michael Colgan (who confided in me that he had secretly been writing Sir Bobís speech) - which was just as well as when I asked Sir Bob for a smile during an early photo shoot he told us "Sorry I donít do happy."
Click here to get U2 mobile Ringtones