Wanna Be Paparazzi & Make Easy Money?
Email us your Celebrity Digital Photos and Videos... There could be a fortune sitting in your mobile handset. If you snapped it then send it to us at:
Very. Important. Pictures.
20-09-07 news EXCLUSIVE WITH PHOTOS
Blizzards Fantasy Village Video...
World renowned Mullingar five-piece The Blizzards recently came up with a novel way of exploiting their busy MySpace & Bebo pages - they used them to recruit extras for their latest music video...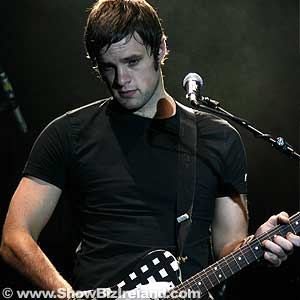 NIALL BRESLIN - FANTASY VIDEO SHOOT
When it comes to scouring our sources for potential celebrity tip-offs, it really helps our cause that we're a web-based magazine. Especially when a band like The Blizzards send a message out to their online community that they intend to shoot a video for their latest song: 'Fantasy' and all fans are welcome... Of course, we found out!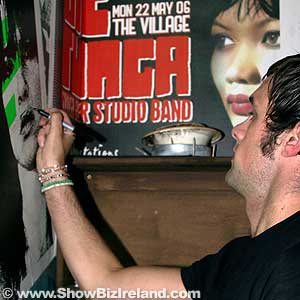 NIALL BRESLIN & JULIETTE LEWIS - FANTASY VIDEO SHOOT
So a few weeks back we made our way to The Village on Wexford Street, along with a few hundred Blizzards fans - and unusually (for us anyway) we actually got invited in to the video shoot by the boys Niall Breslin, Justin Ryan, Dec Murphy, Anthony Doran and Aidan Lynch...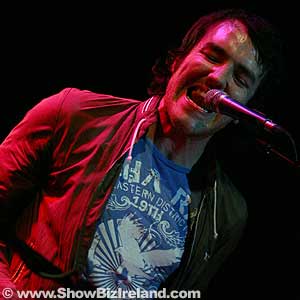 AIDAN LYNCH - FANTASY VIDEO SHOOT
During the shoot, which started at 9.30am and went on till about 7.30pm, we got to chill backstage with the down-to-earth lads and witness just how much hanging around between-takes goes on. Lead singer Niall Breslin entertained himself by drawing a mustache on a Juliette Lewis poster while the rest of the band either chatted with fans or merely lay around on couches waiting for their cue.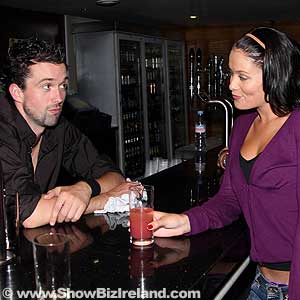 EMMET SCANLAN & MICHELLE MCGRATH - FANTASY VIDEO SHOOT
But the real dedication came from the die-hard Blizzards fans, many of whom had waited outside the venue from the early hours. Each time the director called on them to show some enthusiasm during the hundreds of different live takes, everytime they delivered in buckets... They gave it Welly!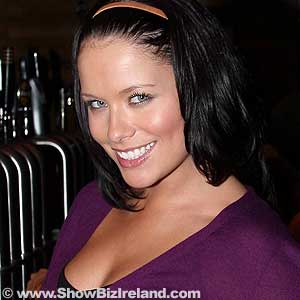 MICHELLE MCGRATH - FANTASY VIDEO SHOOT
The theme of the 'Fantasy' video revolves around one person fantasizing about another person, who in turn, is fantasizing about someone else, and so on, and so on... The Irish cast for video included actresses Michelle McGrath and Gail Brady and actor Emmet Scanlan.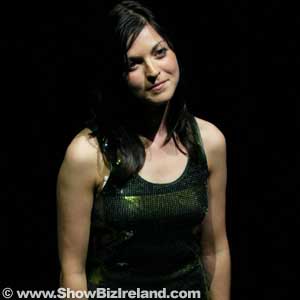 GAIL BRADY - FANTASY VIDEO SHOOT
And on the subject of stunner Michelle McGrath, a rumour came to us this week that she's landed a rather steamy role in the hit US TV series The Tudors. Apparently she's been lined-up for a very revealing love-scene with Jonathan Rhys Meyers in the period epic. So we'll be watching out for that episode on TV3 next year - purely for research reasons!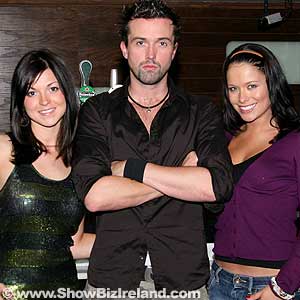 GAIL BRADY, EMMET SCANLAN & MICHELLE MCGRATH - FANTASY VIDEO SHOOT
During our long day on The Blizzards shoot we probably heard the 'Fantasy' song a couple of hundred times. And rather than becoming extremely annoying we have to confess it's a really catchy tune that grew on us, and no doubt will rocket up the charts when it's released.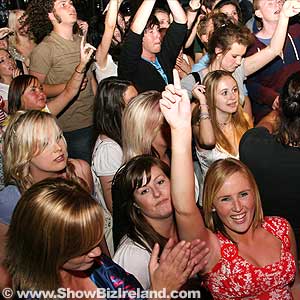 BLIZZARDS FANS - FANTASY VIDEO SHOOT
And according to the guys who have been busy editing the hundreds of hours of footage they recorded in The Village a few weeks back: "The Live Fantasy video that we made recently is very nearly finished."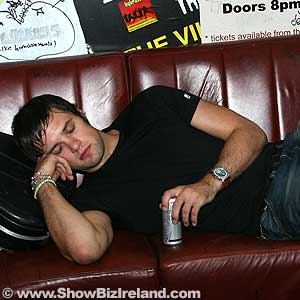 NIALL BRESLIN - FANTASY VIDEO SHOOT
So there you have it. The finished article will be hitting your screens soon... We'll keep our eyes peeled!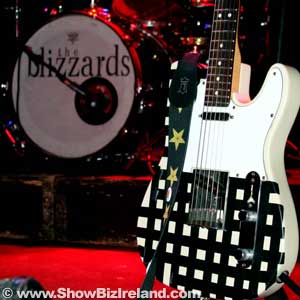 THE BLIZZARDS - FANTASY VIDEO SHOOT