Wanna Be Paparazzi & Make Easy Money?
Email us your Celebrity Digital Photos and Videos... There could be a fortune sitting in your mobile handset. If you snapped it then send it to us at:
Very. Important. Pictures.
24-09-02 news EXCLUSIVE WITH PHOTOS
Bono's Boys are Back in Town...
Bono's back on track and out with the boys. The leader of the free world, that's Bono not Bush, has been busy again last week saving the world again.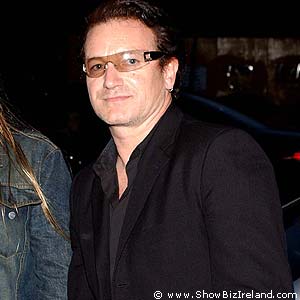 But, before he did it was time for some pints with the boys...
Gavin Friday and Guggi, the singer's two closest friends joined him for a photo shoot last weekend to promote an upcoming art show by Guggi.
After the shoot it was down to the Shelbourne hotel for some tea in the lounge before a spot of dinner followed by trip to Lillies, where the boys all danced the night away.
After that Bono flew out to Chicago to record a show with Oprah Winfrey.
Oprah's show is the most watched talkshow in the world with over 20 million viewers in 100 countries.
As well as talking about charity Bono also talked about his new single, which is a cover version of the classic Frank Sinatra song "That's Life."
He recently recorded the tune for the new Neil Jordan movie "The Good Thief" which stars Nick Nolte and Ralph Fiennes.
While Bono was away, mini Bono came out to play.
Jim Corr was back on the town last Tuesday after his hard work doing interviews on board the Greenpeace ship The Rainbow Warrior.
His journey must have been tiring, as when he got back he had to be revitalized by a stunning 19-year-old brunette in Lillies!!
More Photos Below: