Wanna Be Paparazzi & Make Easy Money?
Email us your Celebrity Digital Photos and Videos... There could be a fortune sitting in your mobile handset. If you snapped it then send it to us at:
Very. Important. Pictures.
05-02-07 news EXCLUSIVE WITH PHOTOS
Sheamus Gets A Second Life...
Irish Wrestling gargantuan Sheamus O'Shaunessy has proved us right. The Ginger assassin has landed a top movie role with Joseph Fiennes, attacked Dustin the Turkey and even got a Second Life...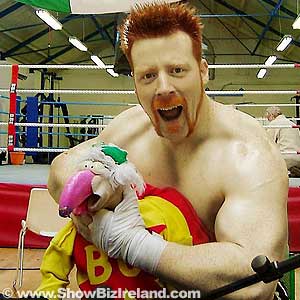 SHEAMUS O'SHAUNESSY Vs DUSTIN THE TURKEY
Here at ShowBiz Ireland we love being ahead of the game in the talent spotting stakes. Sure, we were talking about and doing features on the likes of Colin Farrell, Cillian Murphy and Jonathan Rhys Meyers long before the Irish media copped-on.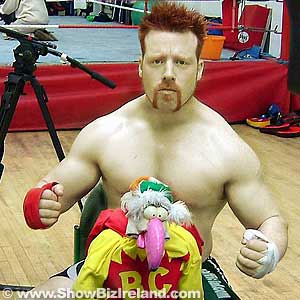 SHEAMUS O'SHAUNESSY Vs DUSTIN THE TURKEY
And even though we've rarely missed the next-big-thing target, when we started touting Irish Wrestler Sheamus O'Shaunessy as the ShowBiz phenomenon that will eclipse all others that have gone before him, many of you tutted and threw your eyes to heaven...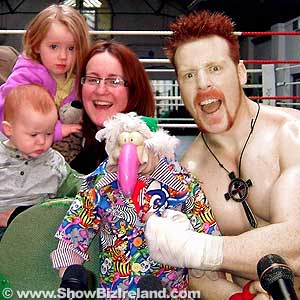 SHEAMUS O'SHAUNESSY, DUSTIN THE TURKEY & FANS
So, when news reached us that the big fella had landed a top movie role in The Escapist along side heartthrob Joseph Fiennes and acting legend Brian Cox we naturally had to enquire further and get the real skinny.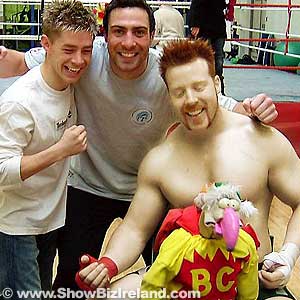 SHEAMUS O'SHAUNESSY, DUSTIN, CONOR AHERN & KENNETH EGAN
We caught up with Sheamus 'The Irish Curse' O'Shaunessy last week when he interrupted a press conference in The National Stadium where Dustin 'Bone Crusher' Hoffman was announcing his retirement from the ring after defeating former WWE star Kid Kash live on Dustin's Daily News (DDN)...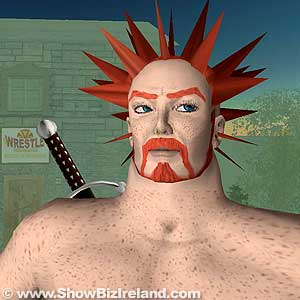 SHEAMUS O'SHAUNESSY IN SECOND LIFE
Like a scene out of Rocky III, SOS stormed in to the press gathering demanding his shot at the abusive Turkey's unbeaten record. All hell broke out and the two grapplers had to be pulled apart by Irish Boxing Champs Kenneth Egan and Conor Ahern.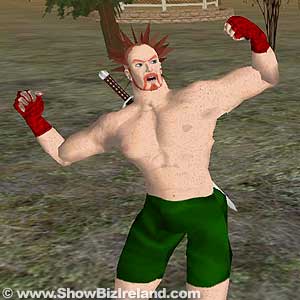 SHEAMUS O'SHAUNESSY IN SECOND LIFE
Apparently the SOS V Dustin brawl will be broadcast live on DDN in the coming weeks over a 3 to five day period - please note: this not a Pay Per View event!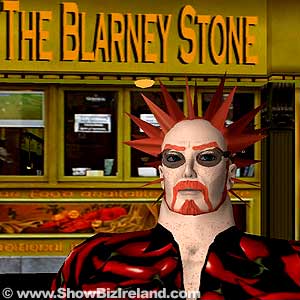 SHEAMUS O'SHAUNESSY@ THE BLARNEY STONE IN SECOND LIFE
Anyroad. We asked Sheamo about his role in The Escapist and although he confirmed he was currently working on the movie, and spending time between shoots hanging out in The Blarney Stone Bar in Second Life, he said he was unable to give ShowBiz Ireland any more info on the production. Top secret stuff folks...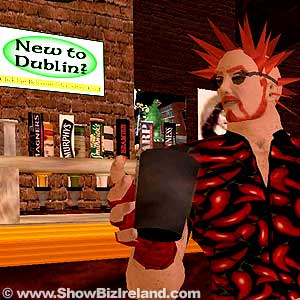 SHEAMUS O'SHAUNESSY@ THE BLARNEY STONE IN SECOND LIFE
That said, he did agree to do the World's First Ever photo shoot INSIDE the virtual meeting place which is Second Life, showing us around his favourite haunts and meeting his avatar friends (most of whom don't realise that he actually looks very much like his computer generated alter ego). Nowhere is safe from the paparazzi!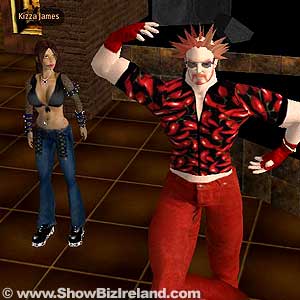 SHEAMUS O'SHAUNESSY@ THE BLARNEY STONE IN SECOND LIFE
Coincidentally, just as we thought the trail was going cold on The Escapist story, we bumped into hunky Joseph Fiennes in Lillies Bordello on Saturday night. Sporting a shaved head the Shakespeare in Love actor was still buzzing after filming a massive fight scene with SOS in Kilmainham Jail... Without hesitation he told us that Sheamus O'Shaunessy was "a true gentleman" to work with and that he had "totally blown everyone away" on set whilst filming the major fight scene with Joe. With adrenaline still pumping through his veins the handsome actor kept assuring as he walked away: "he is going to be huge, he is going to be huge..."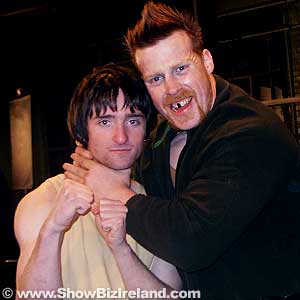 SHEAMUS O'SHAUNESSY ON THE ESCAPIST SET
And as if by magic - a bystander off the Rupert Wyatt directed movie sent us in a toothless photo Sheamus strangling a poor extra called Larry. Apparently all the extras were lining up to get a snap with Sheamus above the likes of Joe Fiennes and Brian Cox... Well, the boy has star quality!
Sheamus O'Shaunessy's Official website: www.sosofficial.com