Wanna Be Paparazzi & Make Easy Money?
Email us your Celebrity Digital Photos and Videos... There could be a fortune sitting in your mobile handset. If you snapped it then send it to us at:
Very. Important. Pictures.
09-01-06 news EXCLUSIVE WITH PHOTOS
Bono's Christmas Smooch...
It's been an extremely hectic year for U2 frontman Bono with a world tour and his tireless work to combat poverty in Africa - but he still managed to get home for his Christmas traditions...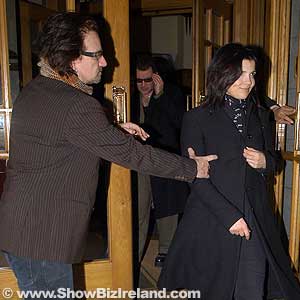 BONO & ALI HEWSON @ THE CLARENCE HOTEL
You may be forgiven for thinking there are more than one Bonos on the planet - the busy guy turns up constantly on TV and in magazines and newspapers in every country in the world on a daily basis!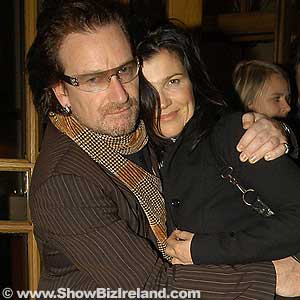 BONO & ALI HEWSON @ THE CLARENCE HOTEL
Just when you hear he is touring in the USA, he turns-up on a family holiday in the South of France while also appearing on UK TV show and concurrently out drinking with his mates in Dublin! How does he do it?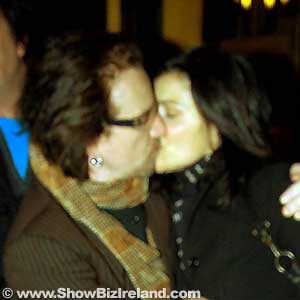 BONO & ALI HEWSON @ THE CLARENCE HOTEL
But the dynamic U2 frontman made a point of being home before Christmas to thank the behind-the-scene staff of Principle Management, who make a lot of his crazy lifestyle possible, at their annual party in The Clarence Hotel...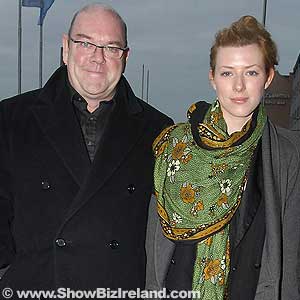 PAUL MCGUINNESS & DAUGHTER @ THE CLARENCE HOTEL
And in typical charismatic style as Bono left the party with his stunning wife Ali Hewson he grabbed her into a tight embrace and smooched her for ShowBiz Ireland's cameras - what a guy!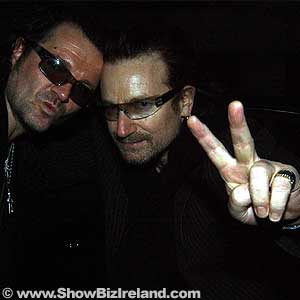 BONO & GAVIN FRIDAY @ LILLIES
Not only does our Bono make time for his family and staff at Christmas - he also made time for his close circle-of-friends who no-doubt see less-and-less of the hardest working man in Rock n Roll...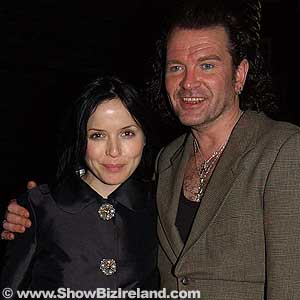 ANDREA CORR & GAVIN FRIDAY @ LILLIES
We spotted the Ballymun native out partying with pals Gavin Friday, Simon Carmody and Andrea Corr at Lillies Bordello on the same night as Oasis rolled into town for their concert in The Point.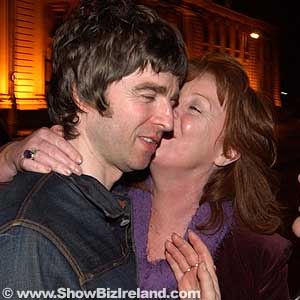 NOEL GALLAGHER @ THE MERRION HOTEL
But in contrast to Bono's non-stop party lifestyle the Gallagher brothers Liam and Noel went straight back to their plush Merrion Hotel suites after their sell-out show.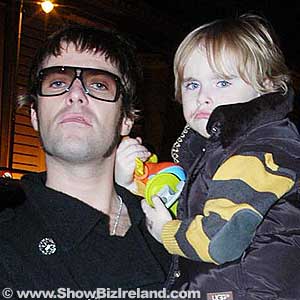 LIAM GALLAGHER & SON GENE @ THE MERRION HOTEL
But in-fairness to the Oasis boys it was a real family affair as Liam had his wife Nicole and son Gene with him, Noel had his girlfriend Sara MacDonald with him, and their mother Peggy was also on-hand for their Irish homecoming...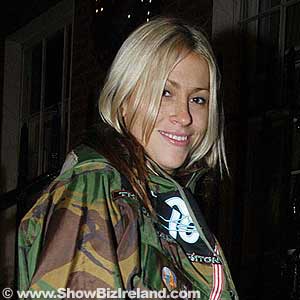 NICOLE APPLETON @ THE MERRION HOTEL
Although their new drummer Zak Starky (son of Ringo Star) did head out on the town but we're not quite sure if he crossed paths with Bono and chums?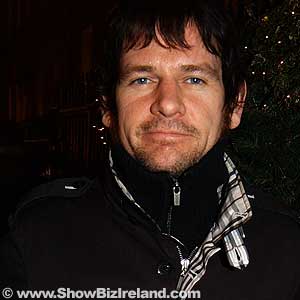 ZAK STARKY @ THE MERRION HOTEL
Discuss this story in ShowBiz Ireland Forums...