Wanna Be Paparazzi & Make Easy Money?
Email us your Celebrity Digital Photos and Videos... There could be a fortune sitting in your mobile handset. If you snapped it then send it to us at:
Very. Important. Pictures.
03-09-07 news EXCLUSIVE WITH PHOTOS
Sheamus Lifts WWE Contract...
It's probably the single biggest piece of news in Irish ShowBiz this year - mainly because he's the biggest person in the business! Dublin Wrestler Sheamus O'Shaunessy just signed a 3 year contract with the WWE...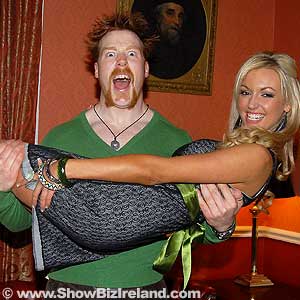 SHEAMUS O'SHAUNESSY & ROSANNA DAVISON AT TV3 PARTY
We hate to be the ones to say: "We told you so." But hey, WE TOLD YOU SO! That's right, we've been yammering on about ginger wrestling giant Sheamus O'Shaunessy - The Irish Curse for about 2 years now since we first spotted him slamming faces into the mat in Dublin's Laughter Lounge. And now he's on his way to the very top...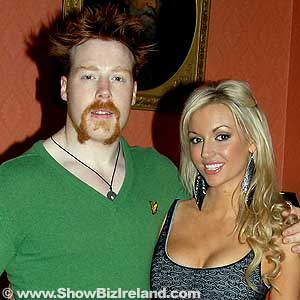 SHEAMUS O'SHAUNESSY & ROSANNA DAVISON AT TV3 PARTY
Many of you said professional wrestling isn't really showbusiness as it blurs the lines between sport and entertainment. But there is no denying that Vince McMahon's WWE programmes are easily the globe's most viewed shows when you consider the worldwide audiences they attract each and every week. Just think, a lad from Cabra on the Northside of Dublin is going to be dominating that arena for the next decade! How do you like them apples?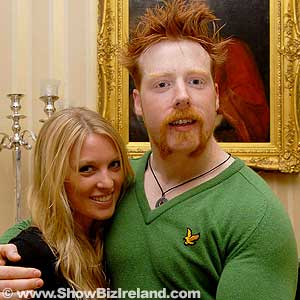 SHEAMUS O'SHAUNESSY & TARA LENISTON AT TV3 PARTY
We met up with 6ft 6in Sheamus, or SOS to his friends, at the TV3 launch party on Kildare Street last week as he was running between interviews for Ian Dempsey's 'The Craic' radioshow and another at News Talk 1068. With an early start the following morning on TV3's Ireland AM show the grappler stopped off at their busy photocall and attracted the attention of some of our prettiest ladies...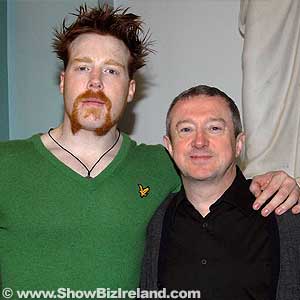 SHEAMUS O'SHAUNESSY & LOUIS WALSH AT TV3 PARTY
Former Miss World Rosanna Davison was swept off her feet by the 20 Stone goliath as was 'Meet Me in Miami' actress Tara Leniston... Louis Walsh was also impressed by the size of his fellow Irishman and wants him around the next time Sharon Osbourne decides to brandish a glass of water... Wait, he's not that brave Louis!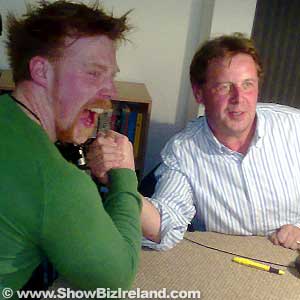 SHEAMUS O'SHAUNESSY & IAN DEMPSEY HAVE THE CRAIC
Beforehand, broadcaster Ian Dempsey fancied his chances with Sheamus, challenging him to an arm wrestle live on his radio show. Boasting that he was once beaten by a woman in a bar, Ian worked up a sweat trying to force over The Irish Curse's arm. The problem was Sheamus was posing for photos at the time and hadn't even realised Ian had already started!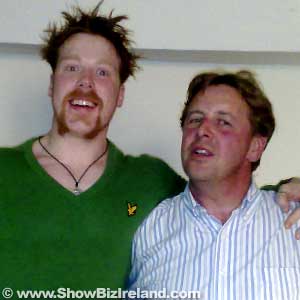 SHEAMUS O'SHAUNESSY & IAN DEMPSEY HAVE THE CRAIC
Sheamus told us: "The news is only breaking now that I've signed a 3 year deal with the WWE. It's actually been in the bag for a while but there's been rigorous medical checks and the whole US Working Visa process to go through - so until all of that got sorted out there was no point in making a big noise about it."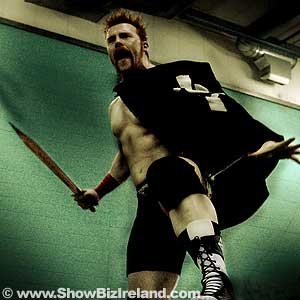 SHEAMUS O'SHAUNESSY FIGHTS IN THE UK
He went on: "These last two years have been like a roller coaster ride since ShowBiz Ireland first wrote a feature on me. Since then the Irish media got behind me and from there I started to get more and more attention world wide via the internet. I just want to thank all the people behind the scenes who worked their arses off for Sheamus O'Shaunessy and ask for their continued support on this next stage of the journey. C'mon!"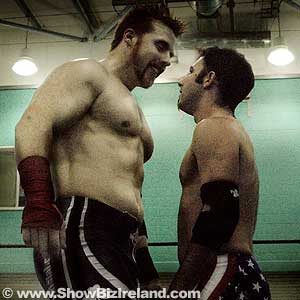 SHEAMUS O'SHAUNESSY FIGHTS IN THE UK
Course we'll keep supporting ya Sheamus! Just keep knocking the sh**e out of all those British and American wrestlers and we'll keep flying the flag. Plus, a few free tickets the next time the WWE roll into town fella??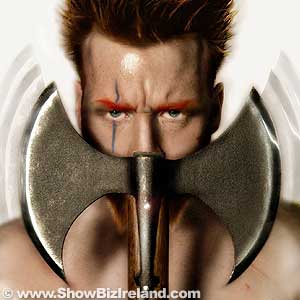 SHEAMUS O'SHAUNESSY & HIS AXE: AN TROID
You can visit Sheamus O'Shaunessy's official website here: www.sosofficial.com or drop him a message at his new MySpace page: www.myspace.com/sosofficial...