Wanna Be Paparazzi & Make Easy Money?
Email us your Celebrity Digital Photos and Videos... There could be a fortune sitting in your mobile handset. If you snapped it then send it to us at:
Very. Important. Pictures.
15-04-02 news EXCLUSIVE WITH PHOTOS
Friday's Back on East of Harlem...
Bono's best friend Gavin Friday has spoken exclusively to ShowBizIreland.com about the secret illness that forced the singer onto his back and out of public life for the past three months.
Gavin, the ex lead singer with the band The Virgin Prunes, was out for the first time in Dublin last Wednesday night in over three months to oversee the auction of a hand painted card he had painted and designed for charity. Bono had also done a card.
Speaking to ShowBizIreland.com at the auction Gavin said the spinal operation had forced him to stay in hospital for the last three months.
"It was very serious. They operated on my spine and when I first went in they operated straight away. It was like emergency spinal surgery and I was shocked. It kept me out of action for over three months. I was basically on my back for three months in the Mater Hospital. Thankfully, everything is OK now and I am just getting back working within the music business again."
He also went on to tell us about his current projects in the movie business: "I have started work on music for the new Jim Sheridan movie East of Harlem and a number of other music projects."
During the auction, Gavin's card raised 650 euro for charity while Bono's went for 3,500 euro. Another painting was bought for Bono by a friend, which came with the message "Sudden Pray Makes God Jump."
Other art that sold on the night included a Robert Ballagh painted card for 6,000 euro, a Pauline Bewick for 2,200 euro and a Patrick Scott, which sold for 3,000 euro.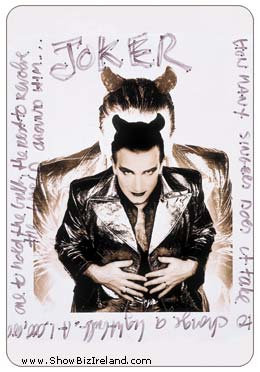 Bono's Card: The Joker