Wanna Be Paparazzi & Make Easy Money?
Email us your Celebrity Digital Photos and Videos... There could be a fortune sitting in your mobile handset. If you snapped it then send it to us at:
Very. Important. Pictures.
22-08-07 news EXCLUSIVE WITH PHOTOS
Tara Will Meet U in Miami...
Aspiring Irish Actress Tara Leniston is already a famous face in the Far East and New Zealand, yet at home she's still virtually unknown. We think that's all about to change...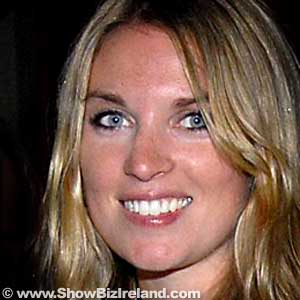 TARA LENISTON AT THE SHELBOURNE
Last weekend ShowBiz Ireland was scratching around The Shelbourne Hotel hoping for a glimpse of The Rolling Stones or even Bono. We heard a number of familiar faces were hanging out there ahead of the Stones' big Slane concert which, we didn't get accredited for... Bitter. Much.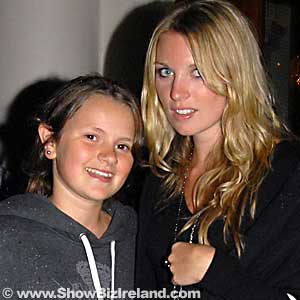 TARA LENISTON & GODDAUGHTER MEGHAN AT THE SHELBOURNE
And although we just missed Ronnie Wood, Guggi and Gavin Friday at the posh hotel, when we saw a set of toned 34 inch legs coming our way attached to Castleknock based actress Tara Leniston, we knew our stake-out wasn't a total loss...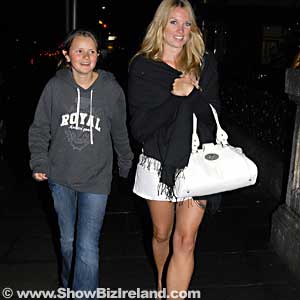 TARA LENISTON & GODDAUGHTER MEGHAN AT THE SHELBOURNE
Returning to the hotel after taking her God Daughter Meghan McGowan on a shopping spree in the capital, the charming leggy blonde was all a-glow as her first leading role in the movie 'Meet Me In Miami' had just got the green-light for it's Hollywood Premiere in Manns Chinese Theatre on September 25th. Very Fancy!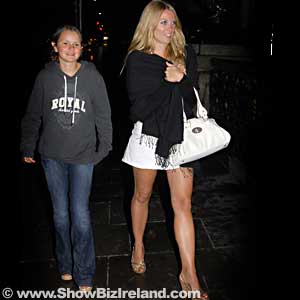 TARA LENISTON & GODDAUGHTER MEGHAN AT THE SHELBOURNE
She told our photographer on the scene that she was just out scouring the designer shops around Grafton Street looking for a perfect dress for the occasion. She was also excited for her sister Sophie Leniston who has been picked out of thousands of auditionees across the UK & Ireland for a new girlband called Stiletto...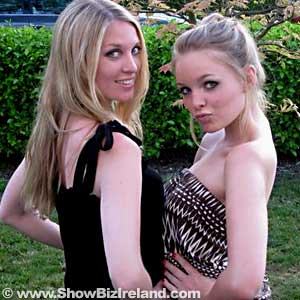 TARA LENISTON & SISTER SOPHIE LENISTON (MYSPACE)
With all this going on thought we thought we'd do a little investigation into this fresh face on the Dublin social circuit... And it turns out our Tara has been a busy bunny since being talent spotted by martial arts legend Jackie Chan in 2002 - becoming the first ever Western Actress to be signed to his renowned JC Group agency.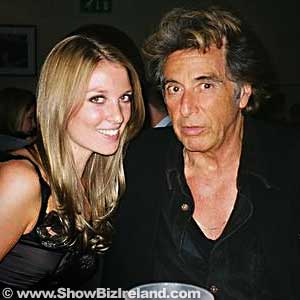 TARA LENISTON & AL PACINO (MYSPACE)
She also supports a very worthy charity with Jackie called Operation Smile which strives to repair childrens' cleft palates in poor countries in the Far East. And on visiting her MySpace page it turns out Ms Leniston has quite a few big name ShowBiz chums (sorry for nicking the photos Tara!) including Al Pacino and Bono. Pacino, Bono & Chan - connected or what??
Well... Now you know Tara Leniston. But we're somewhat embarrassed as we've been harping on for the past few years about how we have no Irish actresses flying-the-flag alongside our actors such as Colin Farrell, Cillian Murphy and Jonathan Rhys Meyers. With looks reminiscent of Uma Thurman meets Madonna and legs that go on forever, Tara is THE ONE TO WATCH!