Wanna Be Paparazzi & Make Easy Money?
Email us your Celebrity Digital Photos and Videos... There could be a fortune sitting in your mobile handset. If you snapped it then send it to us at:
Very. Important. Pictures.
17-11-04 news EXCLUSIVE WITH PHOTOS
Bono Rocks Whiley Radio 1 DJ...
What a swish bloke Rock-God Bono is when a good-looking blonde's around! The U2 frontman brought Radio 1 DJ Jo Whiley for a spin in his new sports car yesterday at an exclusive concert in Hanover Quay.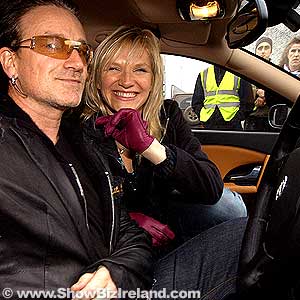 BONO & JO WHILEY: THE MASERATI
BBC Radio 1 morning show DJs Jo Whiley and Chris Moyles packed up their turntables and moved their whole production team from the UK to U2's ill-fated Dublin studios in Hanover Quay yesterday.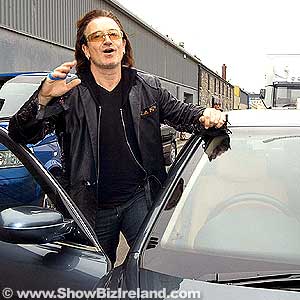 BONO: THE MASERATI
And there was a poignant reason for the show, which saw 30 Radio 1 competition winners getting close to their idols at an intimate gig, as the famous studios are to be demolished in the very near future.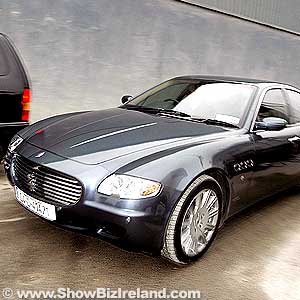 HANOVER QUAY STUDIOS: THE MASERATI
And Bono was there in great spirits showing DJ Jo his new toy, a powerful Maserati Italian Sports Car which, zoomed up-and-down the street lined with U2 fans from around the globe who had gathered to see their idols.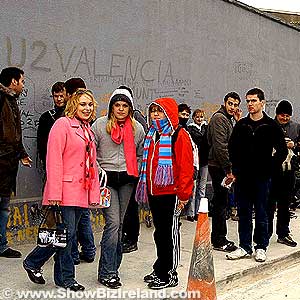 HANOVER QUAY STUDIOS: U2 FANS
Not ones to shy away from a traditional Irish welcome the U2 boys brought the Radio 1 DJs out on the town in proper style...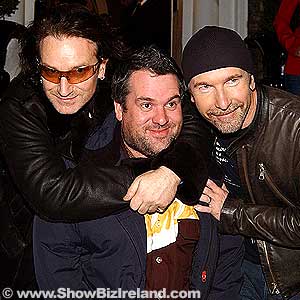 BONO, CHRIS MOYLES & THE EDGE
And this time there wasn't a high powered car in sight! Instead the boys treated Jo and Chris to a Horse-and-Cart ride from watering hole to watering hole late into the night.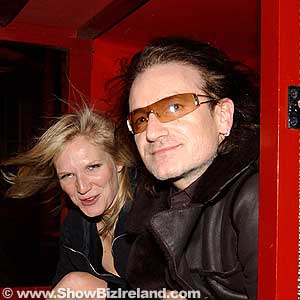 BONO & JO WHILEY
The crew started off with a meal in the plush Merrion Hotel. From there they took their single horse powered vehicles around the corner to the Merrion Casino and then onto nearby VIP club Renards.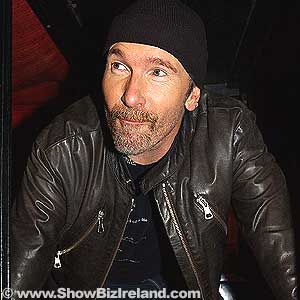 THE EDGE
At the intimate gig earlier in the day the competition winners were treated to the following tracks: UK Number One single Vertigo, All Because Of You, Miracle Drug, Sometimes You Can't Make It On Your Own and finally Beautiful Day.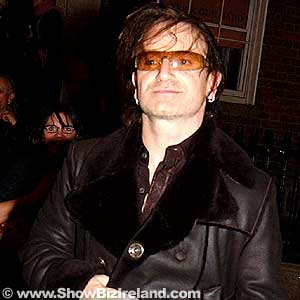 BONO
U2 will release How To Dismantle An Atomic Bomb on November 22.
Discuss this story in ShowBiz Ireland Forums...