Wanna Be Paparazzi & Make Easy Money?
Email us your Celebrity Digital Photos and Videos... There could be a fortune sitting in your mobile handset. If you snapped it then send it to us at:
Very. Important. Pictures.
08-02-02 news EXCLUSIVE WITH PHOTOS
Ali & a Cranberry Time Out in Bono's pad...
Bono's wife, Ali Hewson, The Cranberries', Dolores O'Riordan, and Chernobyl Children's Projects' Adi Roche met in U2's Clarence Hotel in Dublin yesterday.
They met to announce that The Cranberries will be donating profits from the world wide sales of their new single "Time Is Ticking Out" to the Chernobyl Children's Project.
Dolores was moved to write the song after speaking to Ali Hewson, Patron of the Chernobyl Children's Project.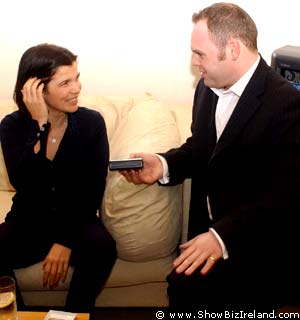 ShowBiz Ireland's Jason O'Callaghan with Ali Hewson
Speaking to ShowBizIreland.com yesterday Dolores said, "I wrote Time Is Ticking Out last year and I had just given birth to my second child, a beautiful healthy little girl. It was at this time that I read an article in an paper which featured The Chernobyl Children's Project and showed pictures of these kids that are still being born with so many illnesses. I had spoken briefly with Ali on the subject before this, but I was so moved, almost to tears, that I wrote Time Is Ticking Out."
She went on "It was inspired by the children and I hope I can raise awareness on this issue. It shouldn't be like this - we must do something about it."
Founded in 1991 by Adi Roche, the Chernobyl Children's Project is Ireland's first and largest charity helping the child victims of the world's worst nuclear disaster, which occurred on 26th April 1986 at the Chernobyl nuclear plant in the Ukraine.
Here are some pics below:
Adi Roche pays tribute to the Cranberries saying that hope will be given to countless people because of their single Time is Ticking Out.
"I am deeply moved by this act of kindness. There is nothing in life more precious than life itself - thank you for helping to protect it."
Time Is Ticking Out is released 15th February 2002.
Donations for the Chernobyl Children's Project can be lodged at: