Wanna Be Paparazzi & Make Easy Money?
Email us your Celebrity Digital Photos and Videos... There could be a fortune sitting in your mobile handset. If you snapped it then send it to us at:
Very. Important. Pictures.
04-02-04 news EXCLUSIVE WITH PHOTOS
Bono Puts Janet's Boob behind Him...
Licking his wounds after being refused a gig at the Superbowl show and watching Janet Jackson make a tit of herself Bono launched Francesco Clemente's exhibition yesterday.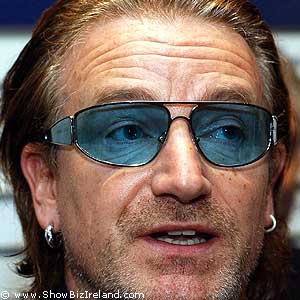 Bono launches Exhibition
Just how much of a messed up place is the USA? The powers that be who refused to let Bono play a song during their famous half-time Superbowl show because he wanted to highlight AIDS and debt in the third world allowed Janet Jackson and Justin Timberlake flash her breast to America because she has a new album out in a couple of weeks...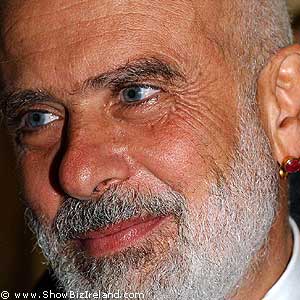 Francesco Clemente
Commercialism over conscience, shame.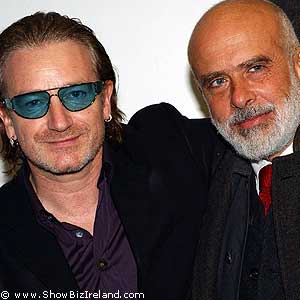 Bono & Francesco Clemente
We're sure Michael Moore could get another few Oscars making a documentary about that one!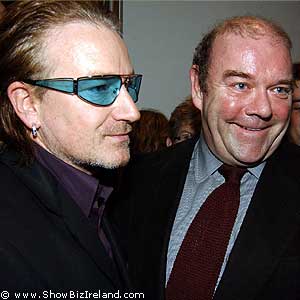 Bono & Paul McGuinness
But while the world is more interested in Janet's boobs rather than millions dying in Africa Bono was out doing good as usual.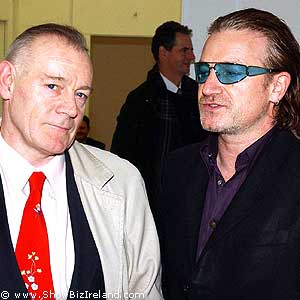 Bono & Mannix Flynn
The U2 frontman was in the Irish Museum of Modern Art to launch Internationally Acclaimed Italian Artist Francesco Clemente's New Works exhibition and presented him with a book of his own artwork he created for the Peter and the Wolf book.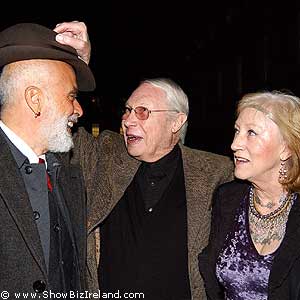 Clemente, Louis le Brocquy & Ann Madden
The exhibition, many of which are being publicly shown for the first time, consists of 20 paintings, 10 pastels, and 30 watercolours.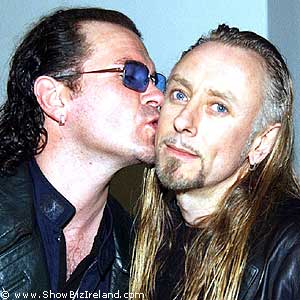 Gavin Friday kisses Guggi
Artist's Guggi, Louis le Brocquy, Ann Madden, and Mannix Flynn attended the event as did Bono's mate Gavin Friday.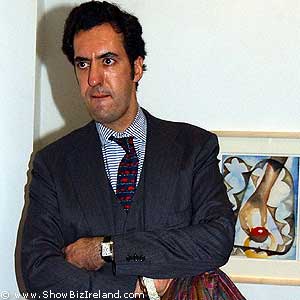 Spanish Royal Duque de Lugo
Duque de Lugo, the son in law to the King of Spain, was also at the show with his friend Louise but was less then friendly to ShowBiz Ireland's photographers... Riff-Raff!
Clemente's exhibition runs at the Museum of Modern Art in the Royal Hospital Kilmainham until 25th of April.
Please discuss this story in ShowBiz Ireland's U2 Forum...