Wanna Be Paparazzi & Make Easy Money?
Email us your Celebrity Digital Photos and Videos... There could be a fortune sitting in your mobile handset. If you snapped it then send it to us at:
Very. Important. Pictures.
18-04-07 news EXCLUSIVE WITH PHOTOS
Joe Fiennes Gets Sheamus'd...
It seems like an unlikely pairing - one of the world's most talented young actors, Joseph Fiennes, teaming up with one of the world's most talented young Wrestlers, Sheamus O'Shaunessy...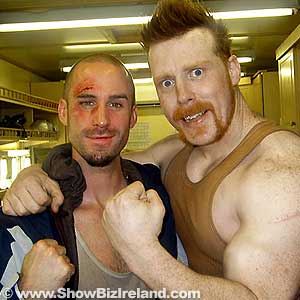 SHEAMUS O'SHAUNESSY & JOSEPH FIENNES: THE ESCAPIST
But as unlikely as it seems the two became firm buddies on the set of The Escapist when it was shooting in Dublin about a month ago - mainly because Fiennes is from the 'method acting' tradition and dedicated himself to learning the heavyweight grappler's fighting style before filming an ultra violent scene with him...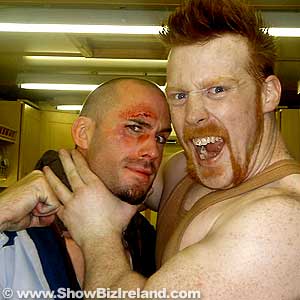 SHEAMUS O'SHAUNESSY & JOSEPH FIENNES: THE ESCAPIST
He hear that before the movie even began shooting Fiennes (who was actually raised in West Cork) and Sheamus had training sessions in a boxing gym in London and numerous other fight choreography practices in the John Player theatre in Dublin under the expert eye of veteran stunt man Paddy Condron.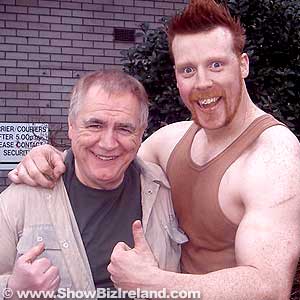 SHEAMUS O'SHAUNESSY & BRIAN COX: THE ESCAPIST
Sheamus told us: "Joe is one of those actors you hear about who totally immerse themselves in a role 24 hours a day. He's very similar to Daniel Day-Lewis like that; when he takes on a character he becomes that character and gives it everything. It's quite scary to be around that type of talent and dedication."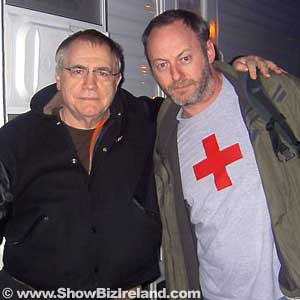 BRIAN COX & LIAM CUNNINGHAM: THE ESCAPIST
The Irish Curse continued: "While running through our fight scene, Joe would stand to one side and mirror my movements and body language as I threw some big shots at a stunt man. He would ask me to recreate each movement numerous times until he had it down exactly. He would then stand back in and we'd run through it at full speed until Rupert Wyatt (the director) and he were totally happy with it."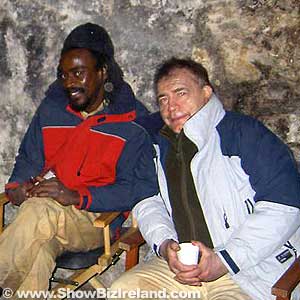 SEU JORGE & BRIAN COX: THE ESCAPIST
He also gave us some insight to working with Brian Cox: "It was quite scary shooting a scene with Brian Cox as he's one of those actors that has a presence about him that demands respect. I was rather coy around him at first as you feel as though he's weighing you up, plus I'm a huge fan of his so I was a bit star-struck. But once he got used to the sight of me on set he became very approachable and good craic, a more down-to-earth guy you couldn't meet."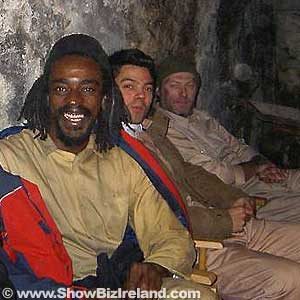 SEU JORGE, DOMINIC COOPER & LIAM CUNNINGHAM: THE ESCAPIST
Now the The Escapist is in the bag and in post-production, hopefully we should see it hitting our cinema screens sometime around September. But the career of SOS hasn't stopped there, the big ginger fella opened the show for WWE Smackdown in the Datchforum in Milan last night...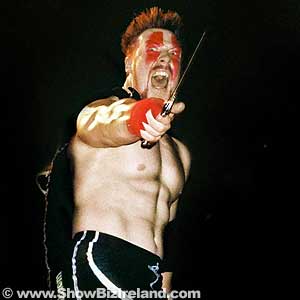 SHEAMUS O'SHAUNESSY WWE SMACKDOWN MILAN
We hear Sheamus took on WWE regular Jimmy Wang Yang and gave him a good hiding but was finally taken out with a trademark 'Moonsault' before the final bell. But that's not the end of the road for The Irish Curse and the WWE - he's been booked again for RAW & Smackdown shows in London next week...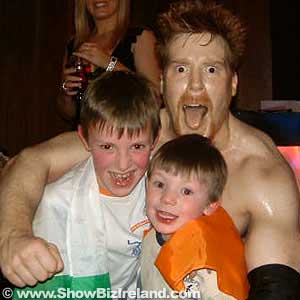 SHEAMUS O'SHAUNESSY WITH FANS CALUM & LUKE AT NLW IN DUBLIN
Visit Sheamus O'Shaunessy's MIT acclaimed website here: www.sosofficial.com or drop him a message at his new MySpace page: www.myspace.com/sosofficial...