Wanna Be Paparazzi & Make Easy Money?
Email us your Celebrity Digital Photos and Videos... There could be a fortune sitting in your mobile handset. If you snapped it then send it to us at:
Very. Important. Pictures.
13-02-07 news EXCLUSIVE WITH PHOTOS
Mumba's Mad Publicity Dash...
Faltering Irish singer and actress Samantha Mumba somehow managed to be in two-places-at-the-same-time at the weekend as she walked the IFTA red carpet and simultaneously appeared on The Late Late Show...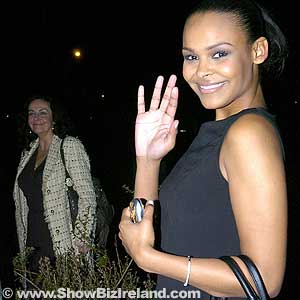 SAMANTHA MUMBA & MOTHER BARBARA @ LATE LATE SHOW
Amid rumours in the Irish media that there maybe as many people on the stage as in the audience at Samantha Mumba's upcoming comeback concert in Vicar Street, ShowBiz Ireland asks the question: could this be the end of ShowBiz in Ireland?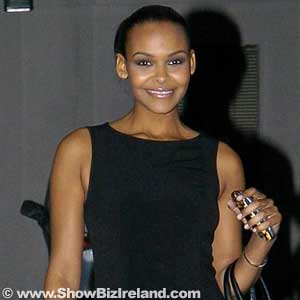 SAMANTHA MUMBA @ LATE LATE SHOW
As LA based Samantha prepares to hit us with the 'difficult' second album arguably five years too late she told Pat Kenny on The Late Late show that she went against her new US manager's advice with a homecoming concert in Vicar Street and also allowing herself to be followed around by a Channel 4 Reality Show film crew (Oh dear!)...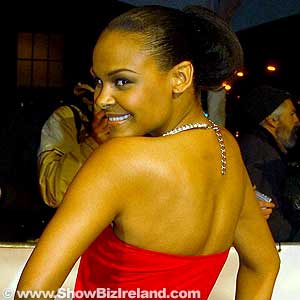 SAMANTHA MUMBA @ IFTA AWARDS
Looking fabulous with a slimmer physique newly single Samantha dashed from the IFTA red carpet to the Late Late Show (with a impromptu costume change) to drum-up publicity for her comeback gig. But we fear, with Reality TV cameras circling like vultures around Pop star comeback carrion, Mumba's meteoric rise may come down to Earth with a bump! And even signal the end of tens years of glorious Irish domination of the world of Showbusiness...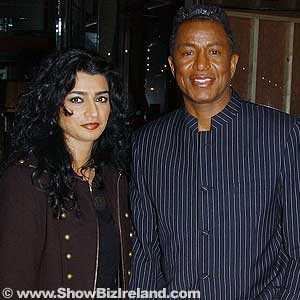 JERMAINE JACKSON & WIFE HALEEMA RASHEED @ LATE LATE SHOW
With fading stars trying to keep up their celebrity commodity on Reality shows (even Jermaine Jackson), talented singers such as Brian McFadden & Samantha Mumba struggling to find fans, Colin Farrell yet to break the box office, and Boyzone threatening to emulate Take That with a reunion tour - it all seems to be falling apart for Irish ShowBiz...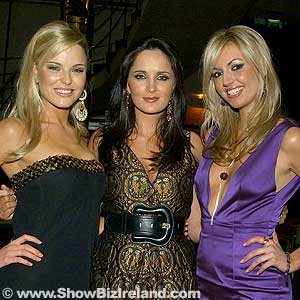 SARAH MORRISSEY, ANDREA ROCHE & ROSANNA DAVISON @ THE TUBRIDY SHOW
Even celebrity 'bankers' such as Childline, The Meteor Awards and The IFTAs failed to attract the same caliber of newsworthy personalities this year. Such is the slim pickings that the Irish media has turned its focus on to the personal lives of local models such as Glenda Gilson, Rosanna Davison, Andrea Roche and Katy French to name but a few...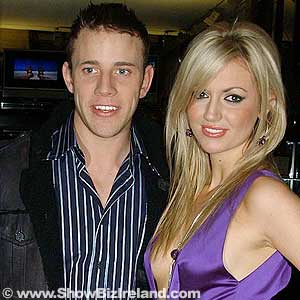 ROSANNA DAVISON & WESLEY QUIRKE @ THE TUBRIDY SHOW
Not that these girls don't have interesting lives but even by their own admissions they can't understand their native media's morbid fascination with their daily trivia, especially when you realise that not many people outside of a certain social set in Dublin know or even care who these lovely girls are!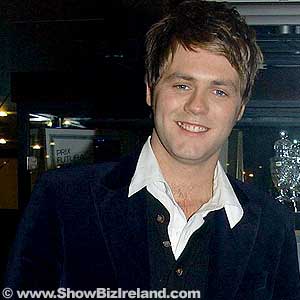 BRIAN MCFADDEN @ THE TUBRIDY SHOW
With Cillain Murphy raising his kid as a Londoner, Jonathan Rhys-Meyers adopting a silly American accent, The Farreller losing his sparkle, U2 becoming a multinational company, Richard Harris dying, Westlife banging out yet another album of covers, Brosnan losing Bond to a blondie, the disappearance of Ronan Keating, Graham Norton SO not funny anymore, and the extremely sad news that proud Irishman Peter O'Toole was in fact born in Leeds - we feel the end of an era is coming... As we watch another re-run of Father Ted and lament the passing of Dermot Morgan and what could have been...