Wanna Be Paparazzi & Make Easy Money?
Email us your Celebrity Digital Photos and Videos... There could be a fortune sitting in your mobile handset. If you snapped it then send it to us at:
Very. Important. Pictures.
29-01-01 news
Ups & Downs of the Irish film Industry...
Both Irish producer Jim Sheridan and teen pop sensation Samantha Mumba are causing rumblings with the movie industry in America. Rumours are circulating that Sheridan is to make an Irish version of the Godfather staring Liam Neeson. Mumba's manager Louis Walsh, who is only back from LA a few days, told ShowBizIreland.com that he was there doing a film deal for the Irish singer.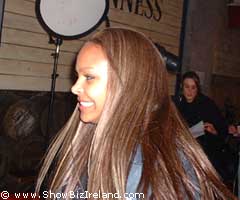 Sam at Childline Concert
Apparently the part is in a film which is being made by Stephen Speilberg. Conversely, reports in Ireland are that the singer has just done a deal for a TV film with Disney.
All however is not all rosy in the Irish film world. Sources in Ardmore Studious are saying that a number of upcoming Hollywood films being made in Ireland may now go on hold with the pending Actors strike in the US.
Films such as Reign of Fire, Disney's big budget movie which is already getting sets built in Ireland, may now go on hold as will as number of other projects in the Irish film pipeline.
Related Stories:
13-02-07
Mumba's Mad Publicity Dash
16-11-05
Stars Come Out For Potter Premiere
01-11-05
Mumba's Halloween Habit
26-09-05
Mumba's True Love Tattoo
15-09-05
Mumba Models for New Hunk
06-07-05
The Mumbas Join 3CROSSES
01-12-04
Mumba Nails Her New Man
13-08-04
Blood, Gore & Samantha Mumba
29-07-04
Mumba Goes Back To School
15-07-04
Sisqo & Mumba Date in Dublin
28-04-04
Mumba Gets Her Hands on Kid's Coconuts!
19-01-04
Happy 21st Birthday Samantha
11-09-03
Mumba Throws Weight Around at Launch
07-07-03
Mumba, Girls & Relish in the Park
19-05-03
Samantha Mumba is Sleeping Beauty
02-05-03
Mumba's Miramax Musical
18-03-03
Mumba Marshals St Patrick
06-03-03
Mumba to Marry Mark?
04-03-03
Mumba Nips out to the Meteors!
17-01-03
Mumba's Stalker Fears
04-12-02
Mumba's Quest to be J-Lo
07-11-02
Mumba puts boyfriend on the Sideline
14-10-02
Mumba won't Strip for Boyfriend
25-09-02
Mumba a tight lipped Business Woman
19-09-02
Mumba Models About Town
02-09-02
Mumba's Boyfriend finally Photo'd
19-08-02
Mumba gets some O2 in the Park
13-08-02
Mumba gets J-Lo's Man
24-05-02
Mumba's Family Filled Premiere
20-05-02
The Mumba's Dublin Gala
15-04-02
Mumba clears up all those Rumours
11-04-02
Mumba & Ali fight to close Sellafield
13-03-02
Mumba tops Mel Gibson in the US
26-02-02
Mumba buys Southside & Westside
21-02-02
Mumba Hyped for Movie Launch
15-02-02
A Star-Studded Awards Ceremony
05-02-02
Mumba's movie to Premier in Dublin
11-01-02
Samantha Mumba Interview
13-12-01
Samantha Mumba in Zee Matrix??
12-12-01
Mumba's Time Machine Trailer
29-11-01
Mumba has no Bond worries
06-11-01
Mumba pulls out of MTV Awards
27-09-01
Mumba has a flood of Hollywood offers
26-09-01
Mumba's high-life in her Mum's Attic!!
18-09-01
Mumba another WTC casulty?
04-09-01
Mumba to Come on Over to HMV
28-08-01
Mumba to team up with Britney
16-08-01
Mumba wants a pad for her kids
23-07-01
Mumba Gotta be Rollin in it
27-06-01
Sam bored of Movies & Pop?
19-06-01
Mumba dating Eminem???
01-06-01
Sam & Irons having a great Time
25-04-01
Sam's Time Machine goes back in Time
19-04-01
Mumba slams Bikini clad Pop Teens
08-03-01
Omero Mumba also lands Time Machine
20-02-01
Mumba lands Time Machine
08-02-01
Mumba's Dublin penthouse dream
05-02-01
Mumba's dates with Time Machine & Eminem
29-01-01
Ups & Downs of the Irish film Industry
16-01-01
Mumba's secret love revealed
22-12-00
Mumba Body to Body with Blade2
28-11-00
Mumba stalker fears
15-11-00
Mumba no1 in US / Westlife snub MTV Awards
30-10-00
US success for Mumba
23-10-00
Mumba breaks the US Top 10
19-10-00
Mumba & Duffy to host Childline
04-10-00
Samantha Mumba denies "boob"
15-09-00
Mumba takes to modeling
11-09-00
Mumba seeks role opposite Will Smith
27-07-00
Mumba set to topple Britney in the States
07-07-00
Mumba 'Body to Body' with Bowie
18-06-00
Samantha Mumba rift with father
22-05-00
Craig David All Over Samantha Mumba