Wanna Be Paparazzi & Make Easy Money?
Email us your Celebrity Digital Photos and Videos... There could be a fortune sitting in your mobile handset. If you snapped it then send it to us at:
Very. Important. Pictures.
05-02-01 news
Mumba's dates with Time Machine & Eminem...
Irish pop sensation Samantha Mumba is to star in the big budget remake of the HG Wells classic film Time Machine. The 18 year old singer's manager confirmed that she would star in the film with Irish based actor Jeremy Irons, who lives in a refurbished Castle in Cork with his wife Sinead Cusack. Speaking to the Irish press Louis Walsh, Sam's manager said "There's been a huge reaction to her in the states and Stephen (Spielberg) is very happy with her."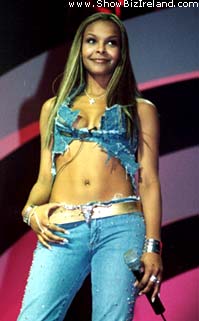 Sam at the recent Childline gig in Dublin
Sam will play a child like creature in the movie with Irons playing the time traveling professor. Sam has also screen tested for a role in Wesley Snipes movie Blade 2.
Hardcore rapper Eminem is also taken on the 18-year-old Sam. But only out for dinner in London this Friday. The two, who have met before in Los Angeles, share a record company and a love of each other's music ... Eminem invited her over from New York (where she is currently in talks with Steven Spielberg's Dreamworks about the Time Machine movie) for his sell-out show at London's Docklands.
He is not the first superstar to be sweet on Sam. Enrique Iglesias met Mumba at a TV show in Miami last month and was successful in his efforts to get her to join him for dinner in downtown Miami.
In the meantime Irish director Neil Jordan is going ahead with plans to make Double Down despite Warner Bros pulling out of the project. The remake of the 1955 French film Bob le Flambeur will be Jordan's first venture without major studio backing since The Crying Game in 1992.
Jordan, who has written the script, will film in France this spring with Nick Nolte in the starring role of a veteran gangster and gambler who tries one last casino robbery in a French seaside resort.
Speaking to ShowBizIreland.com in Dublin last week Neil said he was looking forward to starting work with Nick in France over the next few weeks.
Related Stories:
13-02-07
Mumba's Mad Publicity Dash
16-11-05
Stars Come Out For Potter Premiere
01-11-05
Mumba's Halloween Habit
26-09-05
Mumba's True Love Tattoo
15-09-05
Mumba Models for New Hunk
06-07-05
The Mumbas Join 3CROSSES
01-12-04
Mumba Nails Her New Man
13-08-04
Blood, Gore & Samantha Mumba
29-07-04
Mumba Goes Back To School
15-07-04
Sisqo & Mumba Date in Dublin
28-04-04
Mumba Gets Her Hands on Kid's Coconuts!
19-01-04
Happy 21st Birthday Samantha
11-09-03
Mumba Throws Weight Around at Launch
07-07-03
Mumba, Girls & Relish in the Park
19-05-03
Samantha Mumba is Sleeping Beauty
02-05-03
Mumba's Miramax Musical
18-03-03
Mumba Marshals St Patrick
06-03-03
Mumba to Marry Mark?
04-03-03
Mumba Nips out to the Meteors!
17-01-03
Mumba's Stalker Fears
04-12-02
Mumba's Quest to be J-Lo
07-11-02
Mumba puts boyfriend on the Sideline
14-10-02
Mumba won't Strip for Boyfriend
25-09-02
Mumba a tight lipped Business Woman
19-09-02
Mumba Models About Town
02-09-02
Mumba's Boyfriend finally Photo'd
19-08-02
Mumba gets some O2 in the Park
13-08-02
Mumba gets J-Lo's Man
24-05-02
Mumba's Family Filled Premiere
20-05-02
The Mumba's Dublin Gala
15-04-02
Mumba clears up all those Rumours
11-04-02
Mumba & Ali fight to close Sellafield
13-03-02
Mumba tops Mel Gibson in the US
26-02-02
Mumba buys Southside & Westside
21-02-02
Mumba Hyped for Movie Launch
15-02-02
A Star-Studded Awards Ceremony
05-02-02
Mumba's movie to Premier in Dublin
11-01-02
Samantha Mumba Interview
13-12-01
Samantha Mumba in Zee Matrix??
12-12-01
Mumba's Time Machine Trailer
29-11-01
Mumba has no Bond worries
06-11-01
Mumba pulls out of MTV Awards
27-09-01
Mumba has a flood of Hollywood offers
26-09-01
Mumba's high-life in her Mum's Attic!!
18-09-01
Mumba another WTC casulty?
04-09-01
Mumba to Come on Over to HMV
28-08-01
Mumba to team up with Britney
16-08-01
Mumba wants a pad for her kids
23-07-01
Mumba Gotta be Rollin in it
27-06-01
Sam bored of Movies & Pop?
19-06-01
Mumba dating Eminem???
01-06-01
Sam & Irons having a great Time
25-04-01
Sam's Time Machine goes back in Time
19-04-01
Mumba slams Bikini clad Pop Teens
08-03-01
Omero Mumba also lands Time Machine
20-02-01
Mumba lands Time Machine
08-02-01
Mumba's Dublin penthouse dream
05-02-01
Mumba's dates with Time Machine & Eminem
29-01-01
Ups & Downs of the Irish film Industry
16-01-01
Mumba's secret love revealed
22-12-00
Mumba Body to Body with Blade2
28-11-00
Mumba stalker fears
15-11-00
Mumba no1 in US / Westlife snub MTV Awards
30-10-00
US success for Mumba
23-10-00
Mumba breaks the US Top 10
19-10-00
Mumba & Duffy to host Childline
04-10-00
Samantha Mumba denies "boob"
15-09-00
Mumba takes to modeling
11-09-00
Mumba seeks role opposite Will Smith
27-07-00
Mumba set to topple Britney in the States
07-07-00
Mumba 'Body to Body' with Bowie
18-06-00
Samantha Mumba rift with father
22-05-00
Craig David All Over Samantha Mumba