Wanna Be Paparazzi & Make Easy Money?
Email us your Celebrity Digital Photos and Videos... There could be a fortune sitting in your mobile handset. If you snapped it then send it to us at:
Very. Important. Pictures.
01-11-05 news EXCLUSIVE WITH PHOTOS
Mumba's Halloween Habit...
Irish starlet Samantha Mumba seems to getting very comfortable wearing a Nun's habit - having spent most of last week under the sacred veil but not for the reasons you may think...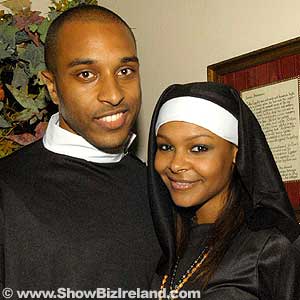 SAMANTHA MUMBA & CHARLES PORTER @ LILLIES BORDELLO
ShowBiz Ireland ran into Samantha Mumba a number of times last week under very different circumstances - strangely, on both occasions she was pretending to Nun!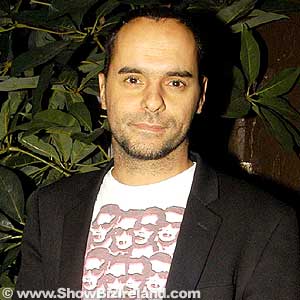 MICHAEL GRECO @ LILLIES BORDELLO
The singer and actress was having some naughty fun earlier in the week wearing a full prosthetic mask and going totally unrecognised as a Nun whilst meeting members of the media.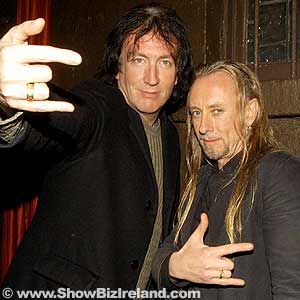 SIMON CARMODY & GUGGI @ LILLIES BORDELLO
It was all part of an RTE show which sees the likes of Mumba and Brian McFadden trying to PUNK their fellow celebrities by hanging out with them in disguise - we believe the show's called "Anonymous" and will air over Christmas.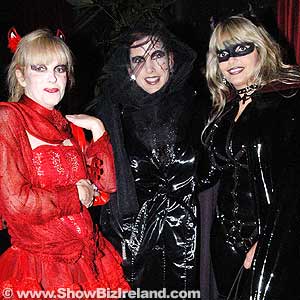 JACINTA MCCARTHY, TANYA NYEGAARD & KARLA ELLIOTT @ LILLIES BORDELLO
It seems Sam really enjoyed the Nun vibe as ShowBiz Ireland caught up with her again, this time in a sexier number, Helping The Halloween Party at Lillies Bordello at the weekend. And her hunky new boyfriend Charles Porter was also in on the joke donning priest's robes - easily making them the sexiest couple who attended the Halloween party which was themed as a Phantom of the Opera night...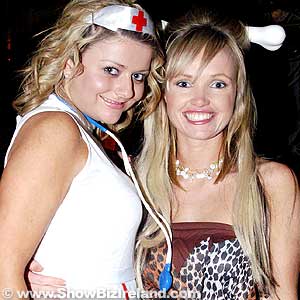 MICHELLE JUDGE & SLAINEY KELLY @ LILLIES BORDELLO
Former Eastenders actor Michael Greco and Bono's best mates Guggi & Simon Carmody also attended the event but failed to find a costume in time.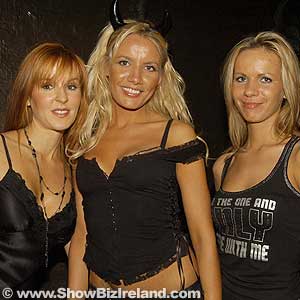 CIARA O'SULLIVAN, OKSANA MACJUS & IVETA VECZIEMELAE @ LILLIES BORDELLO
This year saw Dubliners really making an effort dressing up for Halloween with the streets and bars full of crazy sights - previous years haven't been as good with most revelers having to travel up to Derry to really experience a good night out.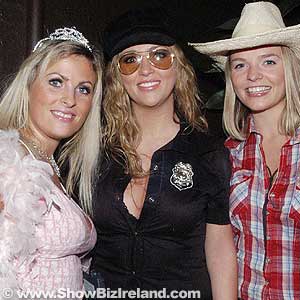 OLIVIA KINEALY, NEASA MELLETT & NUALA MELLETT @ LILLIES BORDELLO
But for our money Lillies Bordello and Cocoon bar on Sunday night were the places to be - with celebrities and numerous sexy ladies taking full advantage of Halloween as an excuse to wear as little as possible!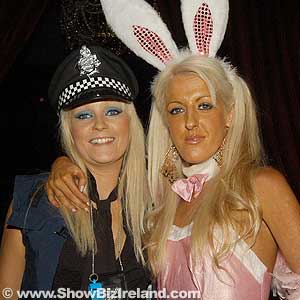 SUZANNE TRAYNOR & JANICE MCGUIRE @ LILLIES BORDELLO
Our favourite costumes on the night were Karla Elliott and friends who wore some very tight PVC bondage catsuits, leaving very little to the imagination...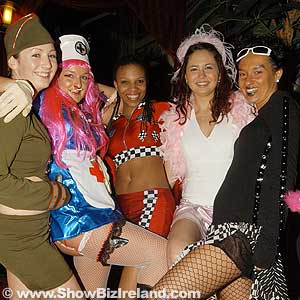 RENARDS GIRLS: FRANCES EDGEWORTH, ALYSON FAGAN, NEO PELO, ANNMARIE ILIES, & GOSIA FIEDOR @ LILLIES BORDELLO
Worst outfit went to ShowBiz Ireland's very own Ray Senior who thought a white line painted across his face constituted an Adam Ant costume - sorry not buying it!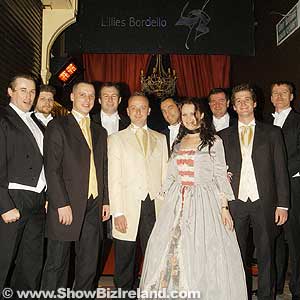 LILLIES STAFF @ LILLIES BORDELLO
And a special mention has to go out to the Lillies Bordello staff who all dressed up in period clothes and looked amazing - the sexy Renards girls even popped by the party, wearing very naughty outfits, to check out the competition...
Discuss this story in ShowBiz Ireland Forums...