Wanna Be Paparazzi & Make Easy Money?
Email us your Celebrity Digital Photos and Videos... There could be a fortune sitting in your mobile handset. If you snapped it then send it to us at:
Very. Important. Pictures.
11-07-07 news EXCLUSIVE WITH PHOTOS
Shane's Italian Wedding Trip...
Westlife lead singer Shane Filan was literally left holding-the-baby on his recent vacation in Italy with wife Gillian, daughter Nicole and an entourage of an Irish Wedding party...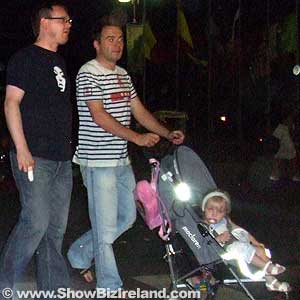 SHANE FILAN & DAUGHTER NICOLE IN ITALY
Over the past decade we here at ShowBiz Ireland haven't really ventured that far on this Island to chase down the latest celebrity scoop. The odd trip to Cork or Belfast, sure... And then there was that stake-out in on a mountain over-looking the Marilyn Manson / Dita Von Teese Wedding (until we got covered in a veil of Dragon's breath and ran off like little girls!), but in general we don't like to wander too far from home.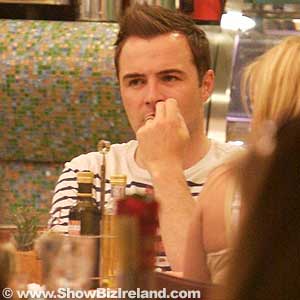 SHANE FILAN IN ITALY
So a big sojourn to all the way down to the Amalfi Coast in Italy to get a few photos of Shane Filan's wife Gillian taking on the honour of chief bridesmaid to her life-long friend Helena's Wedding to Derek was a big stretch for us... But do our readers appreciate the effort? Do they heck!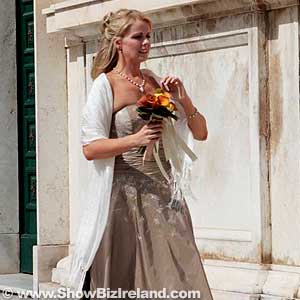 BRIDESMAID GILLIAN FILAN IN ITALY
We caught up the Westlife singer wearing a sailor-boy t-shirt the night before the Wedding as pushed daughter Nicole around in a buggy until he found a table at the busy Fauno Bar, in balmy Sorrento. And although it wasn't his Wedding-eve Shane still looked nervous as he nibbled on his nails as he sat there with friends...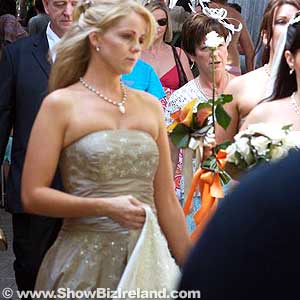 BRIDESMAID GILLIAN FILAN IN ITALY
The following day Shane's stunning wife looked elegant and relaxed holding a bouquet of flowers as she glided by the exterior of the church Santa Maria Assunta in Postino.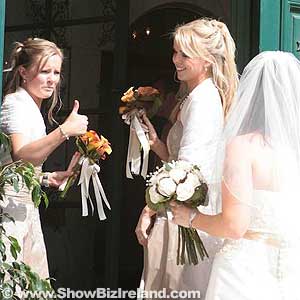 BRIDESMAID GILLIAN FILAN IN ITALY
And as the whole Irish wedding party walked through the village the local people came out in their droves to support them and wish them all well. But Gillian was totally focused on the bride, ensuring everything was going like clockwork and most importantly that the train didn't touch the ground...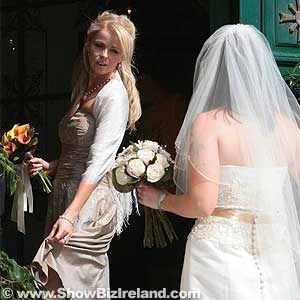 BRIDESMAID GILLIAN FILAN IN ITALY
And although used to being the star attraction at any event, Shane Filan knew his place at the wedding. He left Gillian to her traditional wedding day duties and attended to their cute two-year-old daughter Nicole, who was also a flower girl on the day.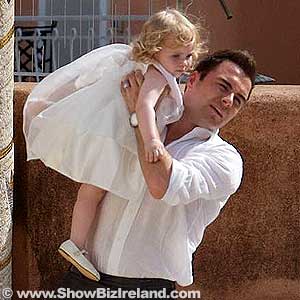 SHANE FILAN & FLOWERGIRL DAUGHTER NICOLE IN ITALY
The wedding day went off without a hitch in the beautiful and idyllic location along the Amalfi Coast and we'd like to wish Helena and Derek congratulations on their big-day...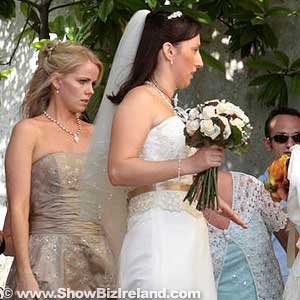 BRIDESMAID GILLIAN FILAN & BRIDE HELENA IN ITALY
ShowBiz Ireland, available for Weddings and Barmitvas!!