Wanna Be Paparazzi & Make Easy Money?
Email us your Celebrity Digital Photos and Videos... There could be a fortune sitting in your mobile handset. If you snapped it then send it to us at:
Very. Important. Pictures.
21-12-04 news EXCLUSIVE WITH PHOTOS
Bono & Duffy Merry @ Lillies...
What with it being the Silly Season everyone and their sister is out on the town enjoying a few well-deserved Christmas drinks so why should celebs be any different?
Well they're not! The likes of Bono and Colin Farrell may enjoy the party lifestyle all-year-round but at least at Christmas they have a valid excuse to down their share of the black-stuff.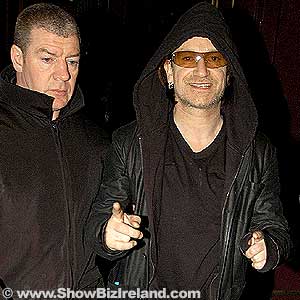 BONO GETS A HAND LEAVING LILLIES
So it was almost heartwarming to see the U2 frontman full of merriment and cheer as he left Lillies Bordello in the early hours last weekend after a couple of days shooting a video in the capital.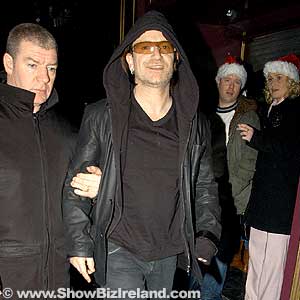 BONO GETS A HAND LEAVING LILLIES
It seems Mr. Hewson grabbed a few drinks with friends after shooting the vid for Sometimes You Can't Make It On Your Own. ShowBiz Ireland spotted the hardest working man in ShowBiz being helped to his waiting car by a courteous Lillies bouncer. But was he drunk? Not Bono, he has hallow legs!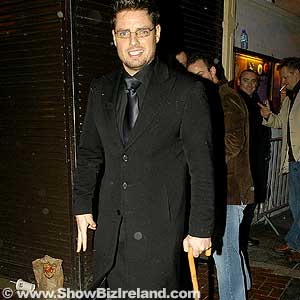 KEITH DUFFY WITH WALKING STICK OUTSIDE LILLIES
Also out in Lillies at the weekend was Coronation Street star Keith Duffy who was sporting the latest fashion accessory for the over 70s - a walking stick!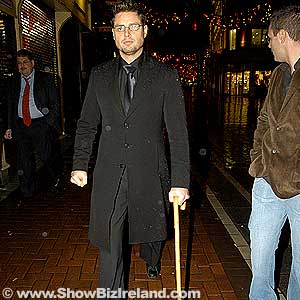 KEITH DUFFY WITH WALKING STICK OUTSIDE LILLIES
And no, Keith wasn't legless, he has in fact hurt his leg and is back in Dublin recuperating over Christmas - so we should see him back to his best in The Rovers in the new year...
At ShowBiz Ireland we just love this time of year ;) Ho ho ho!
Discuss this story in ShowBiz Ireland Forums...