Wanna Be Paparazzi & Make Easy Money?
Email us your Celebrity Digital Photos and Videos... There could be a fortune sitting in your mobile handset. If you snapped it then send it to us at:
Very. Important. Pictures.
17-12-04 news EXCLUSIVE WITH PHOTOS
Bono Walks Among His People...
Yesterday stunned Irish people stood with mouths agape as their Messiah walked humble and hooded amongst them to bestow on them his Christmas gift: The Next U2 Video...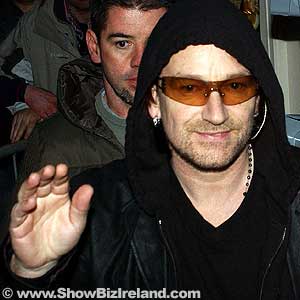 BONO FILMS ON GRAFTON STREET
Dublin is awash with the world's media and hardcore fans at the moment as Irish supergroup U2 are in mid-production for their new video Sometimes You Cant Make It On Your Own.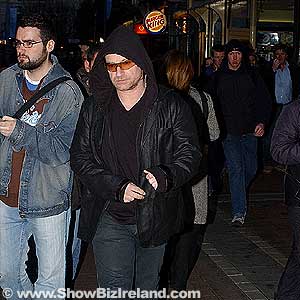 BONO FILMS ON GRAFTON STREET
And as part of the shoot which includes scenes from the band's youth growing up in Dublin, Bono took a walk down Grafton Street from his favourite club Lillies Bordello through the Christmas shoppers as far as the turnoff for the stage door for the Gaiety Theatre.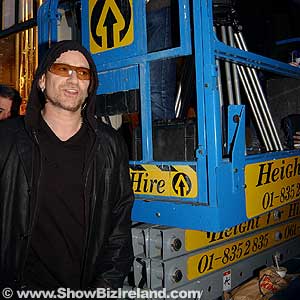 BONO FILMS ON GRAFTON STREET
As Bono walked down the busy Street Larry Mullen stood on a Cherry-Picker Crane at the other end of the filming the chaos as his pal struggled through the Dublin crowd.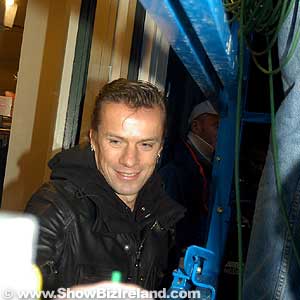 LARRY MULLEN FILMS ON GRAFTON STREET
Bono also visited the Ballymun house he grew up in and the box-room bedroom where he had his first dreams of fame-and-fortune. The house in now occupied by the Ryan family who Bono referred to as "very cool people."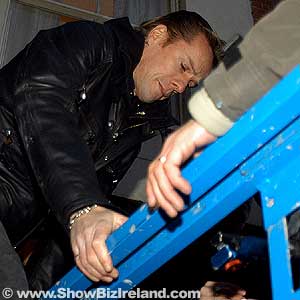 LARRY MULLEN FILMS ON GRAFTON STREET
According to Bono the theme of the video is loosely based around scenes from his youth and retracing them, but more than this it is a "tribute to my old-man Bob."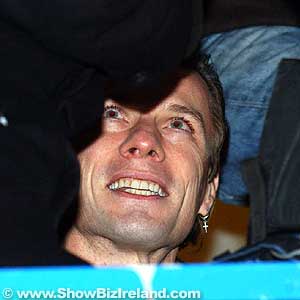 LARRY MULLEN FILMS ON GRAFTON STREET
Although you'd think a band like U2 would have their video shoots well prepared and scripted to the finest detail? Not so... Bono said of the shoot with tongue firmly planted in his cheek: "we're making it up as we're going along."
Aren't we all Bono...
Discuss this story in ShowBiz Ireland Forums...