Wanna Be Paparazzi & Make Easy Money?
Email us your Celebrity Digital Photos and Videos... There could be a fortune sitting in your mobile handset. If you snapped it then send it to us at:
Very. Important. Pictures.
05-09-02 news EXCLUSIVE WITH PHOTOS
Farrell filming Intermission in Dublin...
Irish hunk Colin Farrell didn't forget his shovel when he went to work this week in Dublin. ShowBizIreland.com snapped the star filming a scene for his latest movie Intermission.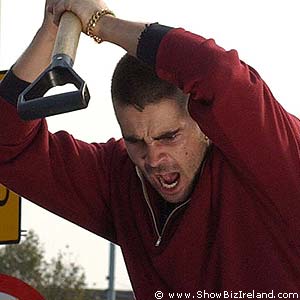 Farrell takes out his rage on a car
The movie stars Colin Farrell, (Tigerland, Minority Report, Phone Booth) Colm Meaney (The Van, How Harry became a Tree), Cillian Murphy (Disco Pigs, How Harry became a Tree) and Kelly MacDonald ( Trainspotting, Elisabeth, Gosford Park).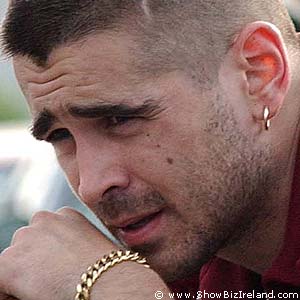 Farrell plays Lehiff
Set in present-day Dublin, Intermission is a story of ordinary interweaving lives searching for love in all the wrong places.
Colin Farrell plays Lehiff, a loner and petty criminal planning one last job to end his career of hellraising and start nestbuilding. On the other side of the law is Detective Jerry Lynch (Colm Meaney), a pugilistic maverick wading through the underbelly determined to make a difference and leave his mark.
Cillian Murphy plays John, an incurable romantic who dumps his supermarket job to join forces with Lehiff and win back Deirdre (Kelly MacDonald) the love of his life who has moved in with Sam (Michael McElhatton), a married bank manager.
Lehiff's scam goes awry when Noeleen (Deirdre O'Kane) Sam's violent ex wife attacks him during the heist triggering chaos.
Company Of Wolves, Stephen Woolley and Neil Jordan's production outfit, and Alan Moloney's Parallel Films are currently filming Intermission in Dublin, an ensemble drama from writer/director Mark O'Rowe.
Producer/Director team, Woolley and Jordan's extensive list of credits include The End Of The Affair, Michael Collins, Mona Lisa, Interview With A Vampire and The Crying Game.
Woolley also produced Scandal, A Rage In Harlem, Backbeat and executive produced Little Voice.
Principal photography started on August 31st for seven weeks on location in Dublin.
It will be released in 2003 by Buena Vista in the UK and Ireland and by IFC (Big Fat Greek Wedding, Y Tu Mama Tambien) in the US.
More Photos Below: