Wanna Be Paparazzi & Make Easy Money?
Email us your Celebrity Digital Photos and Videos... There could be a fortune sitting in your mobile handset. If you snapped it then send it to us at:
Very. Important. Pictures.
26-01-01 news
Farrell gets 10 days in a Phone Booth...
Irish actor COLIN FARRELL, and director Joel Schumacher have just 10 days to shoot their new film Phone Booth because of its meager budget. "Everyone thinks we're crazy," Schumacher tells Entertainment Weekly magazine. "But you can only shoot with the money they give you. It can be done. A lot of money is wasted on a film.''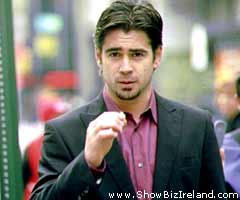 Colin Farrell stars as Stu in Phone Booth
The pair previously worked together on Tigerland, and in Phone Booth Farrell plays a New York PR man who picks up a ringing public telephone to be told he will be shot if he hangs up.
Related Stories:
23-12-06
Farrell's Christmas Bah Humbug!
15-12-06
Farrell No Hassle at Tassel
05-09-06
Kelly & Colin's Irish Weddings
29-08-06
Farrell's Home Coming Spirals
17-06-05
Farrell's Design Gets Respect
16-05-05
Colin's Grief For Grandfather
10-01-05
Colin's Kind Renards to Dublin
07-01-05
Colin's Alexander is Great!
06-01-05
Farrell Hangs with The Scissor Sisters
20-12-04
Farrell: "Enough is Enough"
28-10-04
Farrell's A True Mammy's Boy
26-10-04
Colin's Hiding Out in Dublin
21-06-04
Farrell Filming with Salma
11-02-04
Farrell Puts His Foot in it Again
22-01-04
Colin Farrell's a Rising Boozy Star
12-01-04
Farrell's Mother Christmas Scare
26-11-03
Colin Farrell Dating Angelina Jolie?
21-11-03
Colin Farrell lands Salma Hayek
05-11-03
Farrell to Play Montgomery Clift?
22-10-03
Farrell Makes Irish Movie History
14-10-03
Colin Cocks-Up with Angelina!!
08-10-03
Colin Charms Moroccan Princess
30-09-03
Colin Demands Research Harem
15-09-03
Colin & Kim have a Baby Boy
10-09-03
Colin Kisses Brad Goodbye
03-09-03
Colin Farrell's Dublin Fame Academy
18-08-03
Colin Farrell Linked to Dallas Role
15-08-03
Colin Farrell Takes the Mike
29-07-03
Kim's Bored with Colin's Antics
09-07-03
Farrell Parties at Guerin Party
09-07-03
Celebs come out for Veronica Guerin
30-06-03
Special Olympics Closes with a Bang!
27-06-03
Colin Farrell's Fleadh Intermission
24-06-03
Farrell Finds a Friend at Summit
23-06-03
Special Olympics Comes to Town
09-06-03
Search on for the Next Colin Farrell
30-05-03
Colin Farrell Doesn't Score with Sean Penn
28-05-03
Colin Farrell Takes On 10
26-05-03
Colin Farrell's Sleepless Nights
16-05-03
Colin Invests in Dublin Property
14-05-03
Colin Farrell Beats SARS in Toronto
29-04-03
The Colin & Britney Fiasco Goes On!
16-04-03
Colin Farrell for Bond, Ozzy & Ante-Natal!!
10-04-03
Colin in 100 Most Powerful People
01-04-03
Colin Farrell's Great Gay Romp
27-03-03
Colin Wants Baby to be a Dubliner
19-03-03
Colin Farrell Gets a Kebab Gold Card
14-03-03
Colin "Delighted" to be a Dad
11-03-03
Colin Farrell's Crazy Dublin Break
28-02-03
Britney & Colin's Dublin Date
26-02-03
Farrell & Family Launch Film Festival
10-02-03
Farrell Recruits Godfather for Dublin
04-02-03
The Colin Farrell & Britney Fiasco
14-11-02
Colin Farrell: Will Work for Kebabs!!
23-10-02
More of Farrell's Movies May be Shelved
17-10-02
Farrell falls victim to Washington Sniper
02-10-02
Colin Farrell The Naked Recruit
20-09-02
Farrell gets Swatted by LL Cool J
05-09-02
Farrell filming Intermission in Dublin
03-09-02
Colin's Dublin Dating Hot Spots
02-08-02
Colin The Playboy of the Western World
26-07-02
The Race for Colin The Great
25-07-02
Colin takes on Batman & Superman
19-07-02
Cool Colin Charms the US Media
10-07-02
Colin Farrell is such a SWAT
04-07-02
Cruise Shows Farrell who's Daddy
28-06-02
Farrell & Cruise please Majority Crowd
26-06-02
Colin Farrell is Top of the Box
21-06-02
Colin Farrell Dares to have it Easy
19-06-02
Colin Farrell's Cruise Report
11-06-02
Farrell Dares to be Dublin
07-05-02
Farrell takes on Di Caprio
02-05-02
Colin Farrell: Portrait of a Humble Guy
24-04-02
Farrell & Warner Can Never Divorce
03-04-02
Colin Farrell is Hollywood's busiest Actor
12-03-02
Schumacher confirms Farrell role
05-02-02
Farrell Entertains the troops
21-01-02
Farrell confirmed for Marvel's Daredevil
15-01-02
Farrell has gone Hazel Nuts!!
03-01-02
Farrell is Hottest Irish Star of 2001
07-12-01
Farrell Bullseyes Daredevil
21-11-01
Farrell may be Chasing the Dragon
05-11-01
Farrell & Amelia to divorce
23-10-01
Farrell takes an Irish Intermission
22-08-01
Farrell's first American flop
15-08-01
Farrell a true American Outlaw
14-08-01
Farrell & Pacino in The Farm
30-07-01
Farrell Weds Warner in Secret
24-07-01
Farrell going to The Farm
26-03-01
Colin Farrell's tough at Hart
16-03-01
Farrell waiting for Cruise to Report
22-02-01
Farrell gets female co-star
16-02-01
Farrell back in the Wars again
26-01-01
Farrell to shoot Phone Booth in 10 days
24-01-01
Farrell's rough ride in Hollywood
09-01-01
Farrell teams up with Spielberg & Cruise
21-12-00
Irish actors take over Hollywood again!
09-11-00
Irish take over Hollywood
12-10-00
Colin Farrell: Hollywood's rising star