Wanna Be Paparazzi & Make Easy Money?
Email us your Celebrity Digital Photos and Videos... There could be a fortune sitting in your mobile handset. If you snapped it then send it to us at:
Very. Important. Pictures.
14-03-03 news
Colin "Delighted" to be a Dad...
Irish actor Colin Farrell has confirmed on TV this morning that the tabloid rumours regarding a US model being pregnant with his child are in fact true!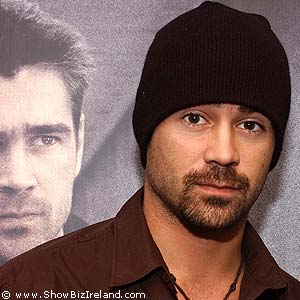 Colin Farrell at the recent Recruit Premiere in Dublin
Many thought the rumours in yesterday's tabloid newspapers about Colin Farrell were just media hype. Farrell (26) was attached to two stories, one: he was to star in a remake of Brideshead Revisited and, two: a US model had claimed he was the father of her child.
Well, one rumour is true and the other is false...
In an interview with Paul Ross on the This Morning program where Colin was doing some UK promotion work for his latest movie The Recruit the young Dubliner set the record straight on the rumours.
Firstly he rubbished claims that he was in a remake of Bridesmaid Revisited but then astonishingly confirmed that he is in fact going to be a Dad.
He said regarding the baby rumour, "yes, it's due in about six months."
"We're delighted," he continued.
And before Paul Ross could push him any further on the subject Colin said "now back to the movie".
He also confirmed in the interview that this was the first time he had come clean about the rumour.
Congrats Colin!
Get your Movie Ringtones here