Wanna Be Paparazzi & Make Easy Money?
Email us your Celebrity Digital Photos and Videos... There could be a fortune sitting in your mobile handset. If you snapped it then send it to us at:
Very. Important. Pictures.
12-03-02 news EXCLUSIVE WITH PHOTOS
Schumacher confirms Farrell role...
Ireland's Colin Farrell is to take a small cameo role beside Cate Blanchett in the new Bruckheimer/Schumacher movie Chasing the Dragon, the Veronica Guerin Story, ShowBizIreland.com can reveal.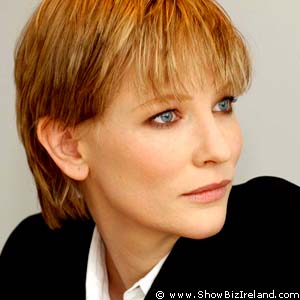 Gorgeous Cate Blanchett in Dublin
Speaking in Dublin late on Sunday the director Joel Schumacher confirmed Farrell would team up with him again in he movie. "Yes, Colin will have a small cameo role in the film. He is due back in April to do his scenes." Farrell has previously starred in Schumacher movies Tigerland and Phone Booth.
The director continued on about how he first heard about the subject of his current film Veronica Guerin.
"I did not know about Veronica until Jerry offered me this film and I said yes after only reading the script half way because there was a 60 minutes show that came with the script. She is really a heroine in the classic sense of the word as she is a complex individual. She was not a Saint. She was a real human being. She is a real flesh and blood person and brilliant women. She is one of those people who did the things we which we wish we could do and she paid the price. I admire her so much."
Jerry Bruckheimer is one of Hollywood's most powerful men. He has in the past made films such as Con Air, The Rock, Top Gun, Black Hawk Down and Enemy of the State. This is his first film and his first time in Ireland. So is he planning to come back again for some more movies?
"We are already developing a project to bring a movie in here called King Arthur later this year. It's a retelling of the tale. It actually happened much earlier than movies in the past or the English have put on it. They changed the way it was told. Like Arthur was really Roman and the Knights of the round table were actually Russian and were great horse men."
How did you decide about the Veronica story? "I personally like to tell stories about people who made a difference in the world and those who are role models for future generations. Like this lady changed things in Ireland and the way people thought about drugs. We want other generations to know about her and even though she was well known here she was not well known around the world."
See photos of sexy Cate Blanchett below: