Wanna Be Paparazzi & Make Easy Money?
Email us your Celebrity Digital Photos and Videos... There could be a fortune sitting in your mobile handset. If you snapped it then send it to us at:
Very. Important. Pictures.
23-12-06 news EXCLUSIVE WITH PHOTOS
Farrell's Christmas Bah Humbug...
Perhaps Method actor Colin Farrell has landed an upcoming movie role as The Grinch or Scrooge McDuck? Well there has to be some reason for his lack of Christmas cheer and Merriment since arriving home to Dublin...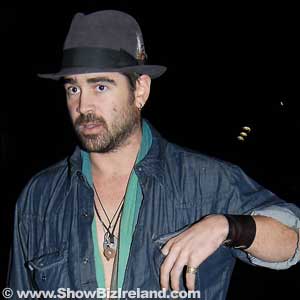 COLIN FARRELL @ HANOVER QUAY XMAS PARTY
As ShowBiz Ireland approaches our 8th year of tirelessly standing around in all-types-of-weather at ungodly-hours-of-the-morning just to bring our readers in over 150 different countries pictures and stories of their favourite celebrities in Ireland, we have to ask ourselves the difficult question: Why doesn't Colin Farrell appreciate us? He never writes you know...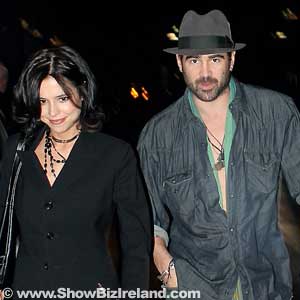 COLIN FARRELL & CLAUDINE FARRELL @ HANOVER QUAY XMAS PARTY
Considering we have amassed the world's biggest archive of Colin Farrell photographs since we started promoting his then unheard of career back in 2000, considering we have dedicated more stories to Colin Farrell than anyone else apart from U2, considering we haven't written a bad word about the fella - he still treats us with disdain! As Dr. Evil once said Colin: "Don't look at me like I'm freakin' Frankenstein, give your father a hug!"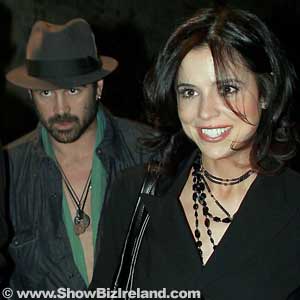 COLIN FARRELL & CLAUDINE FARRELL @ HANOVER QUAY XMAS PARTY
We caught up with Cantankerous Colin this week as he arrived and left the Christmas party of The Point Theatre's owner Harry Crosbie at his Docklands home. Not surprisingly we asked Mr. Farrell to pose for a photograph with his stunning sister Claudine, to which he growled: "What have you F*****s ever done for me?"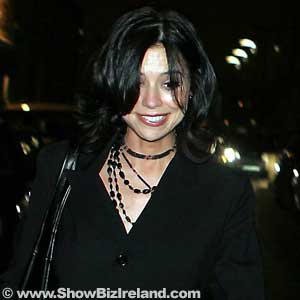 CLAUDINE FARRELL @ HANOVER QUAY XMAS PARTY
Eh, Okay Col. Whatever you're having yourself. Even Claudine seemed to grimace at her brother's snipe at the Irish paparazzi as they left the party, but followed him back to their car, fittingly parked beside the famous U2 wall (Bono once thanked us for our work and bought us a Christmas drink - na na naa na naa na!)...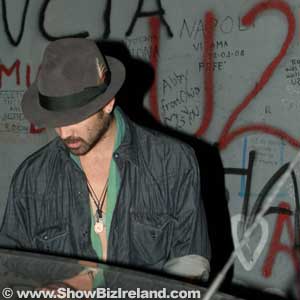 COLIN FARRELL @ HANOVER QUAY XMAS PARTY
Perhaps newly sober Farrell's unfestive mood was due to the fact that he's now a responsible designated driver? Just a small automotive tip Col: the white plastic thing stuck to your windscreen is to display your Insurance Cert and up-to-date Tax Disc. In case you were wondering.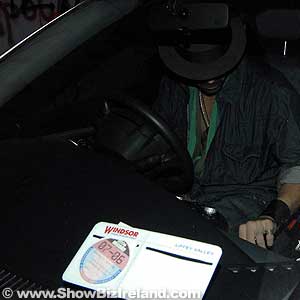 COLIN FARRELL @ HANOVER QUAY XMAS PARTY
Apart from being off The Farreller's Christmas Card list, all of the other celebs who attended Harry Crosbie's Yuletide customaries seemed quite happy to see the all-too-familiar faces of our snappers. Although Harry, a cup o' mulled wine or an aul drop o' hot punch for the lads freezing their unmentionables off outside wouldn't have gone astray!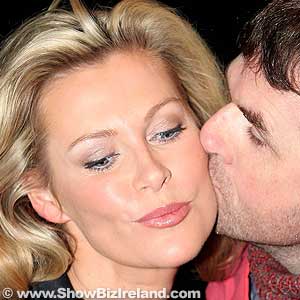 ALISON DOODY @ HANOVER QUAY XMAS PARTY
Well ShowBiz Ireland faithful, as another year draws to a close and Alison Doody finds it in her heart to kiss a member of the unwashed Irish snapper brigade, remember this: The Paparazzi are not just for Christmas, we piss-off celebrities all year round...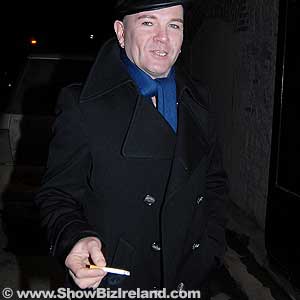 GAVIN FRIDAY @ HANOVER QUAY XMAS PARTY
Happy Christmas and here's a free smoke from Gavin Friday!
We'll meet again, don't know where, don't know when....
Discuss this story in ShowBiz Ireland Forums...