Wanna Be Paparazzi & Make Easy Money?
Email us your Celebrity Digital Photos and Videos... There could be a fortune sitting in your mobile handset. If you snapped it then send it to us at:
Very. Important. Pictures.
20-12-04 news EXCLUSIVE WITH PHOTOS
Farrell: "Enough is Enough"...
Irish superstud Colin Farrell's secret homecoming for Christmas has gone up in flames and all because of his Mammy's Hoover!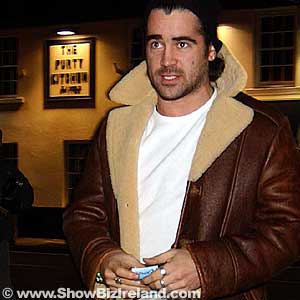 COLIN FARRELL @ THE PURTY KITCHEN
Last week one of ShowBiz Ireland's avid eagle-eyed readers spotted Colin Farrell's mother Rita leaving his Irishtown pad with a vacuum cleaner in her hands and loading up her car with cleaning materials.
And as soon as we heard the news we immediately deduced that Dublin's most infamous son must be returning home for Christmas.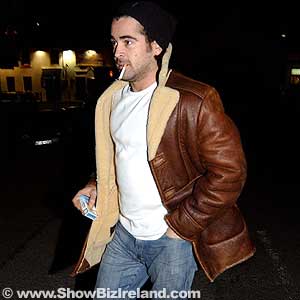 COLIN FARRELL @ THE PURTY KITCHEN
Then yesterday in the mid afternoon text messages began flying around the town that the Alexander The Great star was perched on a bar stool in the Purty Kitchen Pub with some friends. Of course we had to check it out...
And sure enough Farrell was there in great cheer happy to be back in Dublin and drinking with his homies but unfortunately a gaggle of photographers had gathered outside waiting to grab a snap of the star.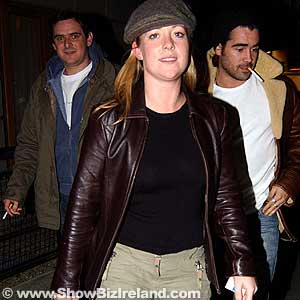 COLIN FARRELL @ THE PURTY KITCHEN
When he finally emerged with two friends the flash bulbs naturally started to go hell-for-leather and for a minute Colin seemed none-to-bothered and his mates seemed slightly amused.
But as the photographers followed Farrell down the street his mood soon changed and he grabbed an over-eager snapper that got a little too close and shouted "Enough is Enough!"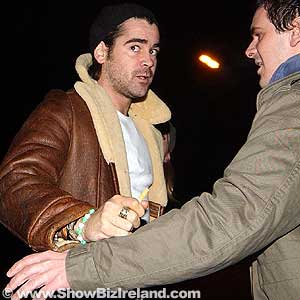 COLIN FARRELL @ THE PURTY KITCHEN
Sorry Colin if Dublin's paparazzi pissed you off last night but they were just doing their job and it's been such a long time since they got an opportunity to take your pic...
Perhaps Colin was in a strop as his latest movie Alexander The Great hasn't gone down too well in the USA? Apparently the movie has only taken around $30 Million at the US box office thus far - and that's only one fifth of the estimated cost of making the movie...
Oh well Colin ShowBiz Ireland still loves ya! And have a Happy Christmas if you decide to stick around Dublin, you'll get some breathing space as soon as your homecoming novelty wears off...
Oh on a sidenote, we spotted Col's Mum Rita shopping in HMV and she had only one item on her list: The soundtrack to Alexander The Great!
We wonder if Colin sings on this one?
Discuss this story in ShowBiz Ireland Forums...