Wanna Be Paparazzi & Make Easy Money?
Email us your Celebrity Digital Photos and Videos... There could be a fortune sitting in your mobile handset. If you snapped it then send it to us at:
Very. Important. Pictures.
16-05-05 news EXCLUSIVE WITH PHOTOS
Colin's Grief for Grandfather...
You can say what you like about Colin Farrell but one thing you cannot deny the Irish filmstar is the love and devotion he has for his family which, could be clearly seen today at his Grandfather's funeral...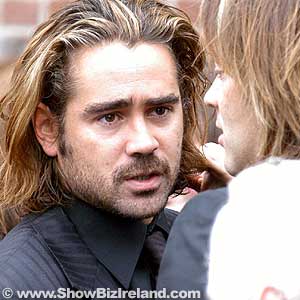 COLIN FARRELL @ DRIMNAGH FUNERAL
Sadly Colin Farrell's much loved Grandfather, James Monaghan, passed away last Thursday after a long illness - his moviestar Grandson Colin flew back to Ireland from a filmset in Miami to be at his side as he passed away.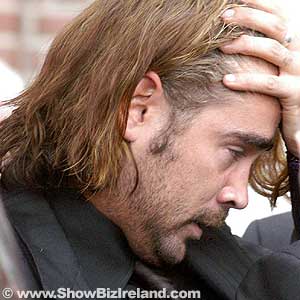 COLIN FARRELL @ DRIMNAGH FUNERAL
Colin was very close to his Grandfather on his mother's side, even naming his son James after him.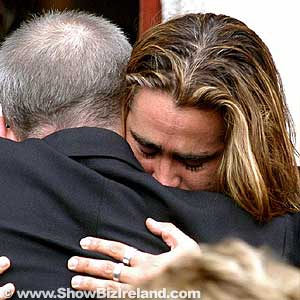 COLIN FARRELL @ DRIMNAGH FUNERAL
The funeral took place today at Mourne Road Church in Drimnagh, a place many Dubliner's are accustomed with having attended funerals, confirmations and weddings there over the years...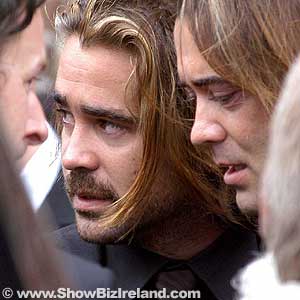 COLIN & EAMON FARRELL @ DRIMNAGH FUNERAL
And the gathering of Colin's family, friends and relations outside the Church after the funeral mass is a scene most Irish people would be familiar with as the mourners cried and hugged one other as they remembered Jame's life...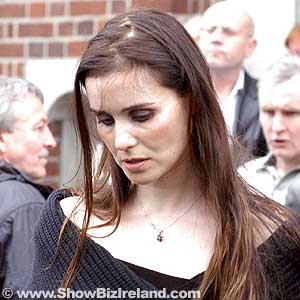 CATHERINE FARRELL @ DRIMNAGH FUNERAL
As Colin emerged from the Church bearing his Grandfather's coffin he seemed to beside himself with grief - bowing his head to hide his tears.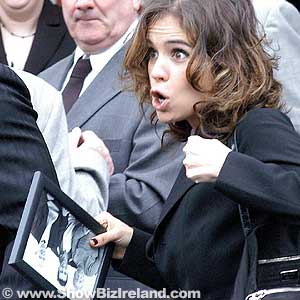 CLAUDINE FARRELL @ DRIMNAGH FUNERAL
But with his sisters Claudine and Catherine, brother Eamon and his mother Rita there to comfort him Colin was soon smiling as his family gathered around him.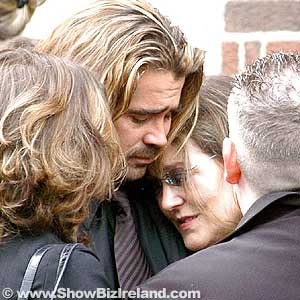 COLIN & RITA FARRELL @ DRIMNAGH FUNERAL
A nice touch on the day was to see his sister Claudine holding a photo of Colin with his Grandfather as she left the church - obviously a memoir that will take pride-of-place on the Miami Vice star's mantelpiece...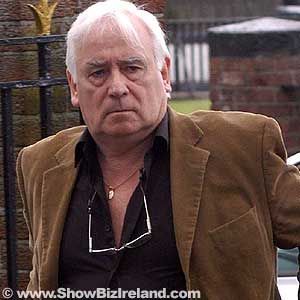 EAMON FARRELL SENIOR @ DRIMNAGH FUNERAL
Also at the funeral was Colin's father Eamon Senior, his uncle Robbie Fox and close friend Glenda Gilson.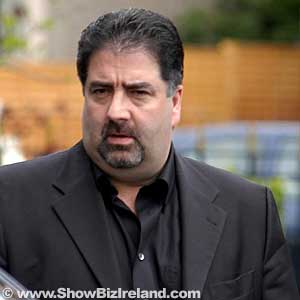 ROBBIE FOX @ DRIMNAGH FUNERAL
According to Colin the last word is Granddad said as he passed away peacefully was "Thank You..."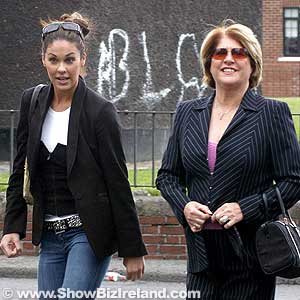 GLENDA GILSON & MOTHER @ DRIMNAGH FUNERAL
Discuss this story in ShowBiz Ireland Forums...