Hubbers Gets Up Off Her Arse...
We fricken love Amy Huberman here at the Show of Biz of the dotness of IE. But we feared she'd turned into one of those vacant smile photocallees after she became Mrs. O'Driscoll a while back. Sure, it almost felt like anywhere there was a camera, so was our Hubbers. BUT, proud hardworking Irish woman that she is, she's bloody back on her tools and doing what she does best - heading up the cast in the Cecelia Ahern adapted movie called 'Three Wise Women'...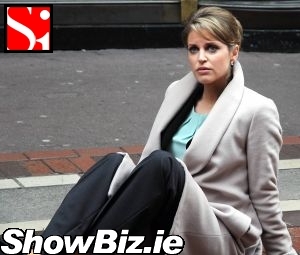 Amy Huberman
Proving she aint too posh to push, actress Amy Humberman was hauling around a feckin' huge Christmas tree and subsequently falling on her arse outside Brown Thomas yesterday. Thankfully it had nothing to do with a darn press photocall - instead she was shooting scenes for her upcoming festive movie Three Wise Women.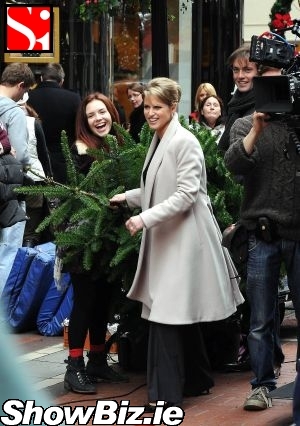 Amy Huberman
Yup. Doing her own stunts (and by that we mean repeatedly falling on her hole!), the former Clinic scene stealer was shooting with fellow Irish actor Hugh O'Connor, other cast members and a rather large film crew. Ever wonder what all those people actually do behind the scenes folks? Like, there's always millions of them running around doing nowt.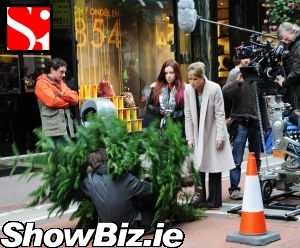 Amy Huberman & Hugh O'Connor
In the scene we witnessed just off Grafton Street, Hubbers and a male actor were struggling with a giant Christmas tree with both of them ending up on their arses on cold hard ground outside Brown Thomas as half of Dublin looked on... Ultimately the Christmas tree stole show. What? The IFTA need to know these things – the Award for Best Fir Tree In A Movie goes to......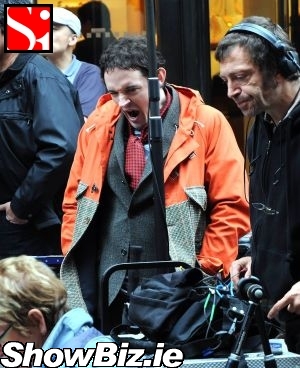 Hugh O'Connor
We have scant info on this Irish flick but with Cecelia Ahern as the scribe and Amy Huberman co-starring with the likes of Hugh O'Connor, there is bountiful talent on offer, thus we have high hopes for this wee home production.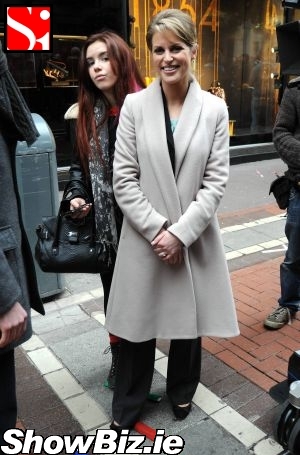 Amy Huberman
Great to see Amy Huberman back acting her arse off and not taking the easy route of just being Mrs Brian O'Driscoll. But even better than that kids, we spotted Santy hanging around the Three Wise Women set yesterday!! How many shopping days left until Christmas now? Ciiiiiting.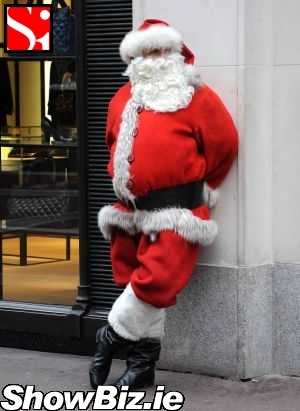 Three Wise Women Cast member Santy!