About That Whole Arthur's Day Palaver...
Right. So we weren't exactly behind the social implications of the Arthur's Day Guinness drinks promotion thingy. Why? Well it's basically tantamount to having a Budweiser Wazzup Day. All of Ireland transformed into a bad night-out on Fresher's Week on the back of some marketeer inspired misguided National identity crisis vibe...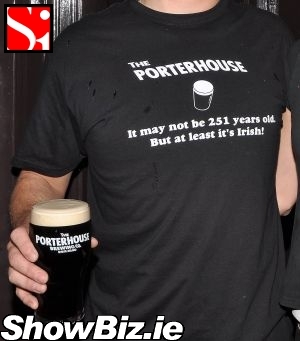 Porthouse Anti Arthur's Day Shirt
We hate to rain on the Arthur's Day parade folks, but, we don't really have to. The rain rained on the Arthur's Day parade so there was no lad shouting "To Arthur!" outside the Temple Bar with it being misheard and repeated as "To Martha!" up at the nearby Quays Bar. Yup. We know the actual pubs that were the locations for the viral ad campaign. We're special.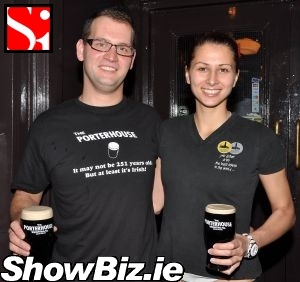 Porthouse Staff Tommy Tamas, Orsi Simay
But at least someone saw the satirical side of Ireland celebrating a Diageo TV Ad with absolutely no sense of irony. Over at the Porter House micro brewery the staff were wearing t-shirts stating: The Porter House. It May Not Be 251 Years Old, But At Least It's Irish! Boom. Boom.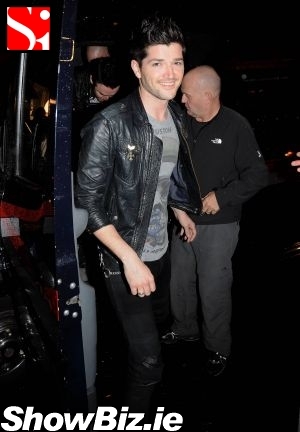 Danny O'Donoghue (The Script)
Due to the typically wet and windy weather all of the real Arthur's Day action was mainly inside the pubs. Twas bucketing down at 17:59. But sorry folks, without paying pricey ticket admissions to most of the select venues, unlucky punters could merely peer in through windows at all the Guinness marinated craic going on inside.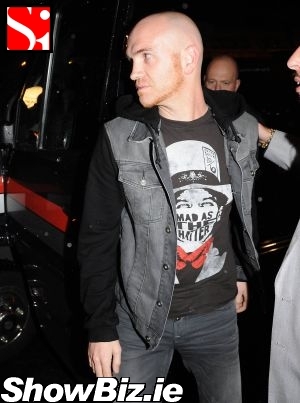 Mark Sheehan (The Script)
One of our snappers hung out at Bruxelles Bar just off Grafton Street where The Script played a 'secret' Arthur's Day gig. Alas, along with a gang of soggy female Script fans, it was all witnessed from the street... Like the Dublin Lock-out all over again - if ever we needed another James Larkin figure, it was then. Sob.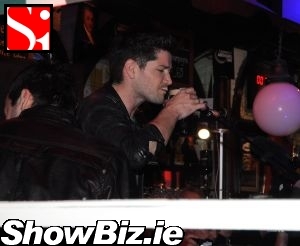 Danny O'Donoghue (The Script)
We spotted Danny, Mark & Glen as they arrived at the Dublin bar where models Karena Graham, Michele McGrath, and Hayley Ryan were hanging out suppin' on a single pint of the Black Stuff between the three of them...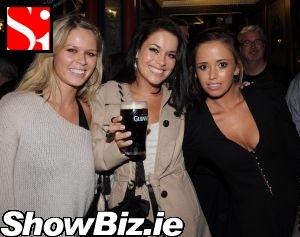 Karena Graham, Michele McGrath, Hayley Ryan
Actually, we didn't take our total fav 3 Dublin lasses as regular Guinness drinkers what with all of those evil dark calories in every pint. Sure, they only lurve the stuff folks! Can't get enough. Well, it is good for you.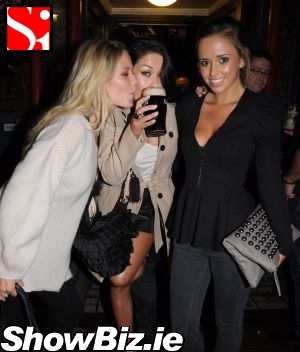 Karena Graham, Michele McGrath, Hayley Ryan
So there you have it folks. Arthur's Day is over for another year, only another 364 days left before the next National drinks promotion. In the meantime, sober the hell up and contemplate ousting our completely inept government before all that's left of dear Ireland are old Guinness TV adverts. We like the one of the guy on the surfboard the bestest.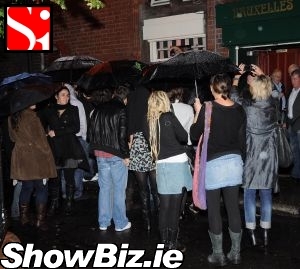 The Script Fans at Bruxelles
To Arthur? To Philomena!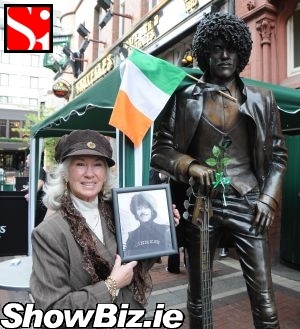 Philomena Lynott with Phil Lynott Statue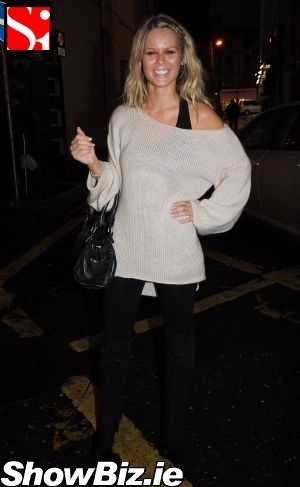 Karena Graham